Sustainability in book production
Producing environmentally friendly, sustainable notebooks, which take social and safety standards in Germany into account comes as standard for us. We always keep an eye on innovative materials for our covers and book blocks that emphasize sustainability, whether it be vegan or 100% recycled.
During our manufacturing, we use resource-saving, climate-neutral production processes. It is printed on certified paper, using water-based mineral (oil-free) inks and varnishes. Binding is done with adhesives that do not contain solvents. For books that are made to last the distance.
Paper and Materials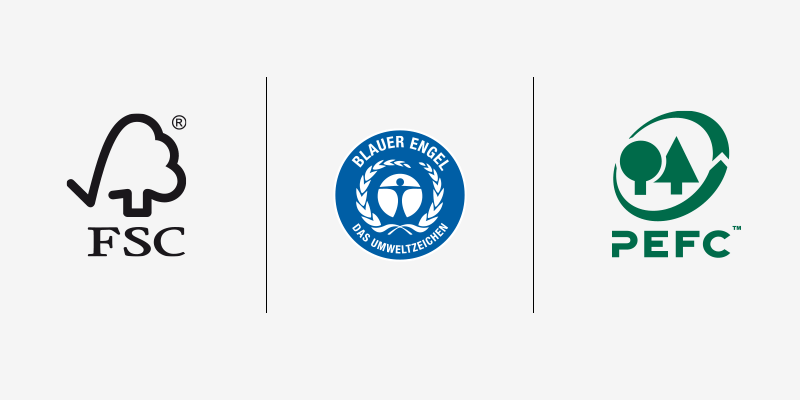 Upcycling concepts for binding materials
Winter & Company launches the first book cover material woven from recycled ocean plastic: TOILE OCEAN. The innovation is produced in collaboration with tide ocean SA (#tide) and contributes to clean oceans. The highlight: this fabric is made from plastic waste from the sea, which is compressed into a granulate and spun into a yarn. For every square metre of TOILE OCEAN, over five 0.5l PET bottles are recycled. What's more: for every metre sold, 1% of the turnover goes to clean water projects.
This material contains the same properties as a pleasantly soft, voluminous artificial leather. Rather than containing chemical raw materials, however, it consists, to a high degree, of natural waste – namely apples. The residues derived from this fruit, which result from industrial processing, are converted into a new, raw material, in the form of naturally dried apple powder. This is a sustainable cover material that makes both a visual and tactile impression. Especially suitable for extra deep, razor-sharp embossing. Available in a beautiful natural colour range.
The blue denim-cardboad is made of 50% recycled denim fibres respectively denim dust and 50% FSC pulp. This composition results in a robust cover material that is ideal for finishing into a flex cover.
From cups to paper: 'Extract' is more than just paper; it is a solution to a problem that is widespread around the world: disposable cups, thousands of which end up in the waste stream every day in Germany alone and are, for the most, part not recycled. Recycling is difficult in this case due to the material mixture of paper and polyethylene. G. F. Smith has now succeeded in separating these two components in an environmentally friendly way. The result? 90% of the cup can now be recycled into paper. The remaining 10% plastic is used to make other products, making this a "zero waste" process.
Attention coffee fans! This black gold not only gives you that essential boost of energy every morning, it can also be processed into paper. This coffee paper is 100% recycled and contains processed roasting residues from the production of coffee, which gives the material its extraordinary texture. The result: a unique appearance and ideal for printing
The production process uses agricultural waste such as corn, citrus fruits, kiwis, olives, almonds, hazelnuts, lavender, and cherries. A real potpourri of organic ingredients that give the paper a special feel and surface colour. Available in a variety of 10 soft colours in a very natural look.

Recycled Papers and their Certifications
Certificate: "Blue Angel", FSC® and EU Flower
Dare anyone say that recycled paper must be grey, or that it yellows quickly. RecyStar Polar proves just the opposite. The paper has a DIN ISO whiteness of 98% and is resistant to aging. It has also been awarded the FSC® certificate, the "Blue Angel" and the EU Flower seals. Sustainability meets excellent writing quality, as well as top printability and tear resistance.
Certificate: FSC® and Cradle-to-Cradle® Bronze

The Swedish premium paper from Munken is one of our favorites and we use it in a large part of our productions. All Munken papers are FSC® certified. Since summer 2020 the uncoated fine paper has been freshly awarded the Cradle to Cradle certificate. Cradle to Cradle stands for a self-contained circular economy, no resources are squandered, no environmentally harmful waste is produced, but the product is composted or reused after its use – a radical alternative to the throwaway s
Certificate: PEFC™

The kraft paper FoldKraft™ from Papyrus is an uncoated kraft pulp board with a smooth front and a matt back and has high flexural strength and tear resistance. The brown, undyed eco-paper brings an incredibly special, naturally cool look with it, which offers a particularly fresh appearance, especially in combination with a white screen print.
Certificate: FSC® und Cradle-to-Cradle® Silver
Recycled paper does not have to be colourless. This paper is extremely colour stable and available in a beautiful colour range. The eco-production of Gmund USED from Gmund is made from 100% recycled paper.
Our modular notebooks offer a selection of high-quality notebooks, and we can print or deboss your logo on the cover in no time.
The most important cornerstone of a sustainable product is quality.
That is why we manufacture 100% in Germany
For us, "Made in Germany" is not just a seal of quality amongst many, but one of our most important basic principles. The rich tradition of the print and bookbinding trade in Germany is just one good reason to manufacture locally. Local production eliminates the dependence upon the worldwide imports of a global economic system, and avoids exploiting both man and the natural world, which is also becoming increasingly appreciated.

If your interest genuinely lies in sustainability, you should know where and how the production of products takes place. This is why our production, which ranges from handcrafting in a traditional factory to industrial book production using state-of-the-art technologies, has been located at various regional sites across Germany for many years.
Facts about sustainable book production
Book production, like the production of all consumer goods, and with the best will in the world, is not completely CO2 emission-free possible. However, the resulting emissions that do get produced can be identified and compensated for with each order. If you decide on climate neutrality for your order, we can have it certified by our partner natureOffice and you can place the "printed climate neutrally" logo with a tracking ID on your printed product. For the CO2 compensation (guideline value: approx. 1% of order value) you choose one of the environmental projects to which the amount will be donated. The scope of these projects range from technology transfer and support for social structures in emerging markets, reforestation projects in South America and nature conservation in Europe's largest freshwater area, the De Biesbosch National Park in the Netherlands, through to the care of our regional forests in the Rhön, Taunus or in Hunsrück.
80% of all emissions caused by a print product are attributed to the paper used. Careful paper selection, therefore, is essential for an environmentally friendly book. The production of recycled paper consumes around two thirds less energy, water and CO2 compared to virgin fibre paper. From an ecological point of view, recycled paper is always the better choice as a result. The "Blue Angel" label, which our favourite recycled paper also proudly bears, guarantees that paper fibers are 100% obtained from waste paper and that no harmful chemicals or optical brighteners are added in the process.

However, it's worth noting that paper fibers can only be recycled between five to seven times before they become brittle. In addition, paper must sometimes meet requirements that go beyond recycling. That is why we also depend upon fresh pulp. Globally recognized seals such as FSC® and PEFC™, which our standard and premium papers carry, provide assurance here about our adherence to strictly controlled, responsible and sustainable forestry management.
Printing plates and inks both belong to the printing process. Here, too, we pay the utmost attention to detail in order to save energy and we use our raw materials with care. As a result, the exposure of our printing plates works without the need for a developing machine and thus, without requiring chemicals or water.

The mineral (oil-free) organic inks for sheetfed offset printing used in our production contain vegetable-based binders. The ingredients of these printing inks are both registered and controlled according to the EU chemical regulation REACH. They enable extended washing intervals of the inking units and require, at most, only minor adjustments. They also have 'high rub resistance'' which prevents the need for additional protective coating.
Producing vegan books means that no animal products are used in the production of the book block and the book cover. This primarily concerns the use of animal-based adhesives, inks, and binders, which are often used in conventional book manufacturing processes.

Vegan book production, on the other hand, relies on plant-based alternatives such as soy, corn, or potato starch as binders and on inks derived from plant-based raw materials. The use of recycled paper and sustainable printing processes can also be part of vegan book production.
Many things, such as waste separation and proper waste disposal, are a matter of course for us as a German company. We also like to closely monitor our partner companies, from the paper mills to the freight transporters, to see what is being done at each stage for environmental protection. Along with the certificates, is our focus on a general awareness of the effects of our actions and our production. In our production halls, we use regenerative energy sources and modern machinery, which produce efficiently, and with little waste, and therefore is as environmentally friendly as possible.

In addition, we have also consciously opted for individual book production, where we can guarantee low material costs and low subsidies for each individual production with the right equipment for each editions' range. This means that we don't require mass processing systems that combine a wide range of different production elements for better planning and machine utilization; this method signifies that many tons of printed paper go straight into the wastepaper.
To protect your books from damage caused by transport, storage or weather, we usually shrink-wrap them in foil. The amount of waste produced in this process is minimal and recyclable. However, if you are still on the look-out for plastic-free packaging, we have various solutions for you. We pack on request with separator sheets in cardboard boxes or offer various gift packaging.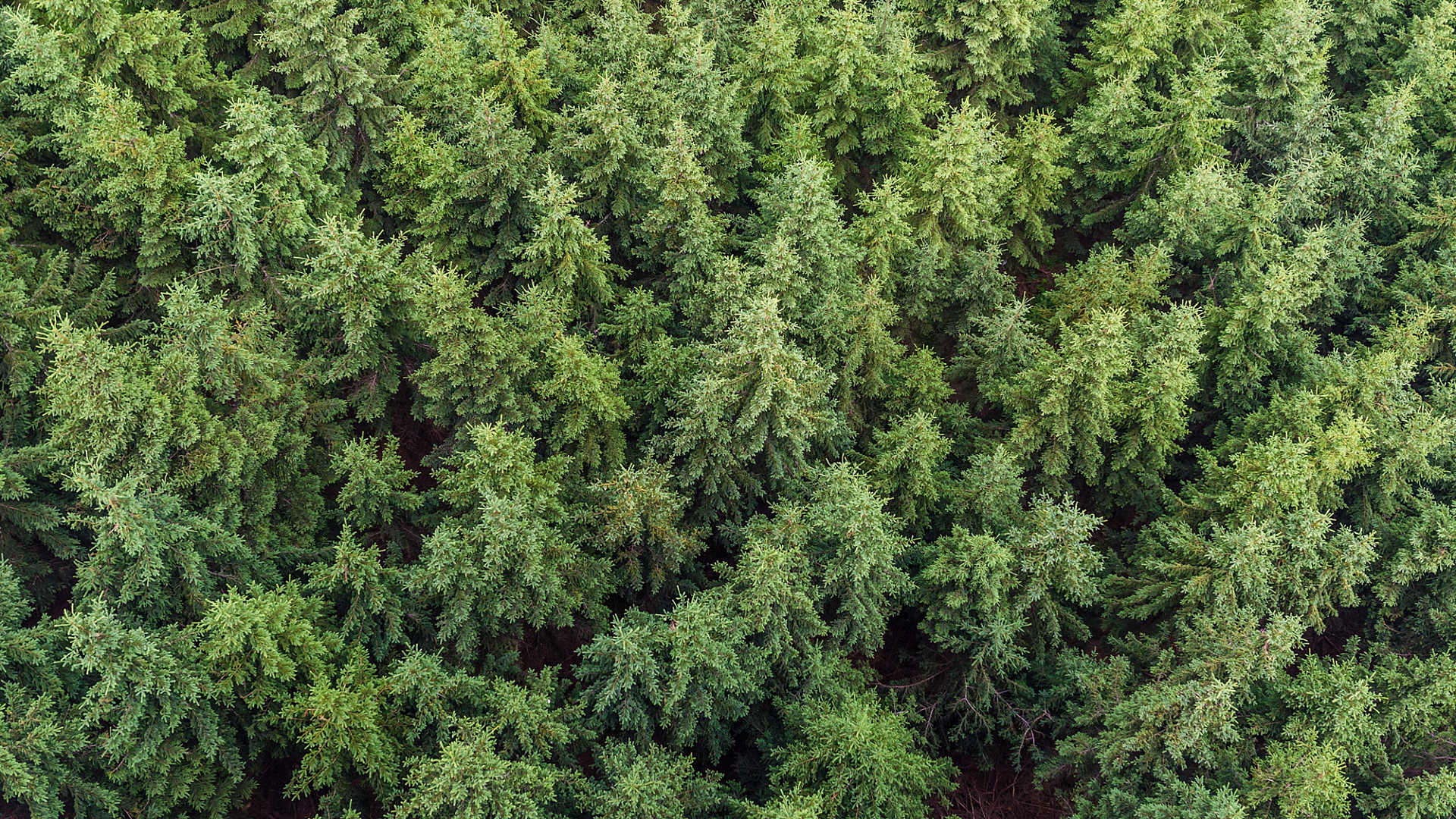 During the production of our notebooks, we strive for the responsible and careful use of global resources. Especially when it comes to selecting the paper; we focus on the conscious and efficient use of raw materials. We also want to do something to preserve this valuable renewable raw material.
Two trees with every order!

Therefore, for every order you place with us, we will automatically donate two trees to the Bergwaldprojekt e.V. These trees are used for reforestation and near-natural forest restructuring in various regions throughout Germany. The planting of local trees contributes significantly to climate protection; after all, forests are central CO2 reservoirs and a source of energy for the environment.
We will be happy to advise you personally!

Call us at +49 (0) 69 40 80 90 245
or write an e-mail to info@brandbook.de