Custom Notebooks as the Perfect Brand Ambassadors for your Company
Your Track to your Custom Notebook
01
Product Selection
Starting at 100 copies: Create your custom book in just a few steps using our book configurator. Choose from thousands of cover materials and various printing and finishing techniques to match your coporate design.
Starting at 25 copies: Select a notebook from the shop and add your logo and practical book accessories.
02
Quote & Consultation
After sending your configuration or inquiry, you will receive an individual quote via e-mail.

Our Tip: Use our personal consultation service! It's very important to us and it's free. Let us know the best way to contact you.
03
Sample package & visualisation
Part of our service features are receiving a sample package, visiting our showroom, or seeing your book as a digital mock-up.
That way, you can see the quality of our books for yourself, and this will help you to make a decision.
04
Print data & Production
Once you have made your decision and would like to order, we will provide templates to use for your artwork.
Your artwork will be checked thoroughly and sent to you for approval – everything ok? Then the production can start!
Your 100% customised Notebook
We will be happy to advise you personally!
Call us at +49 (0) 69 40 80 90 00
or write an e-mail to info@brandbook.de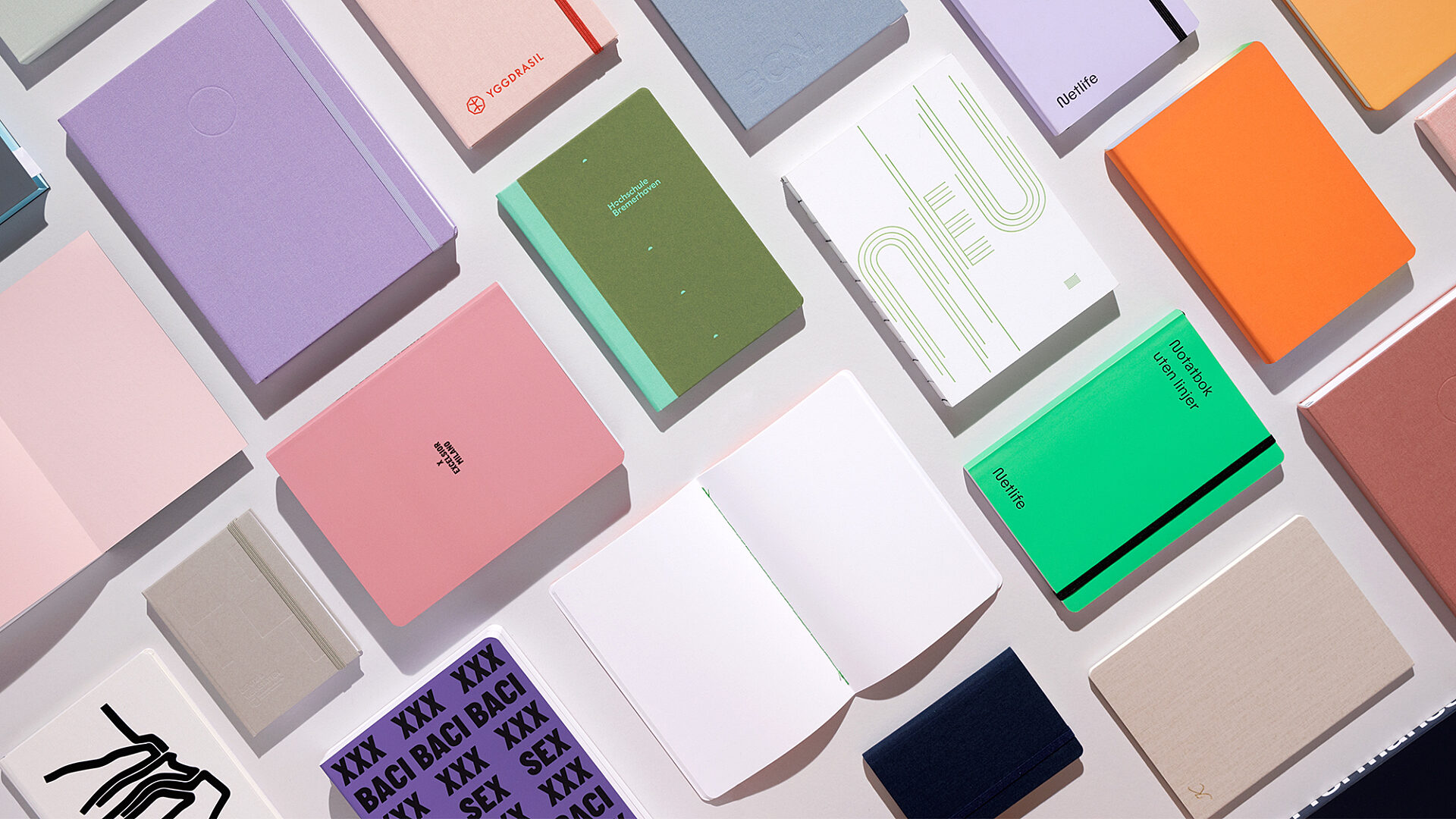 Making an enquiry with brandbook is quick and uncomplicated: Via our book configurator, contact form, by phone, by e-mail or even directly on site.

Starting at 100 copies: Use our book configurator and put together your individual notebook step by step, i.e. determine the desired format, choose from a variety of cover materials, branding and finishing options and add individually designed image pages to the book block.

Starting at 25 copies: Select one of our modular notebooks in the shop and add your logo and practical book accessories.

Then all you have to do is send us your enquiry and we will provide you with a customised quote, without obligation and within one working day.

If you would like personal advice right from the start, our team will be happy to help.

You can find detailed information on the enquiry & ordering process in our FAQs.
Every book production is preceded by a thorough data check by our design team. This data check includes an examination on whether the documents are complete, the file formats, colour spaces and resolutions are technically sufficient and ready to print. Our experienced graphic and media designers will help you to resolve any ambiguities regarding your final artwork. On request, we can also assist you with the design of your book and the print data creation.

Together with your order confirmation, you will receive a final visualisation for approval. Only after everything is according to your expectations and after you have approved, the production starts.

The production takes 4 weeks. If you choose a modular notebook, the delivery time is reduced to only 8-10 working days.

You can find detailed information on print data & production in our FAQs.
brandbook ships to customers worldwide.

The cost of shipping depends on the weight, amount and the country of delivery. We can calculate the cost of shipping upon request when preparing your offer.

Your books will be packed in easy-to manage boxes. We send smaller amounts with UPS. If the shipment is larger, then the boxes are placed on palettes and sent with our shipping partner. And if it is really urgent, we can also send your order by courier. Upon request, we can package up smaller orders for you to pick up at our business premises. But please remember that books are often heavier than one thinks, so we do certainly recommend a direct delivery.

You can find detailed information on delivery & shipment in our FAQs.