Book block
The book block in book production offers a similar range of design possibilities as the book's exterior. Combining paper types, designing front and back endleaves, selecting creative notebook grids, or complementing the book block with perforations and hole-punching – all of this, in addition to the cover design, is part of the conception of a book project.

Naturally, paper is an essential part of producing books – when it comes to image books, print colour, design, weight and smell are essential as well. Here, or, even better, in a personal conversation, you can find out which paper is suitable for your project, which print method can be used and what you have to consider for it.

Premium Munken papers are one of our favourite papers. Produced in Swedish paper mills, they are used for approximately 70% of our book productions – we are very pleased about this! The uncoated, sleek surface gives a very pleasant feel, so it is one of our recommendations. Of course it is FSC certified. The colour "Polar" stands for a pleasant white tone with a natural character. The colour "Pure" stands for a subtle cream colour tone, which is produced without any optical brighteners. For many people, the chamois of the paper is the distinguishing notebook feature per se.
For the Sake of the Environment. Our favourite recycling paper clears up with the prejudice that recycling papers are unpleasantly grey or quickly turn yellow: Enviro Polar has a DIN ISO degree of whiteness of 98% and is absolutely ageing resistant. It has been awarded with the FSC certificate, the Blue Angel and the EU-Flower. It combines sustainability with best writing qualities, good printability and tensile strength. 100% waste paper for 100% environment.
brandbook offers good paper at reasonable prices. Offset paper is efficient and cost-optimised. When it comes to promotional gifts, advertising materials or giveaways at fairs the price often matters. For these projects we offer a bright white, wood free offset paper made in Germany– with a natural matte surface, good writing and printing qualities. An all-rounder.
If you're planning individually printed image pages, besides note pages for your book, you don't necessarily have to choose the same type of paper. For full-surface motifs we recommend image print papers with a matte and silky-matte surface. The paper choice determines the quality of the print.
Note paper doesn't necessarily have to be white: A yellow that reminds us of the classical post-it, a tender light blue matching a Corporate Design or black paper that's writable with a white marker. There are plenty of ideas for great effects that can be achieved by the right paper choice.
Front- and Endleave Paper
The front- and end leave is an essential part of the book: it connects the book cover with the book block and thus forms the first and last double page in the book. For an individual first impression, the first pages can be individually printed with address lines, a logo, image motifs or a calendar overview, or they can remain completely unprinted. For front- and end leave papers we like to recommend colour-imbued fine papers, as well.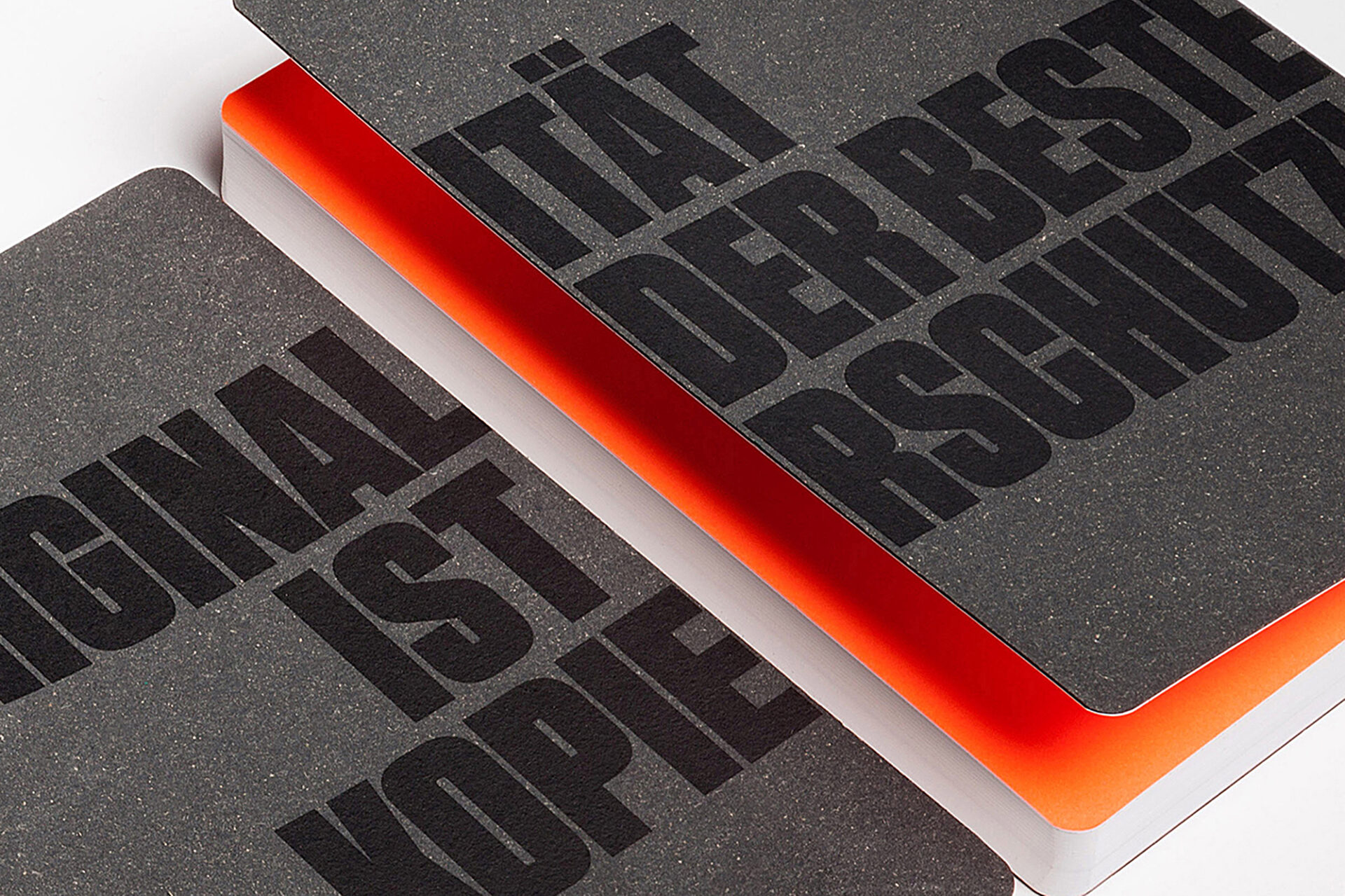 Notebook Grids
Whether as creative tools, lab books, project books, idea books, for architects, designers, or managers – with us, you'll find almost every conceivable type of layout/grid for your notebook block. Of course, we can also print your custom grid in your company's color and with your company logo.
Dotted grid
Bestseller Similar to the structure graph paper offers, the anatomy of a page with dots offers orientation. Our's are super fine, yet visible to the naked eye. The benefit to graph paper is that these dots are so subtle, that they do not dominate over your handwriting when scanning or photocopying.
Squared Grid
The advantages of the classic square grid are clear: it's versatile! It can be used for writing, calculations, creating charts, or drawing sketches. Line height and column width can be varied as desired. The result is always well-structured and clear.
Lined grid
Lined paper makes it easier to maintain straight lines and enables particularly elegant writing. To efficiently use the paper, brandbook employs a line spacing of 7 mm. Line thickness, spacing, and colour can be individually adjusted according to customer preferences.
Project sheet
An optimal overview of a project is provided by a sheet that can be tailored to the specific needs of the individuals managing it. To-do lists, timelines, and project workflows can be taken into account in the layout of your project sheet.
Grid with Logo
An individual notebook block is ideal for a subtle logo branding. Combine a dot grid, squares or lines with your logo: we set your design in any color and form you wish for. Upon request, we will also be pleased to support you in creating the layout.
Special Grids
Milimeter graph paper, rectangle grid, isometric dotted or lined grid, story board, music note sheet.
The choice of paper, the grammage and the circumference are decisive for the character of the book block
Integrated Image Pages
You have the possibility to integrate your own image pages in almost all positions of the book block. The most common versions are these: in front of, in the middle or directly after the notebook block. But a distribution throughout the book block doesn't exclude thread stitch. Here, we will individually advise you according to your wishes.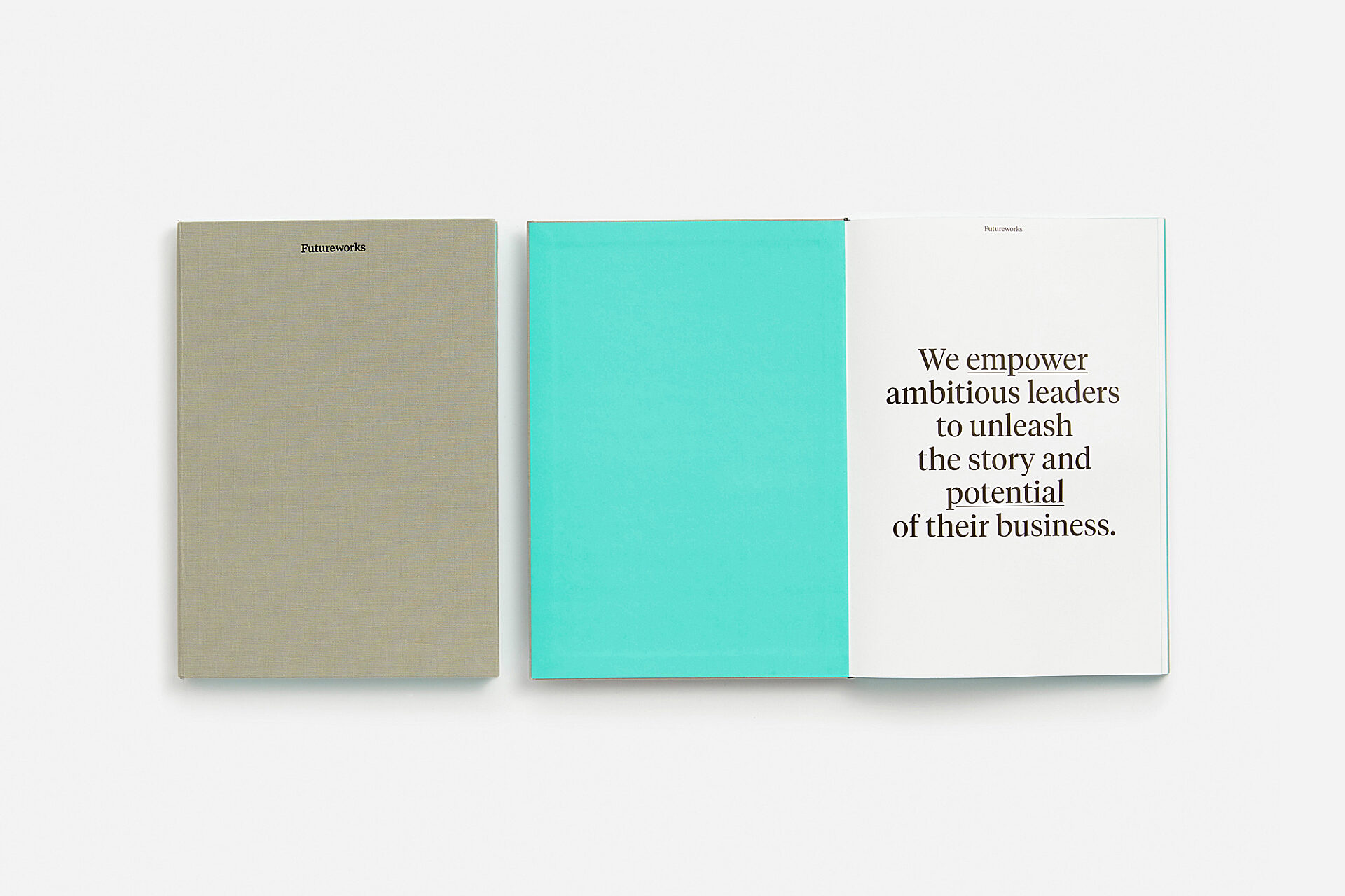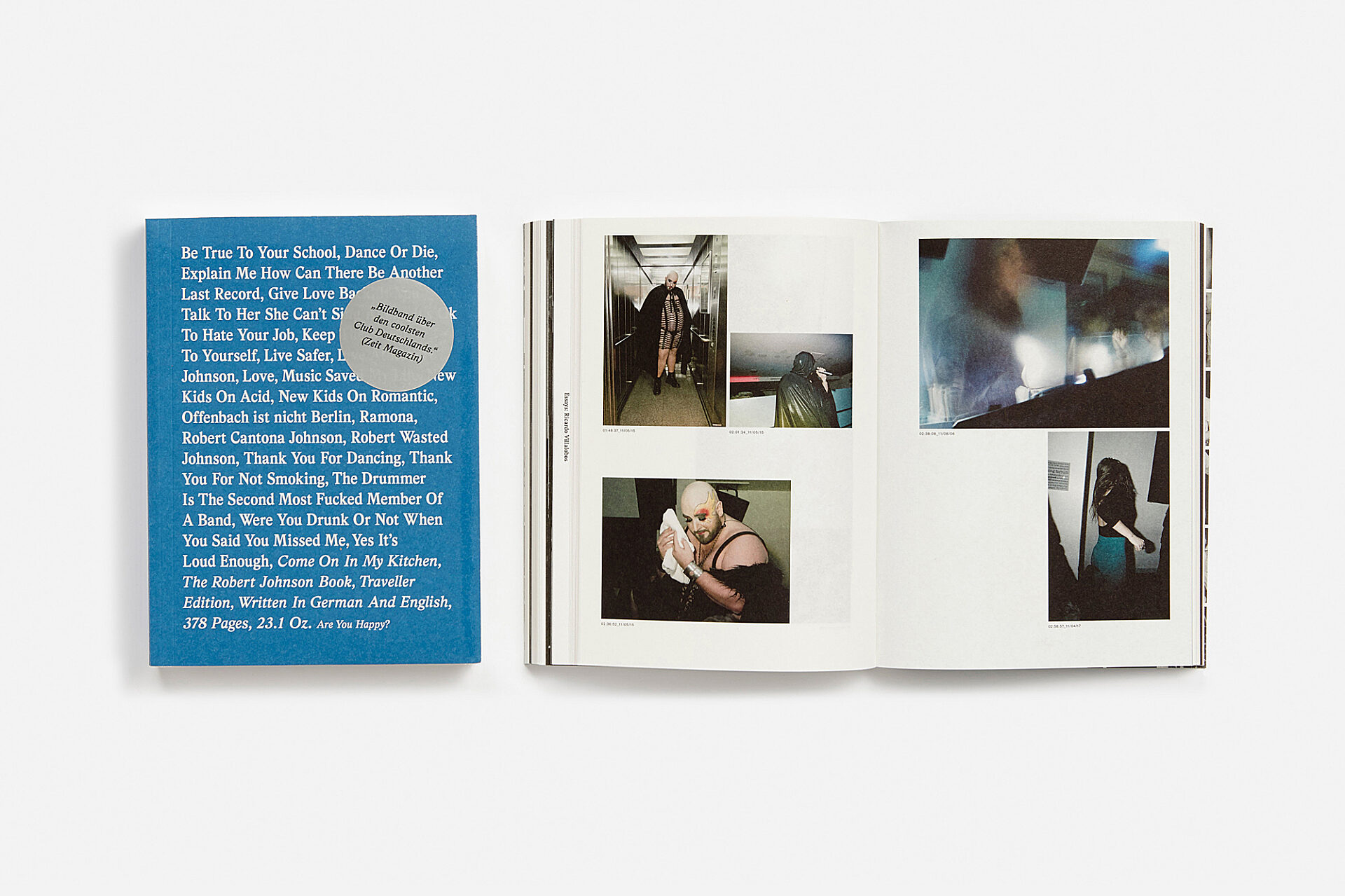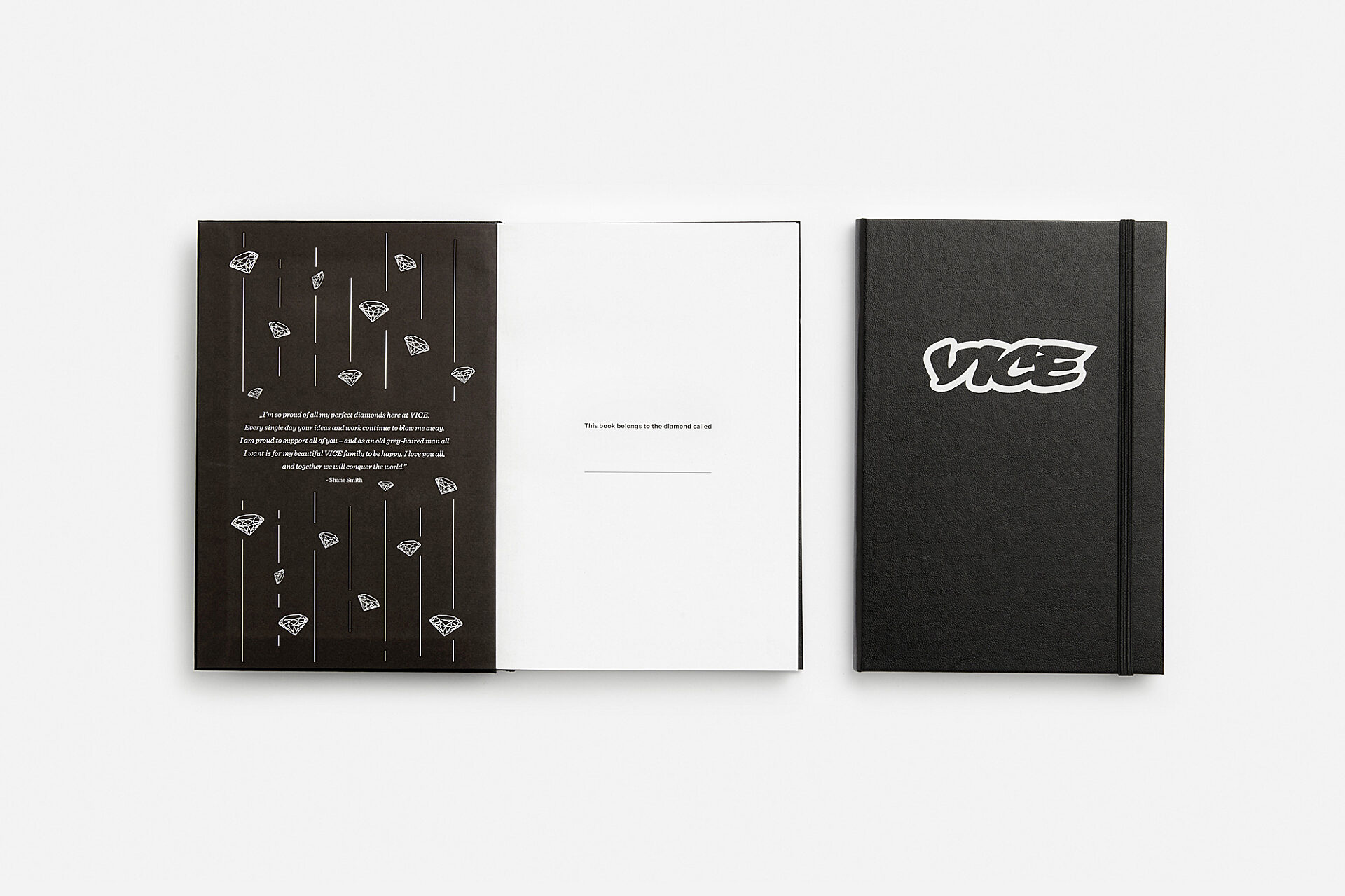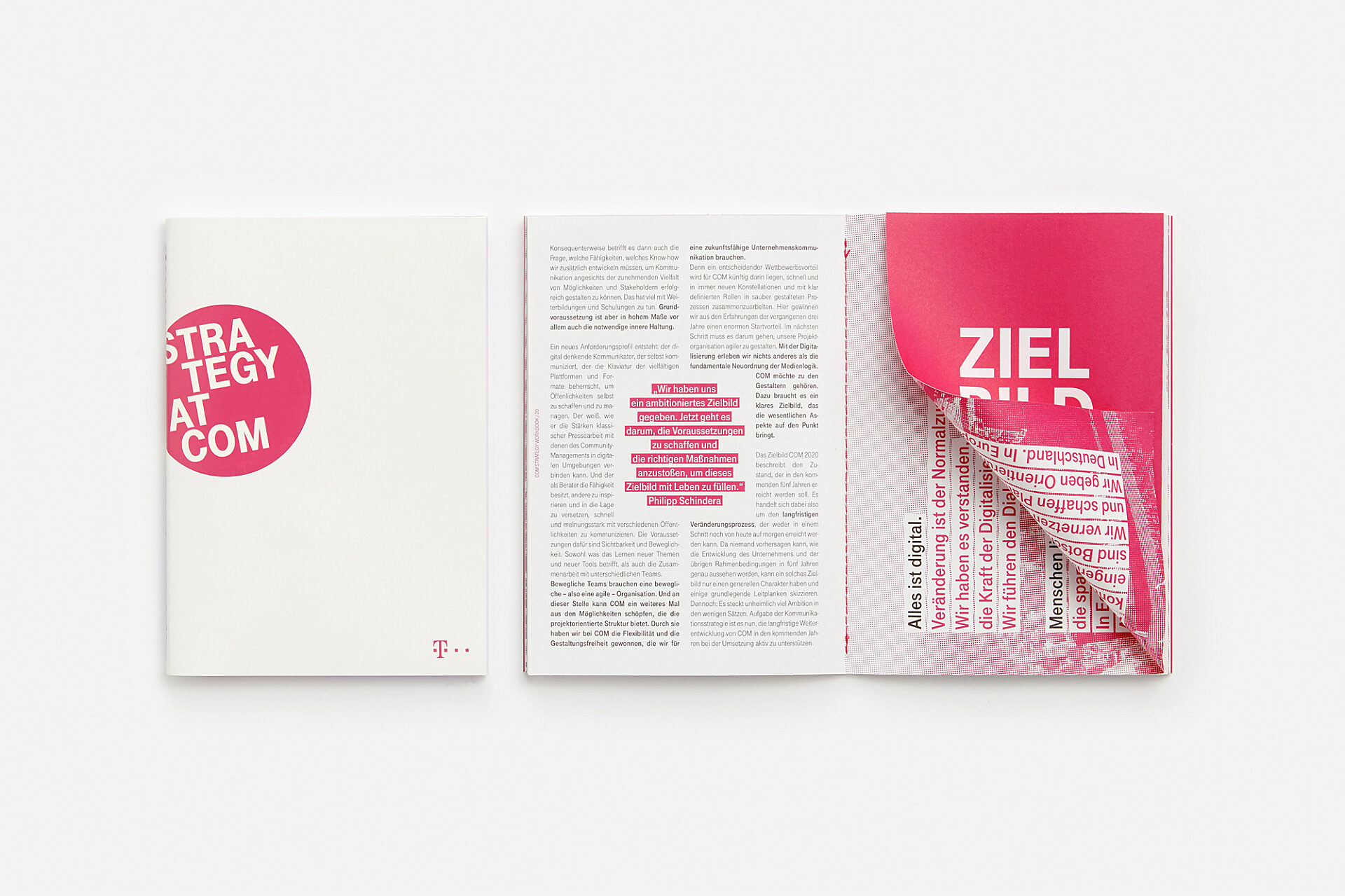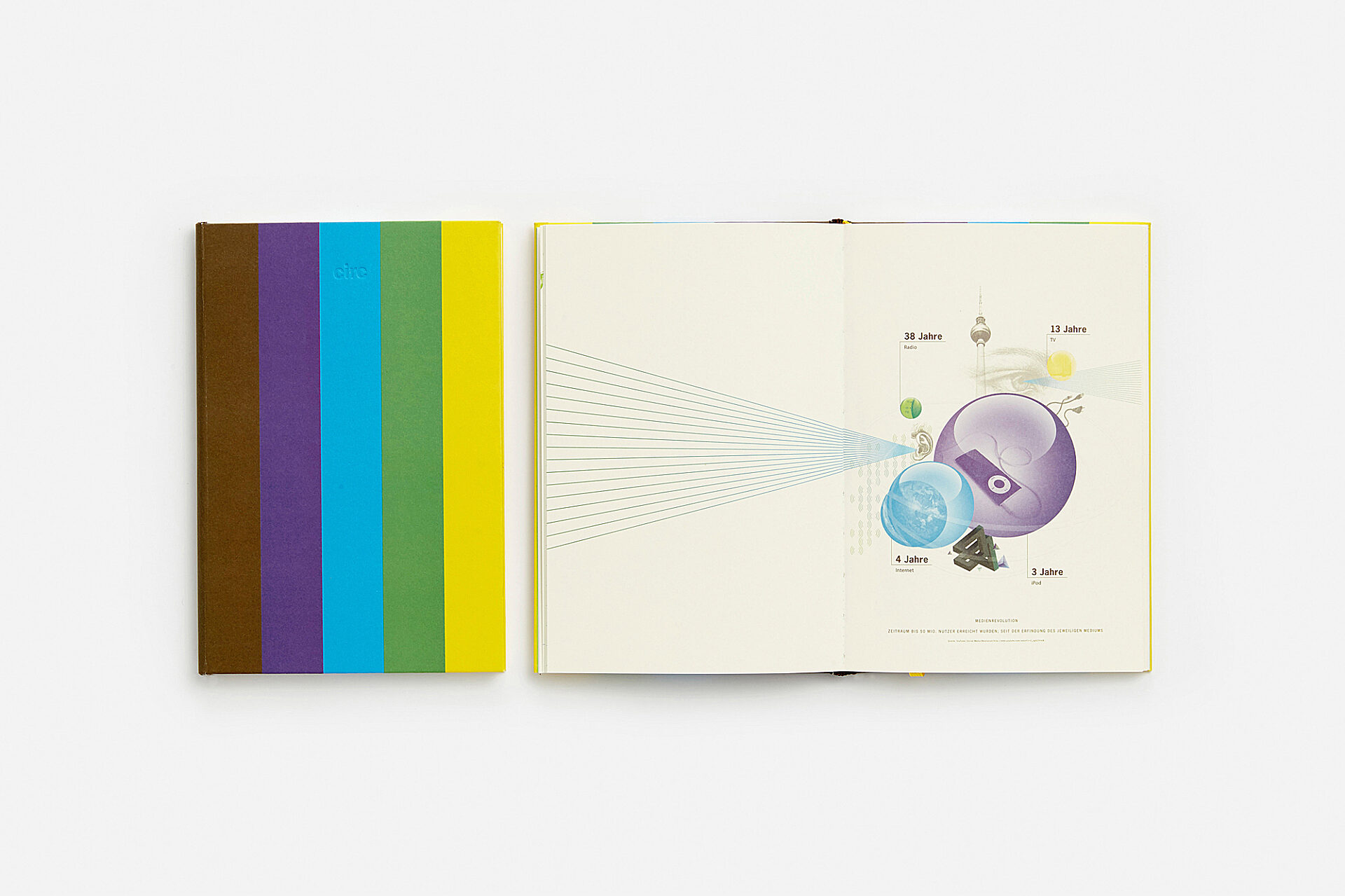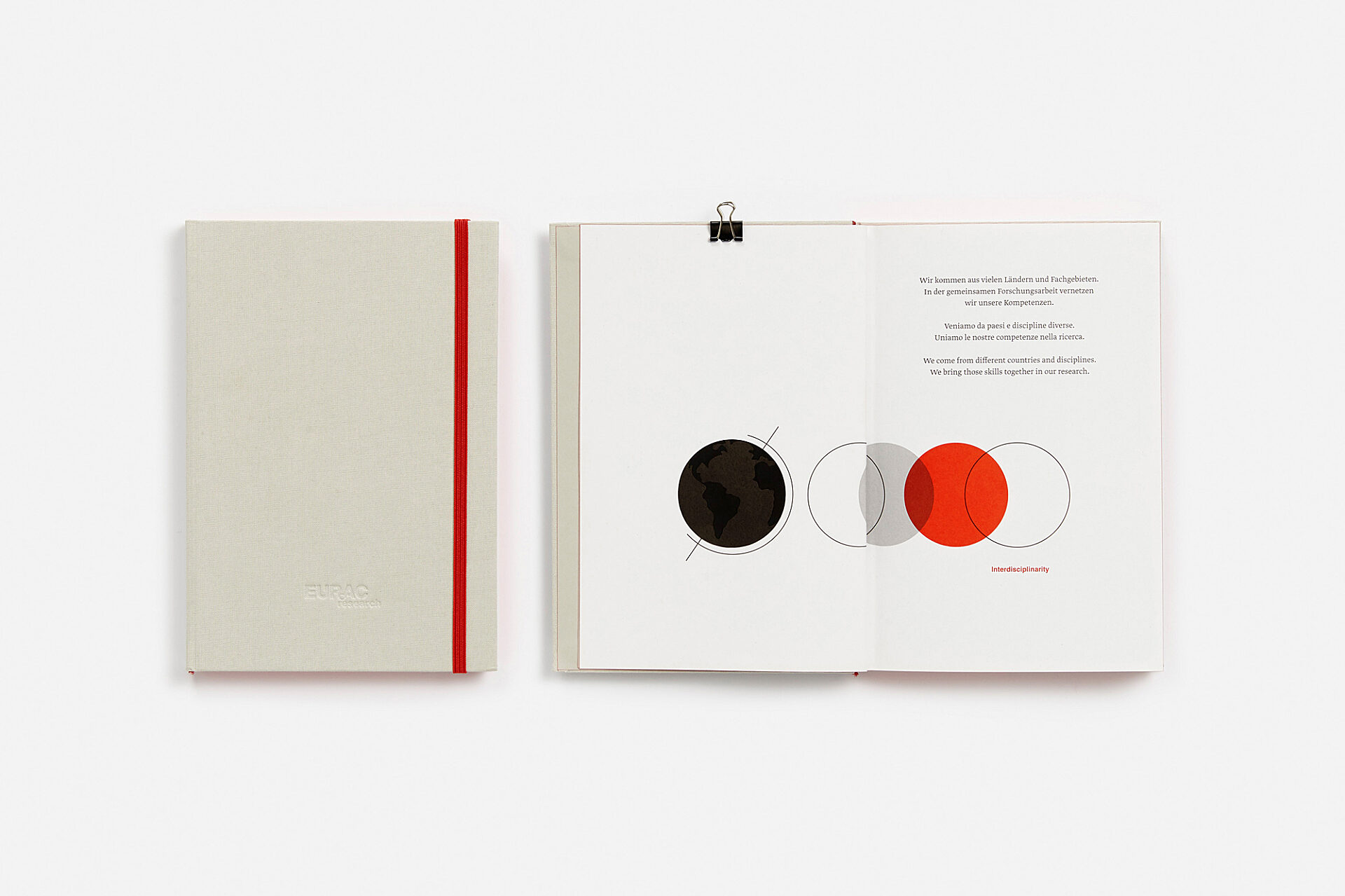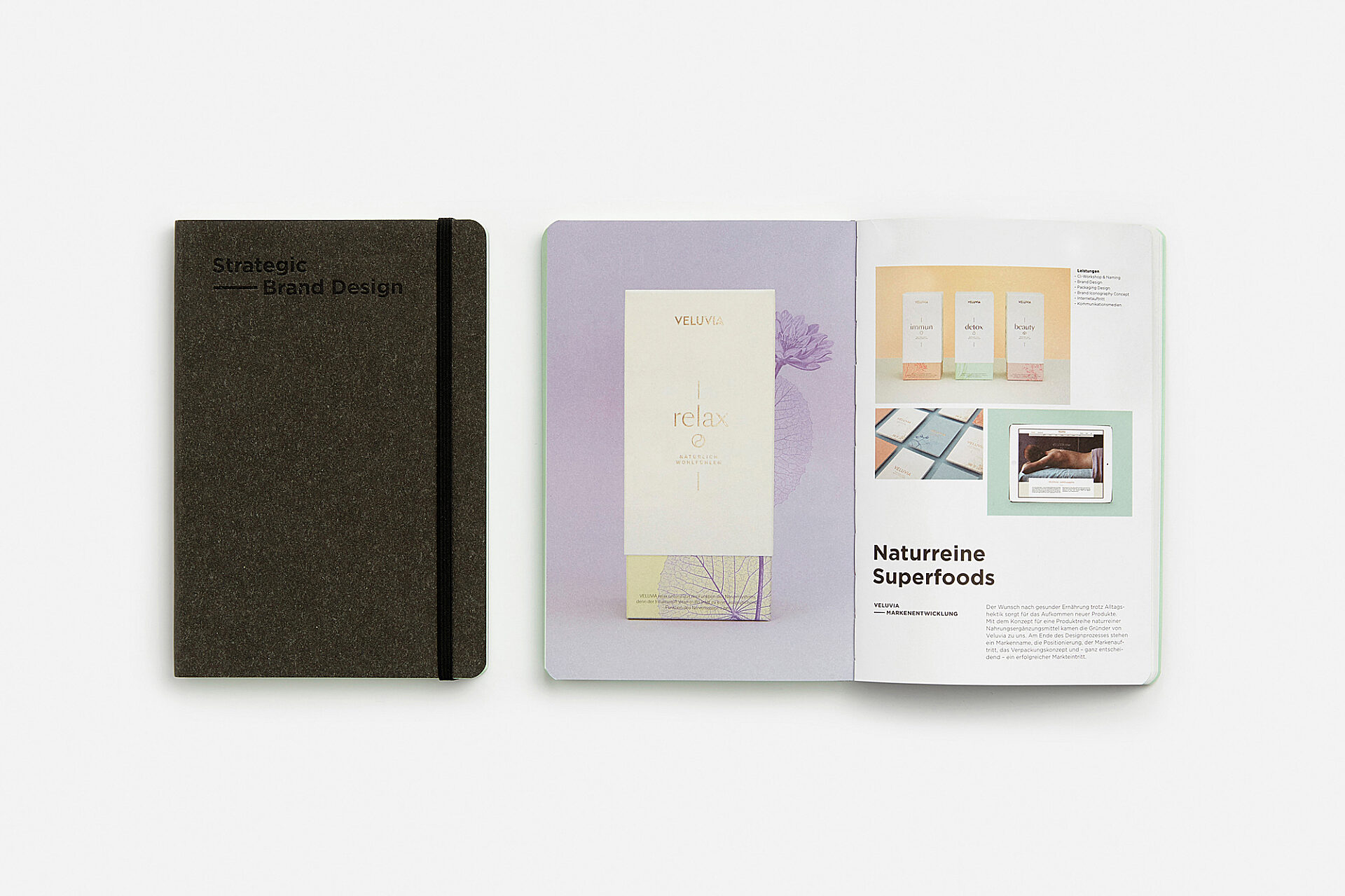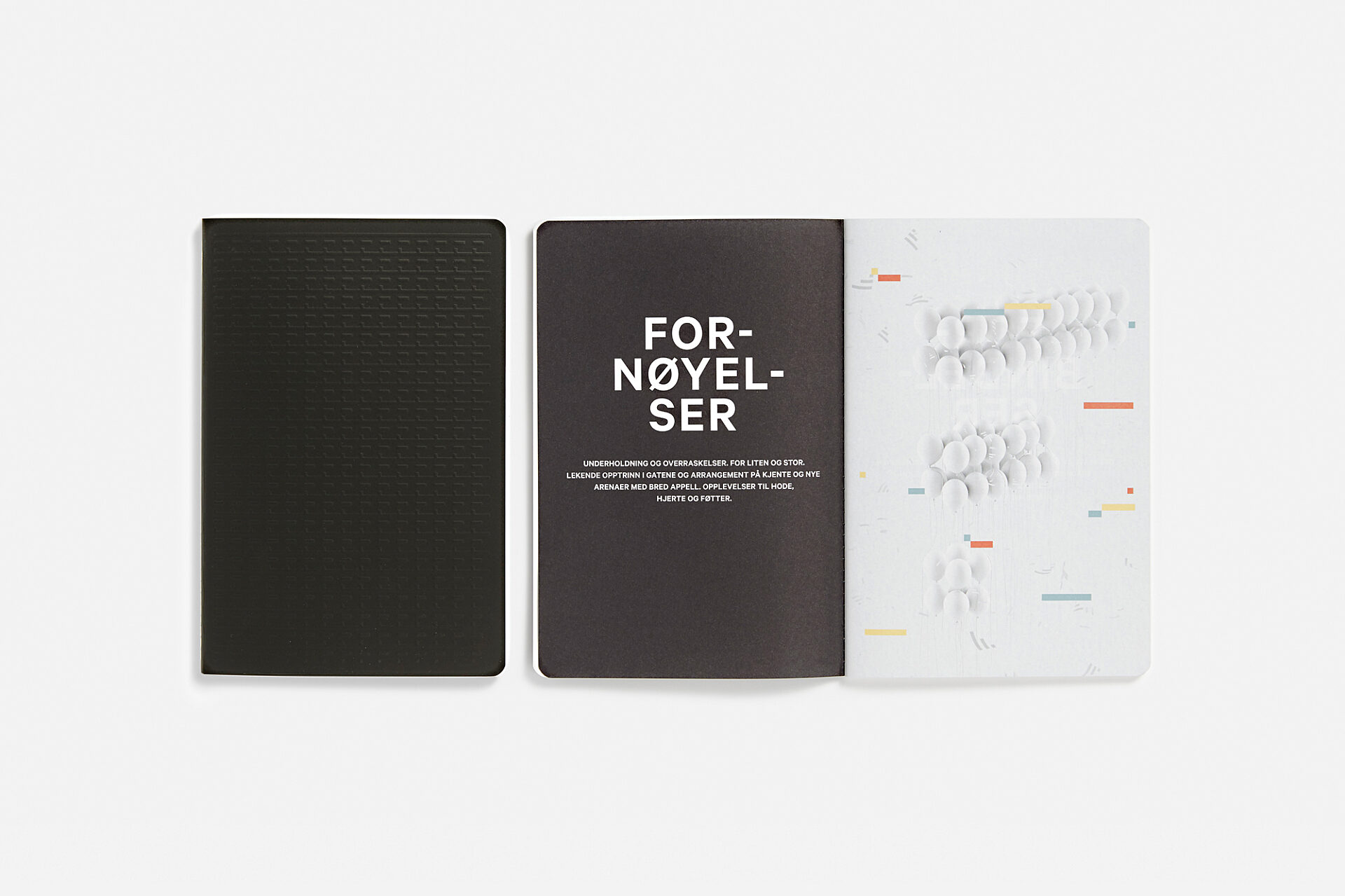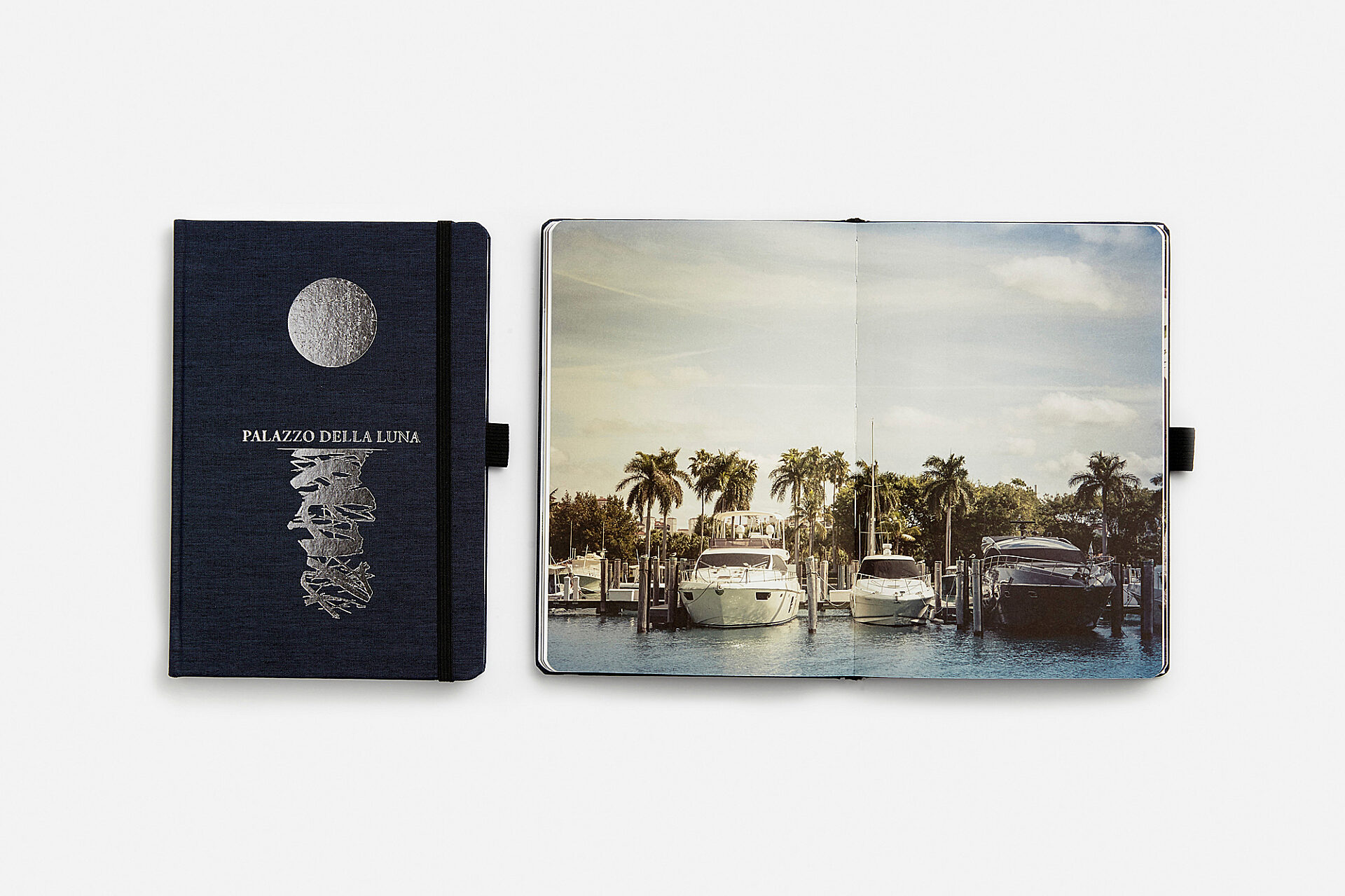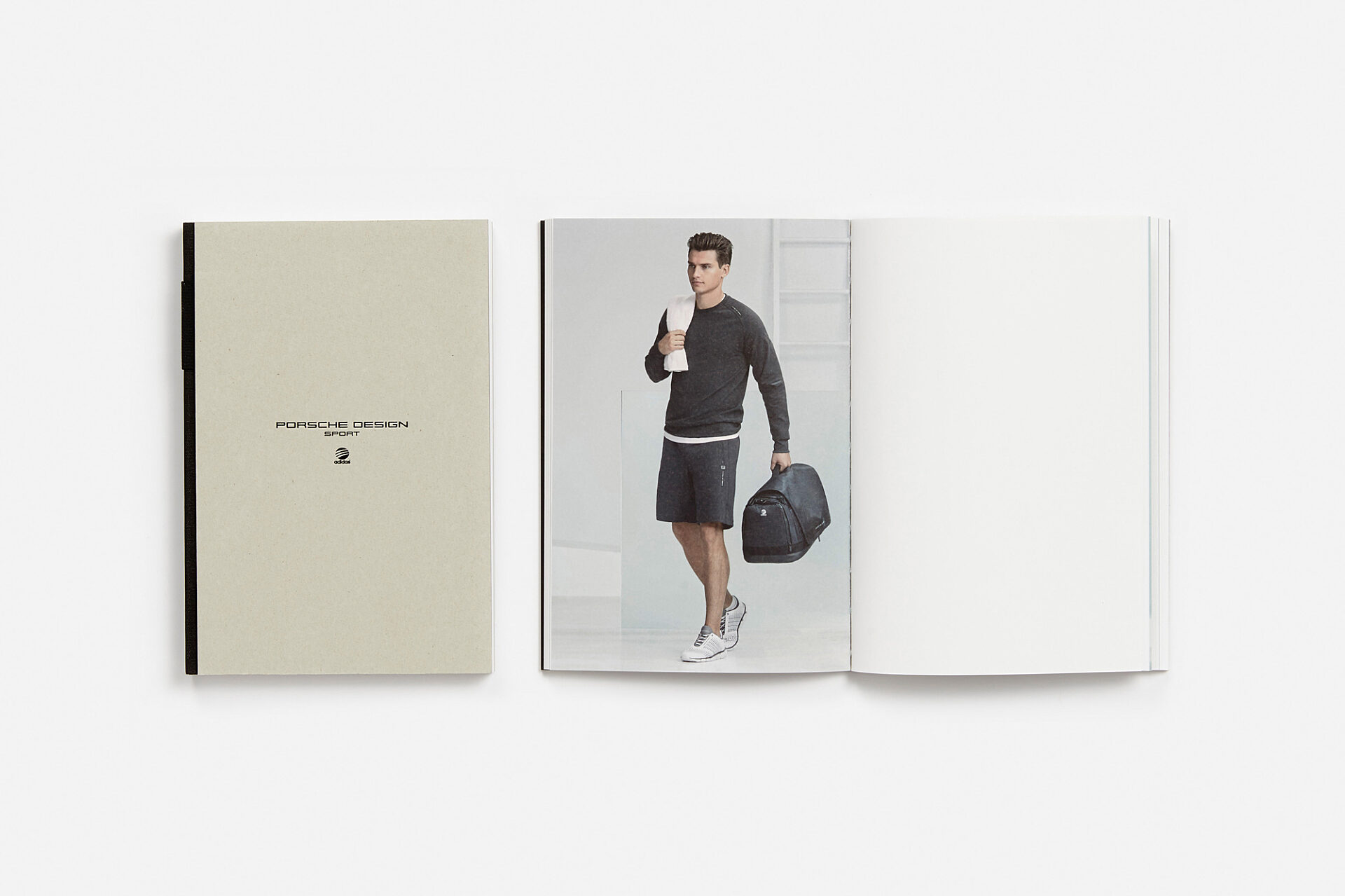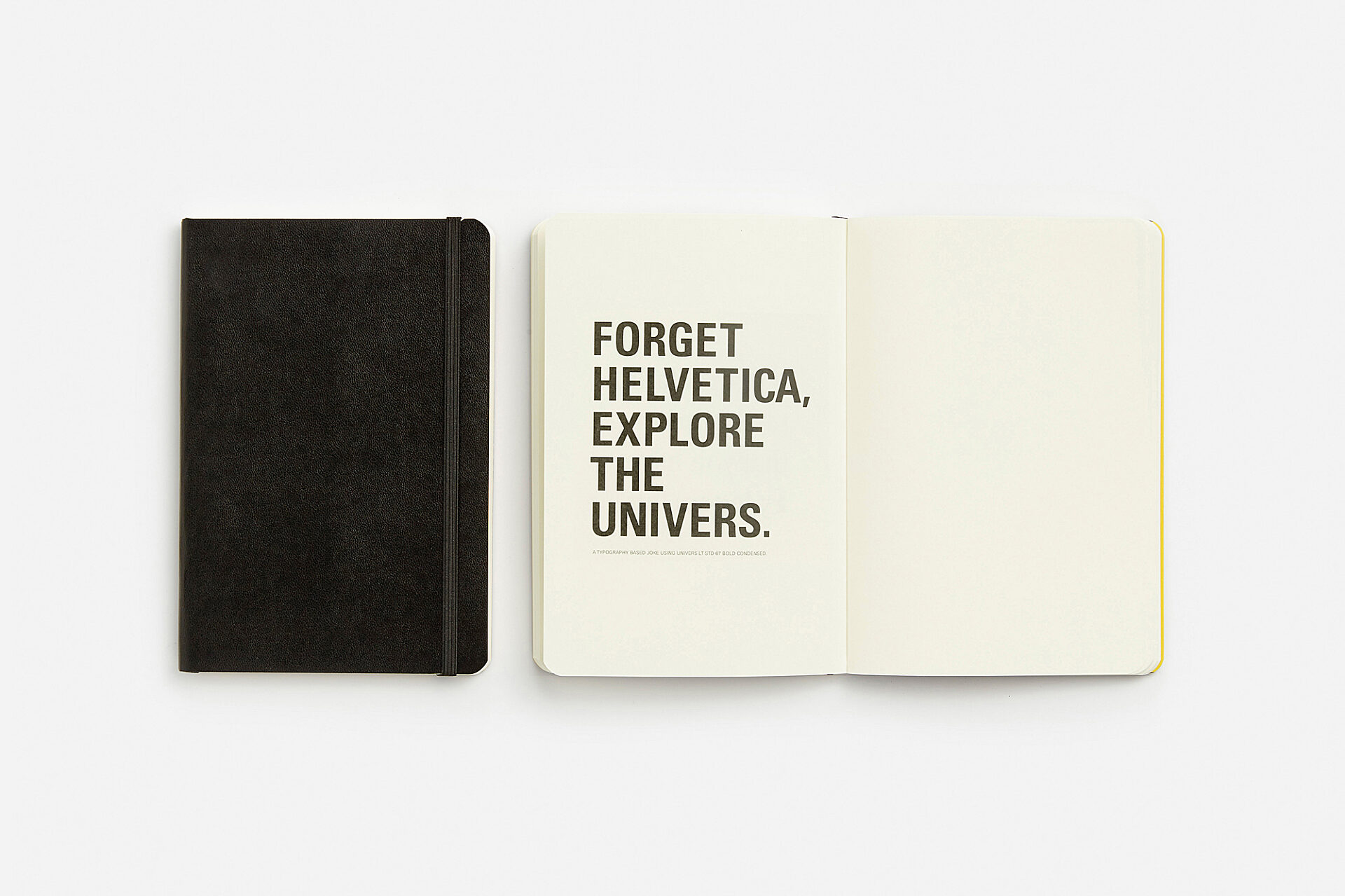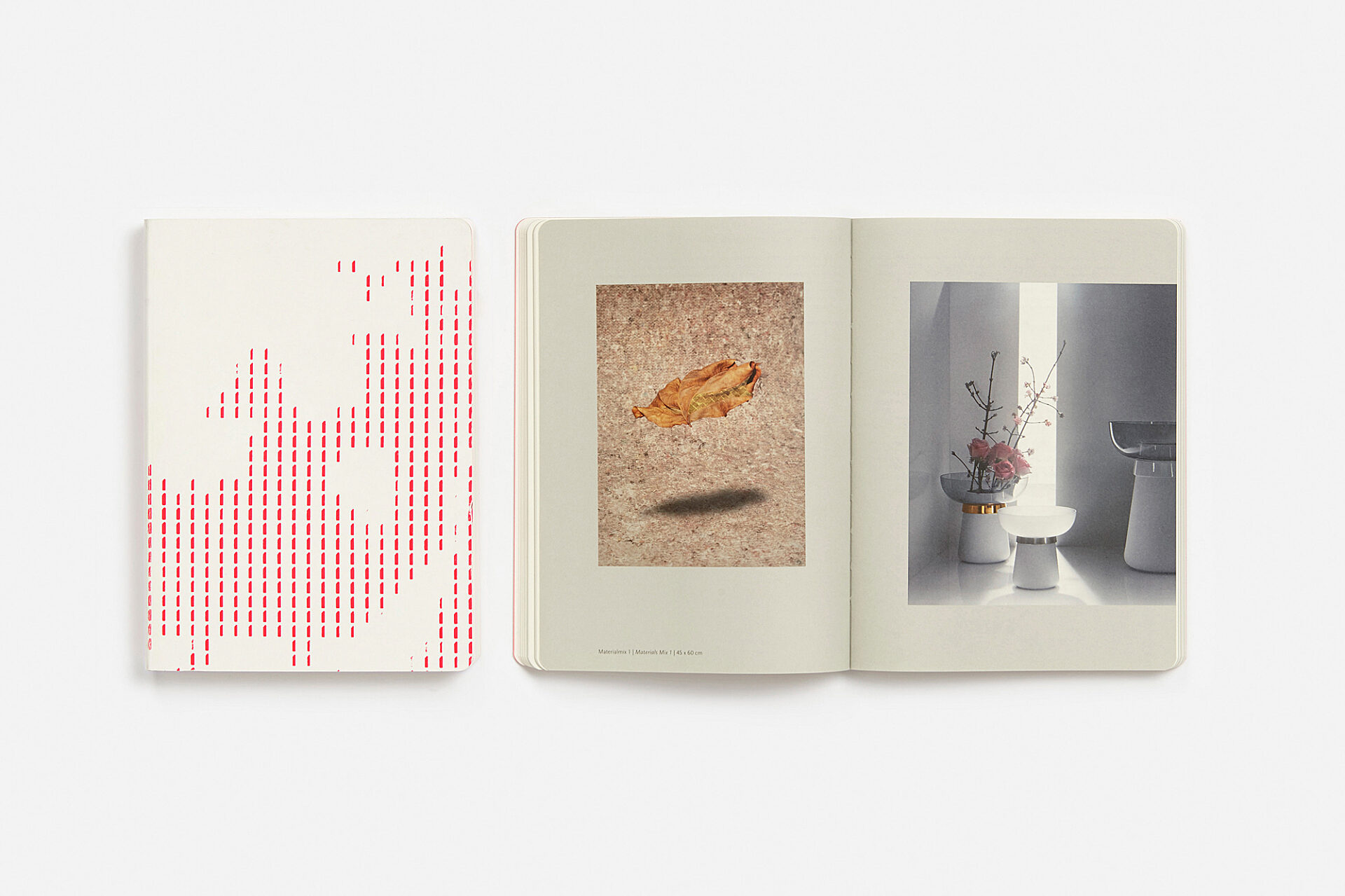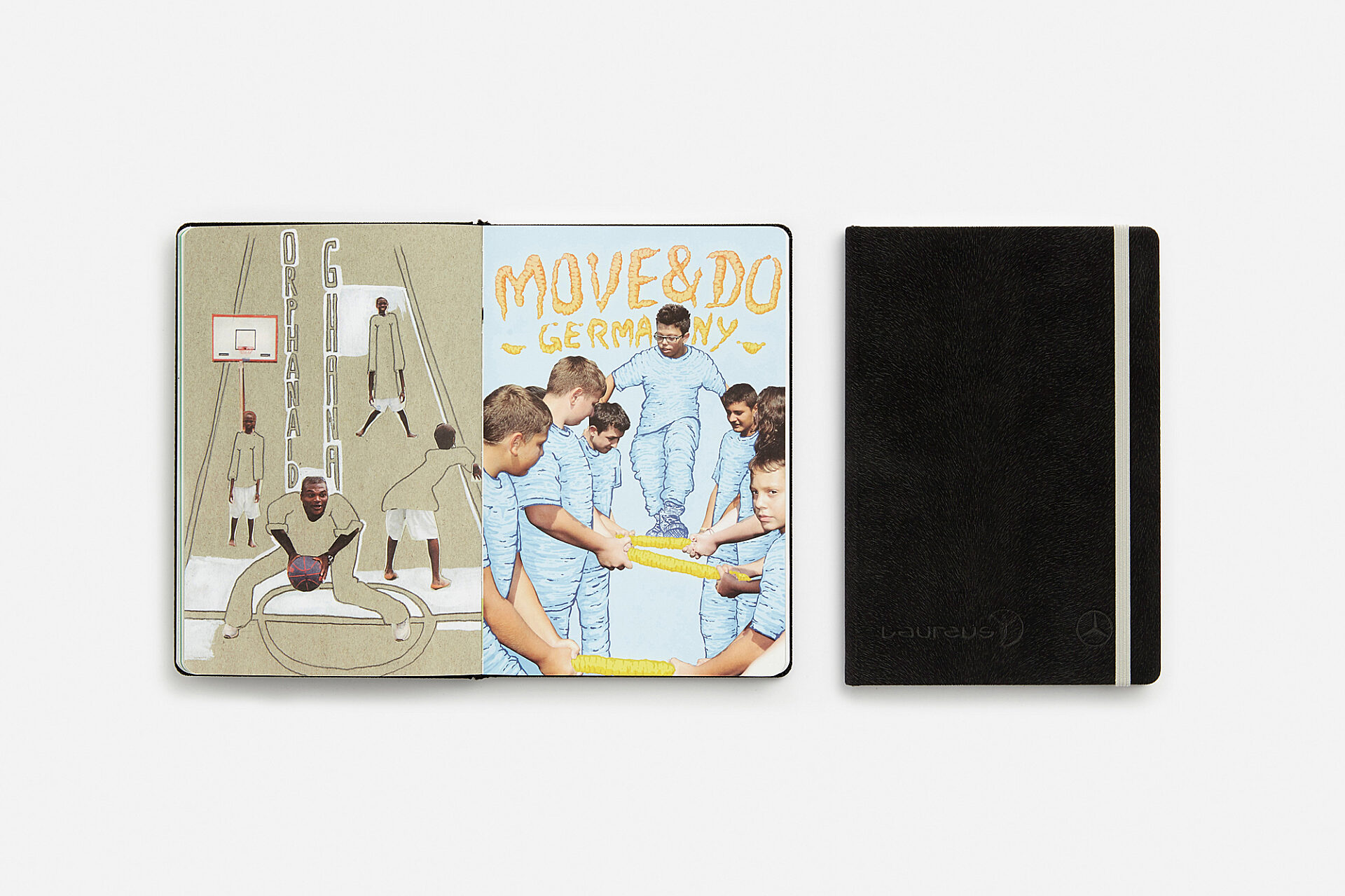 Customized Book Calendars
Next to notebooks, brandbook also produces customized calendars which give you a totally diversified way to coordinate appointments. Yearly overviews, daily, monthly, or weekly calendars don't have to look like the same old standard promotional calendars. If you're seeking inspiration for a custom planner, brandbook provides personal guidance and, if desired, support from our graphic team for the design.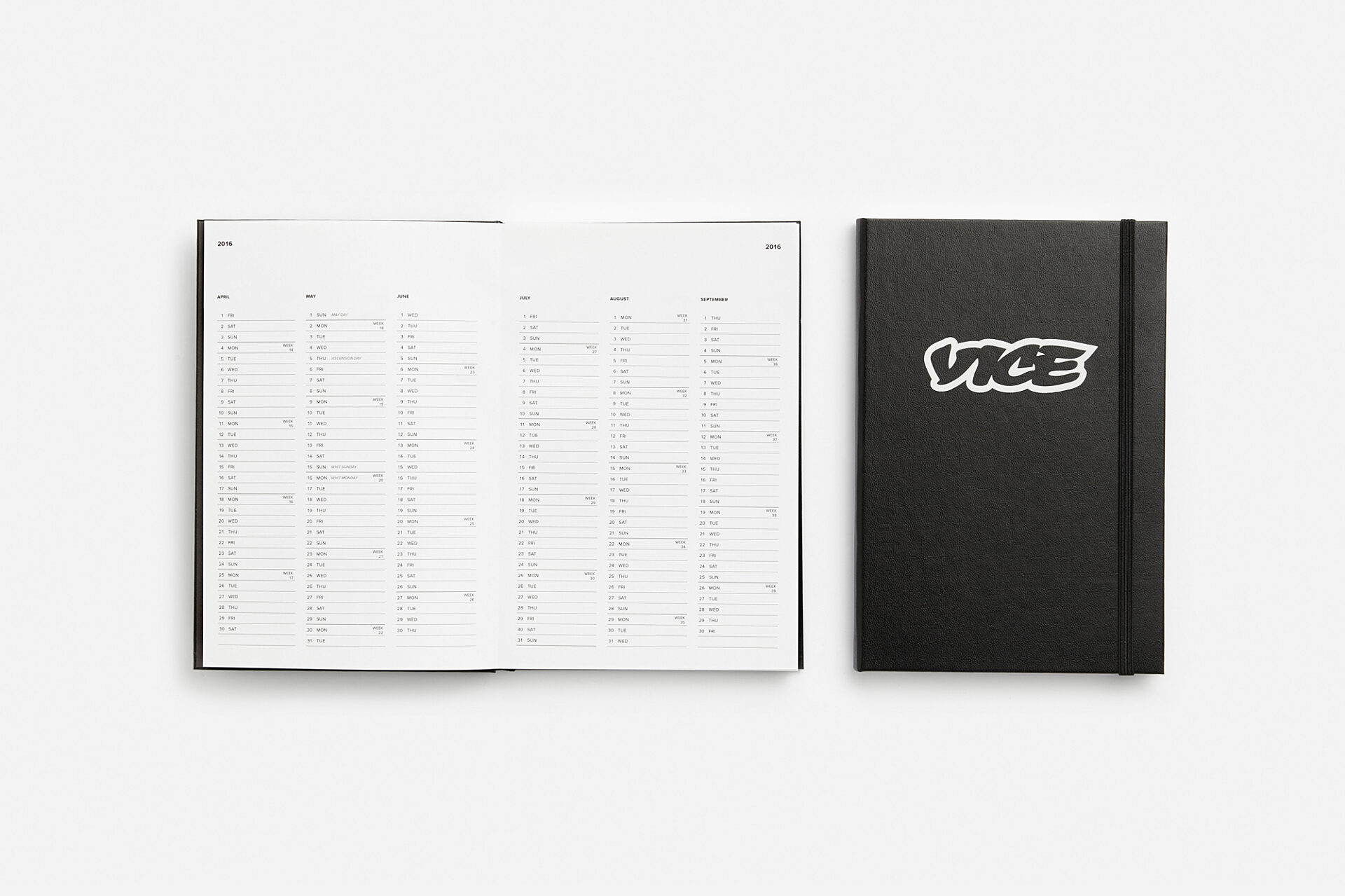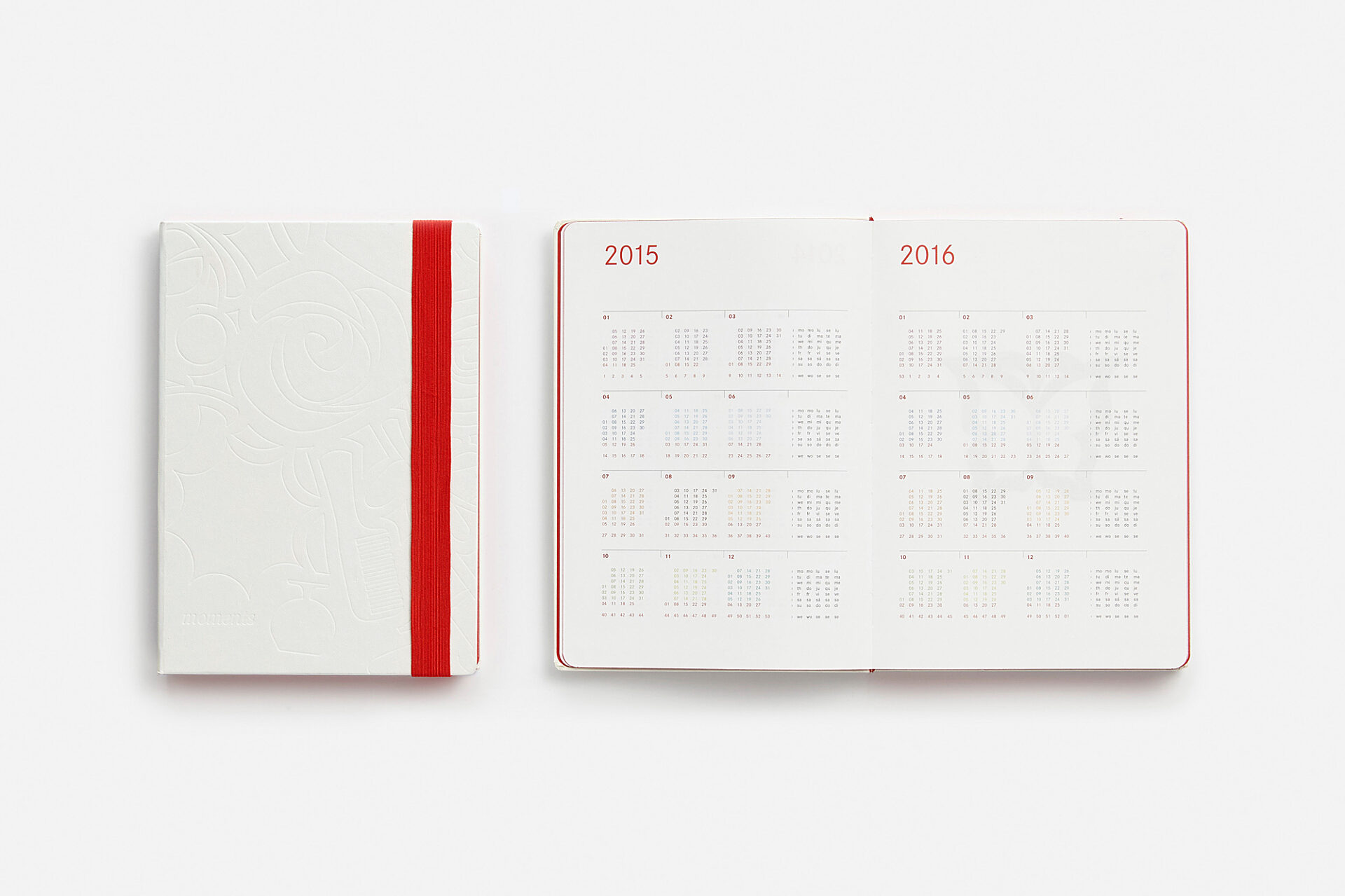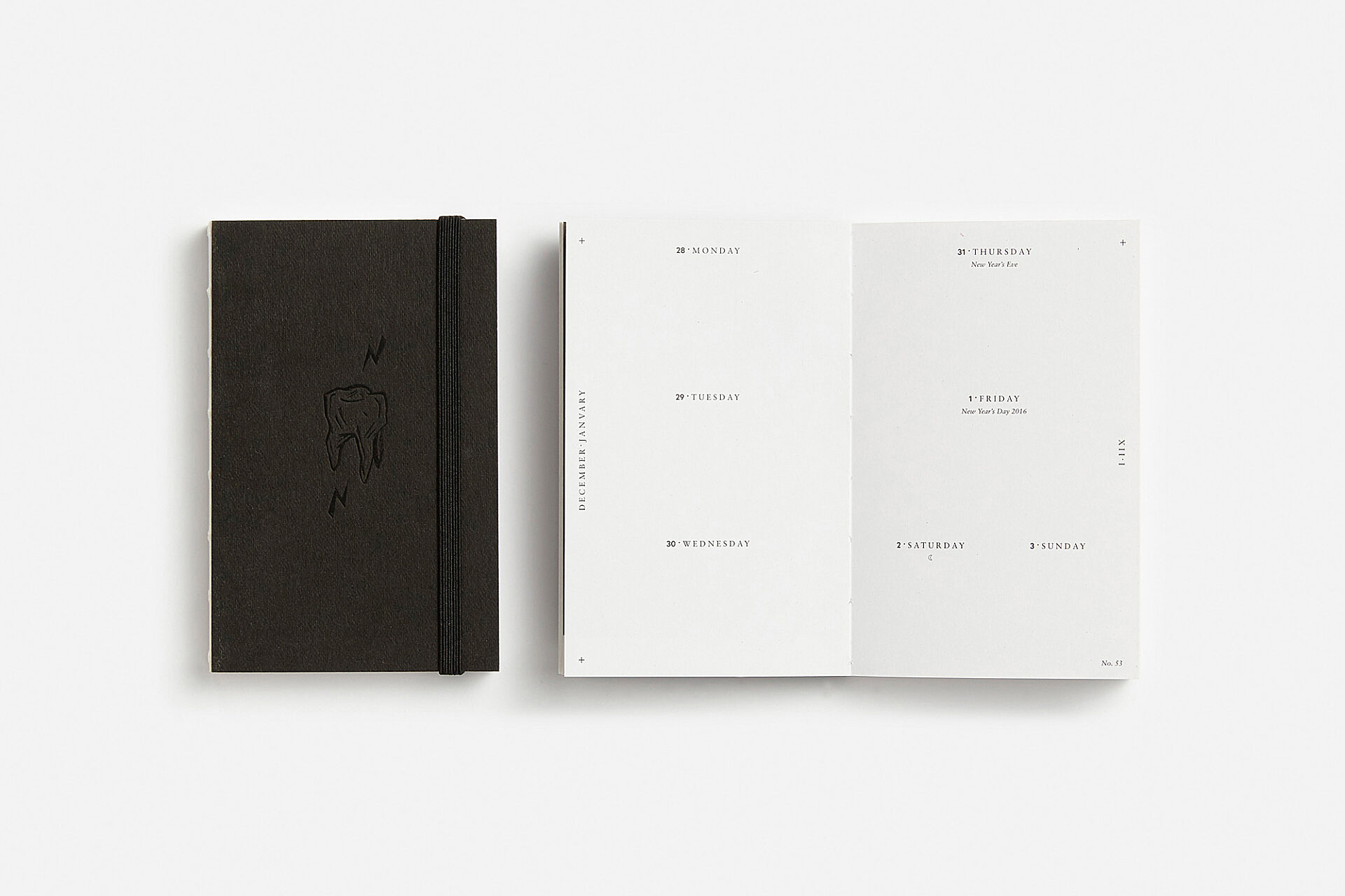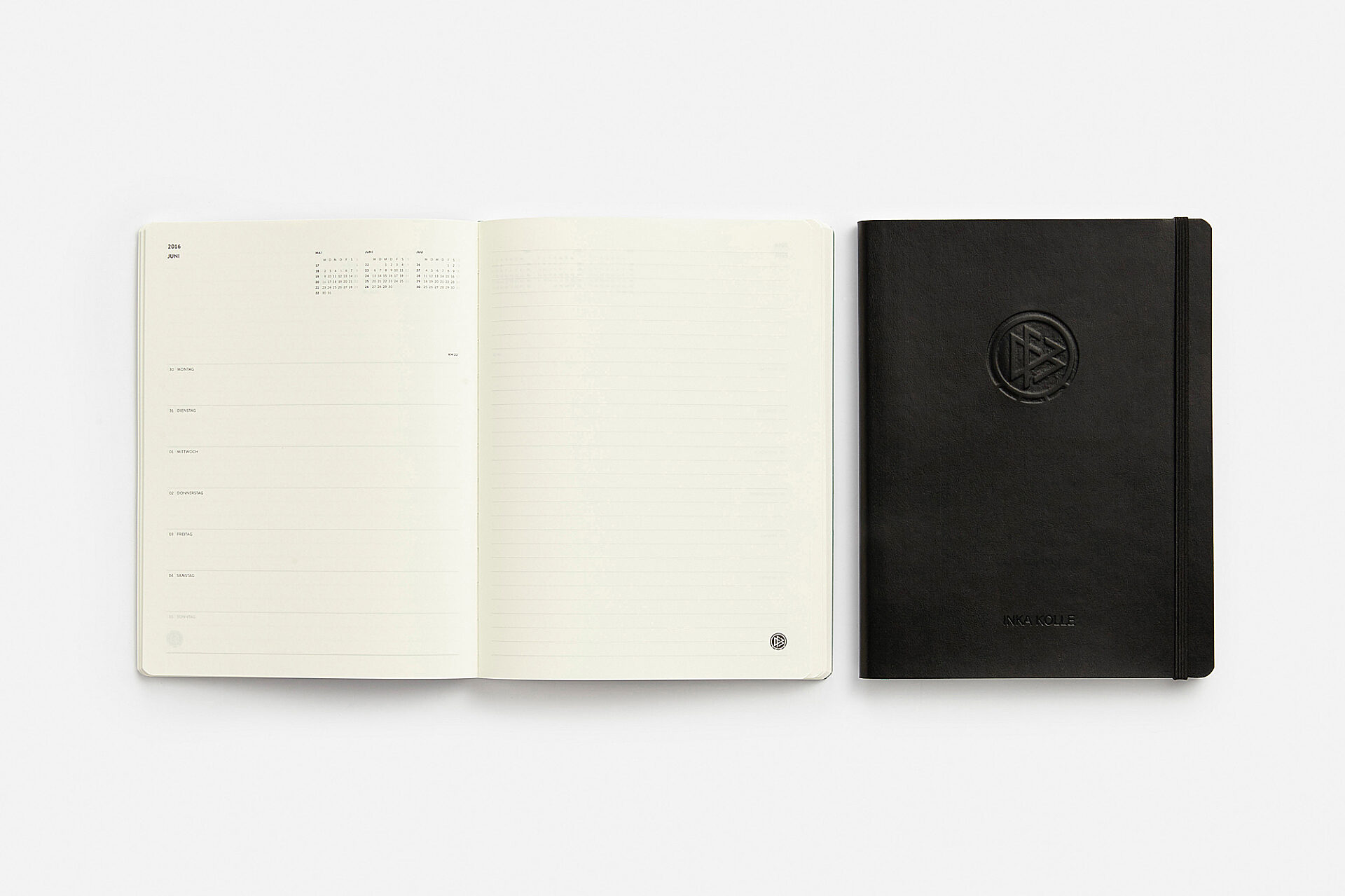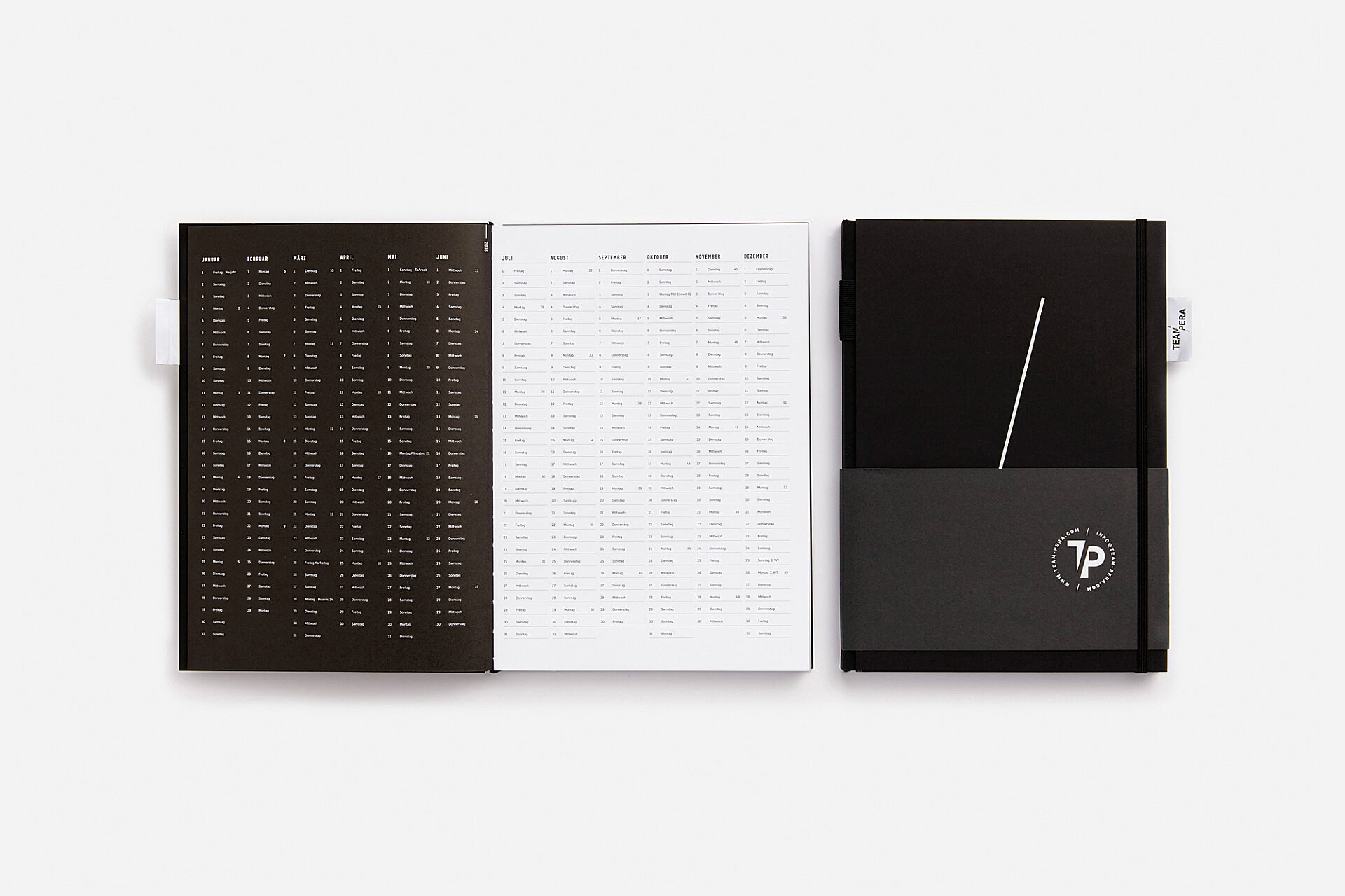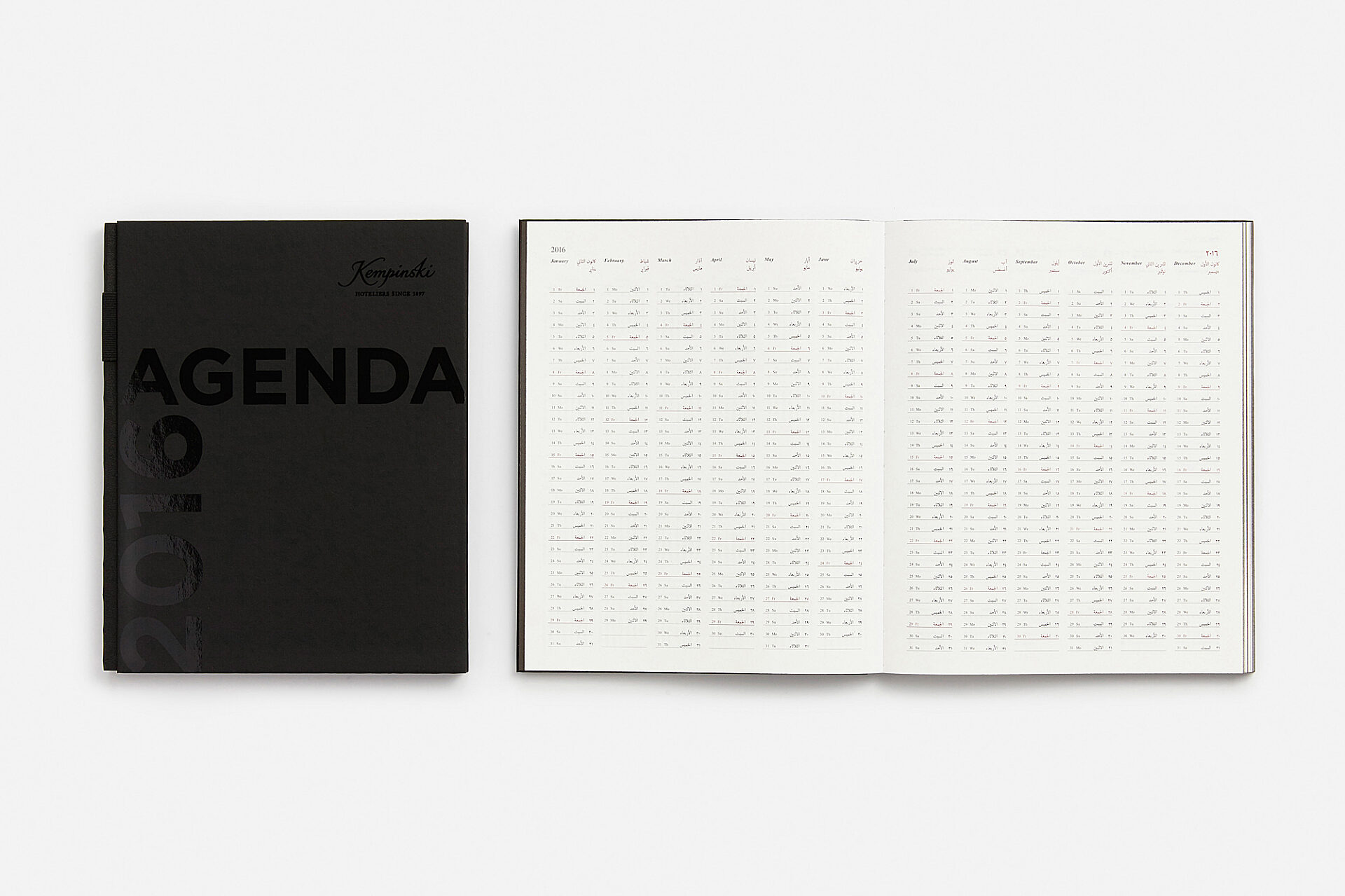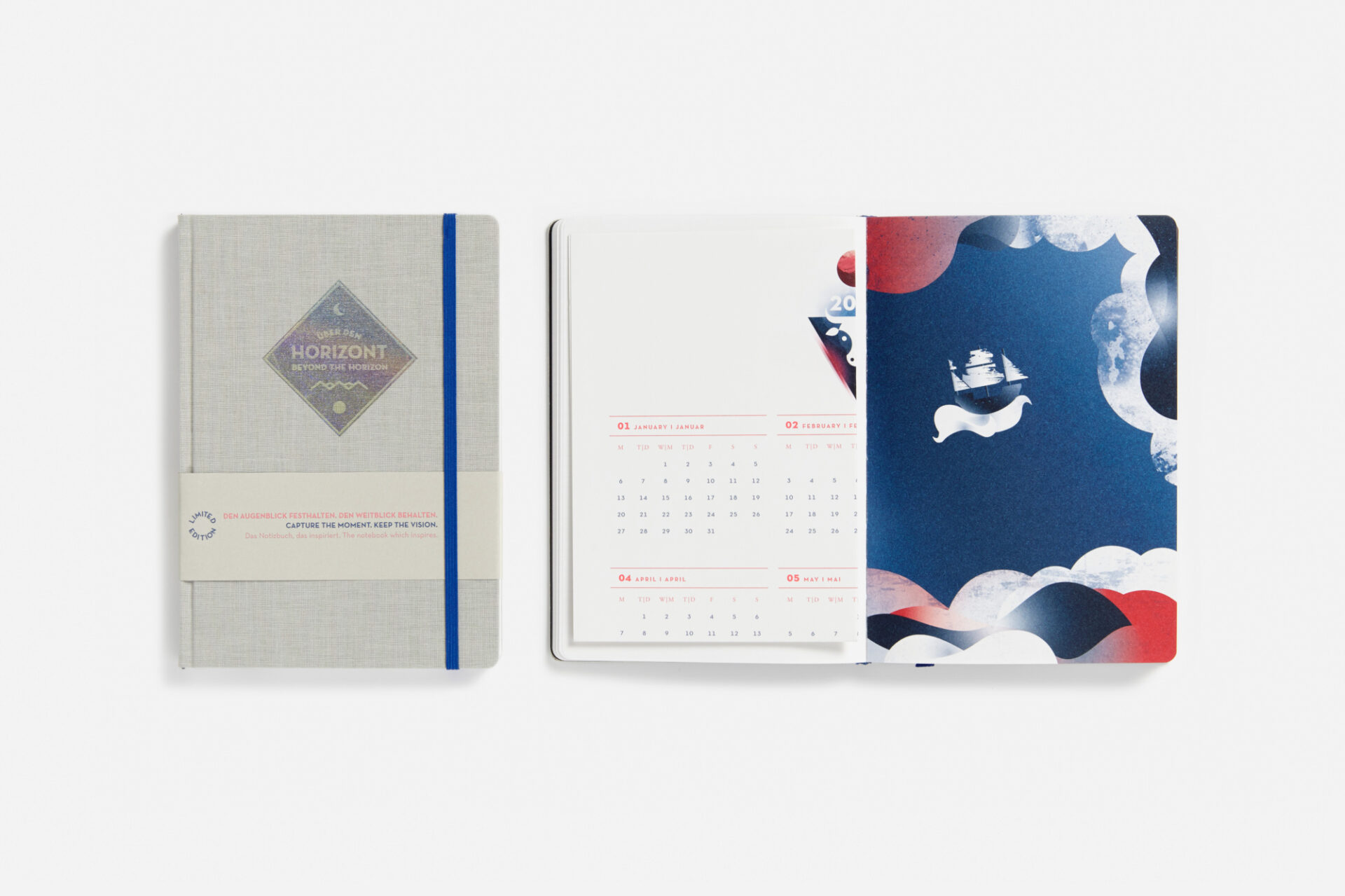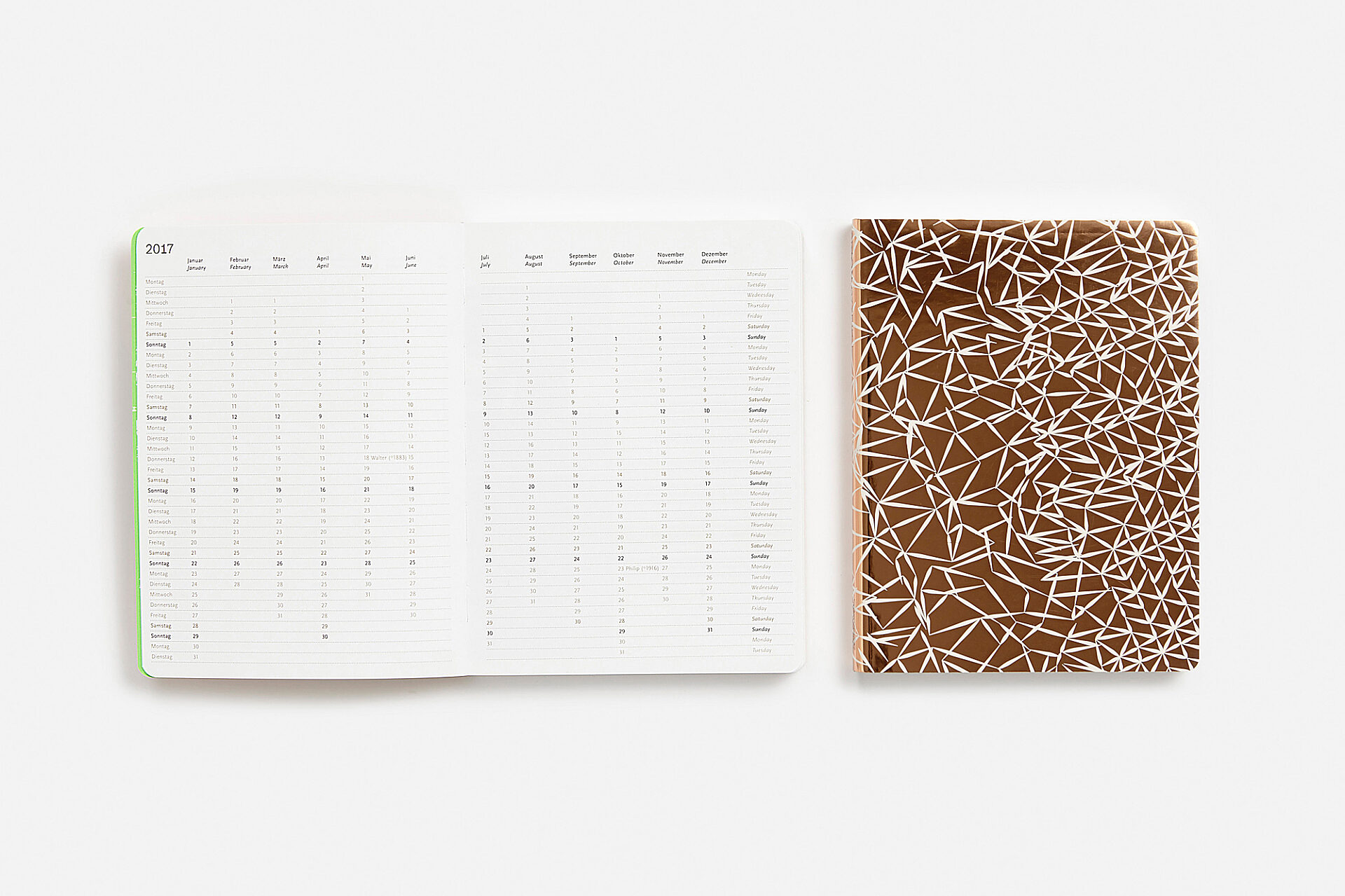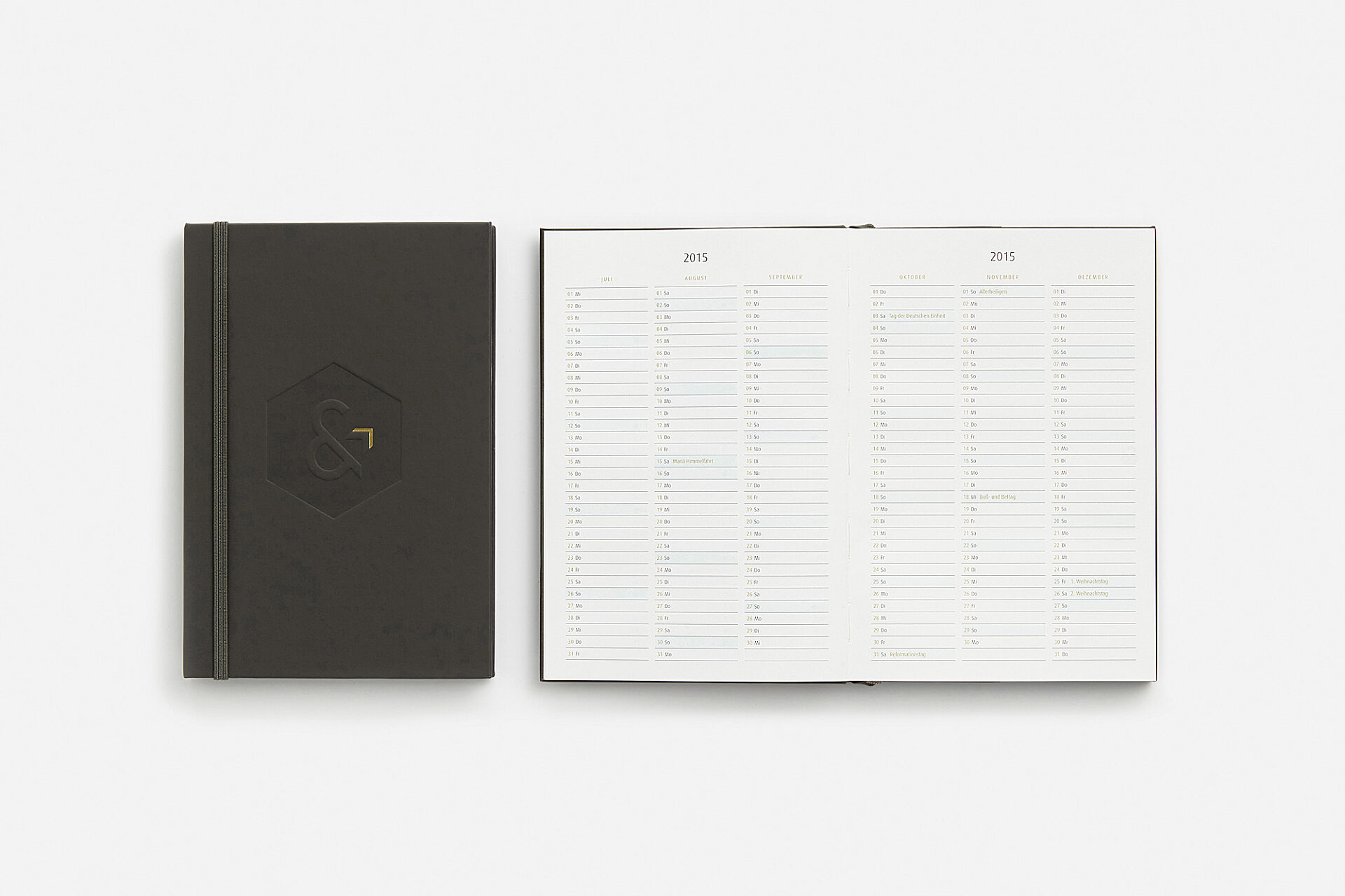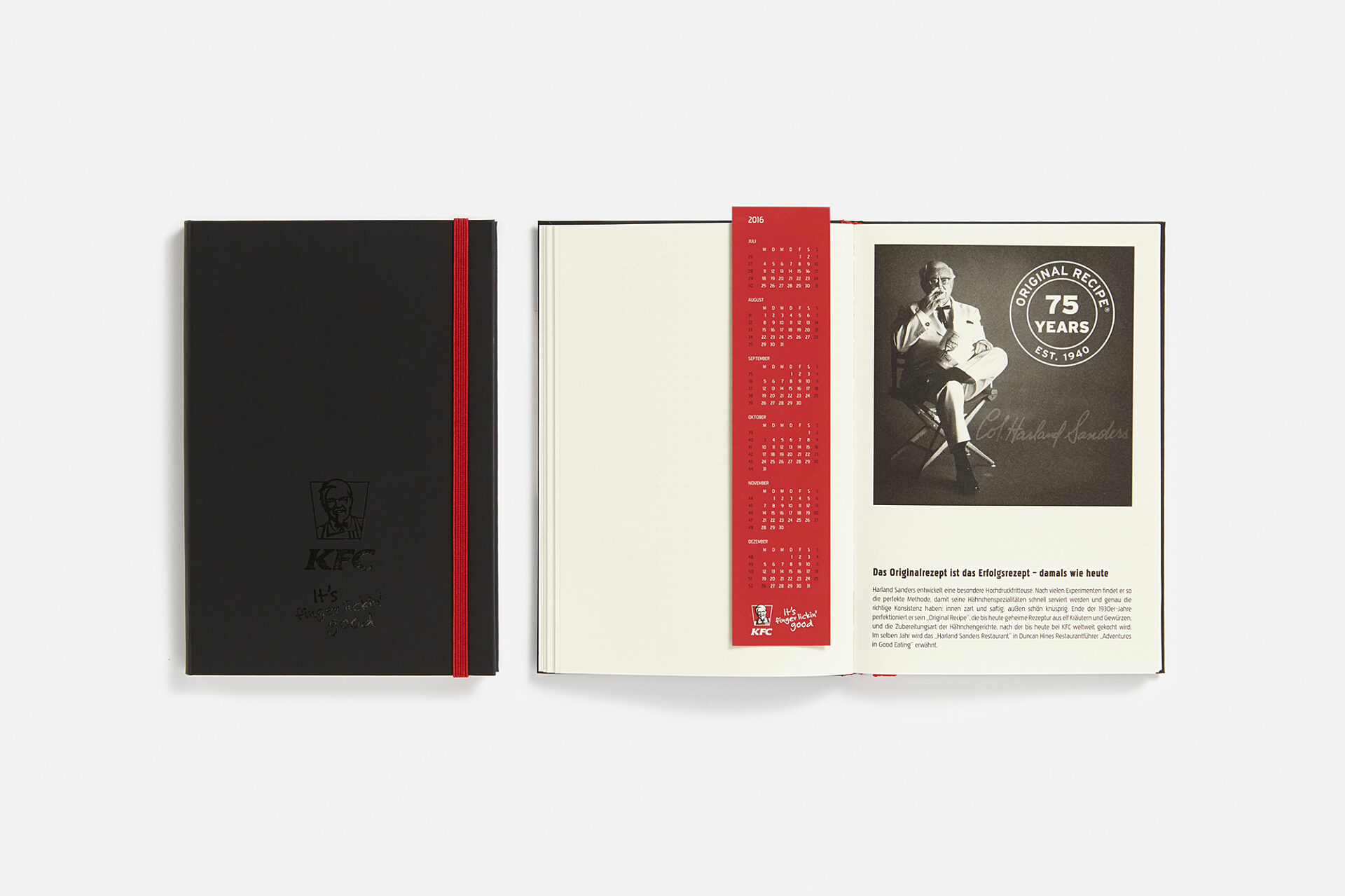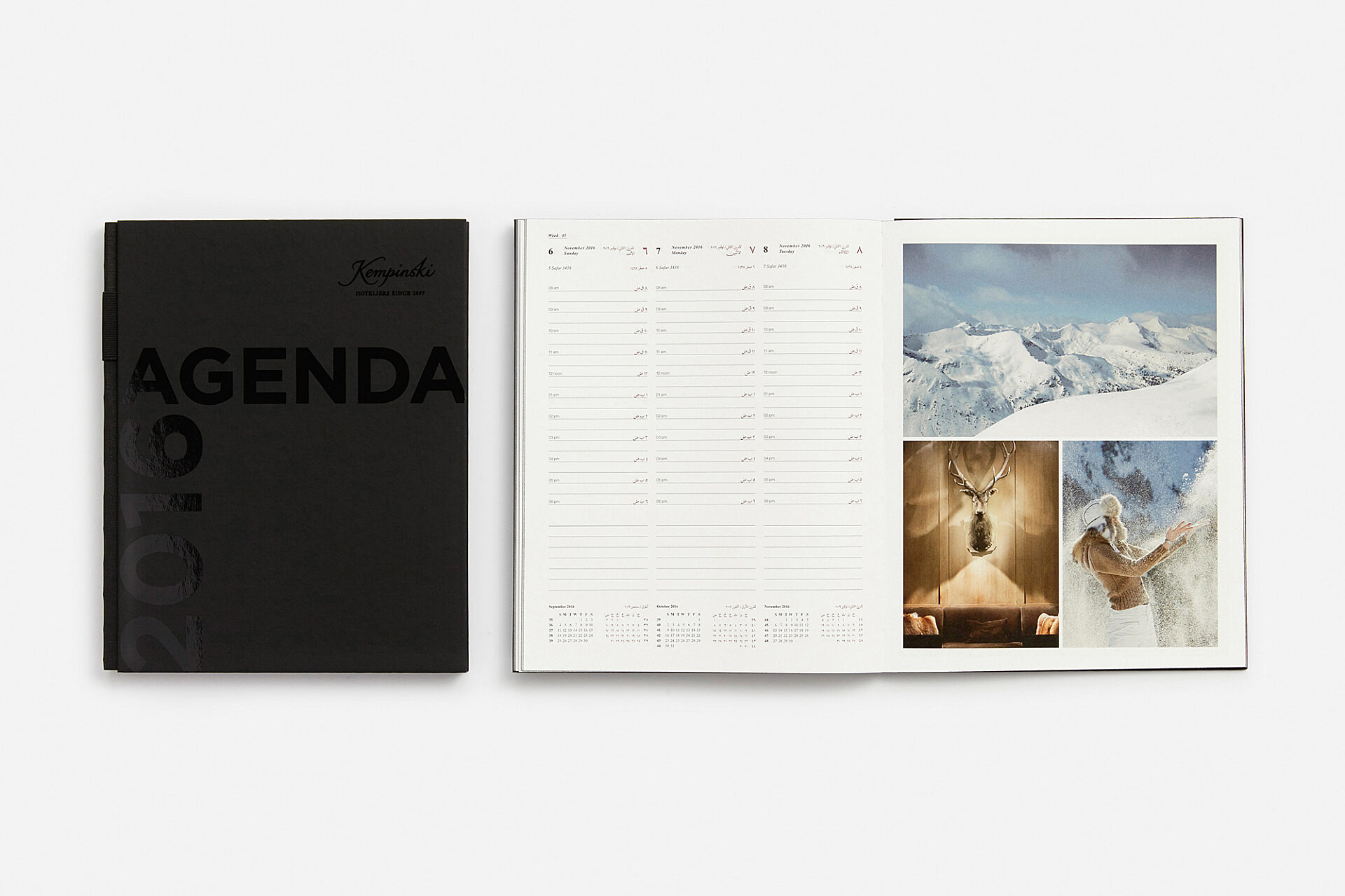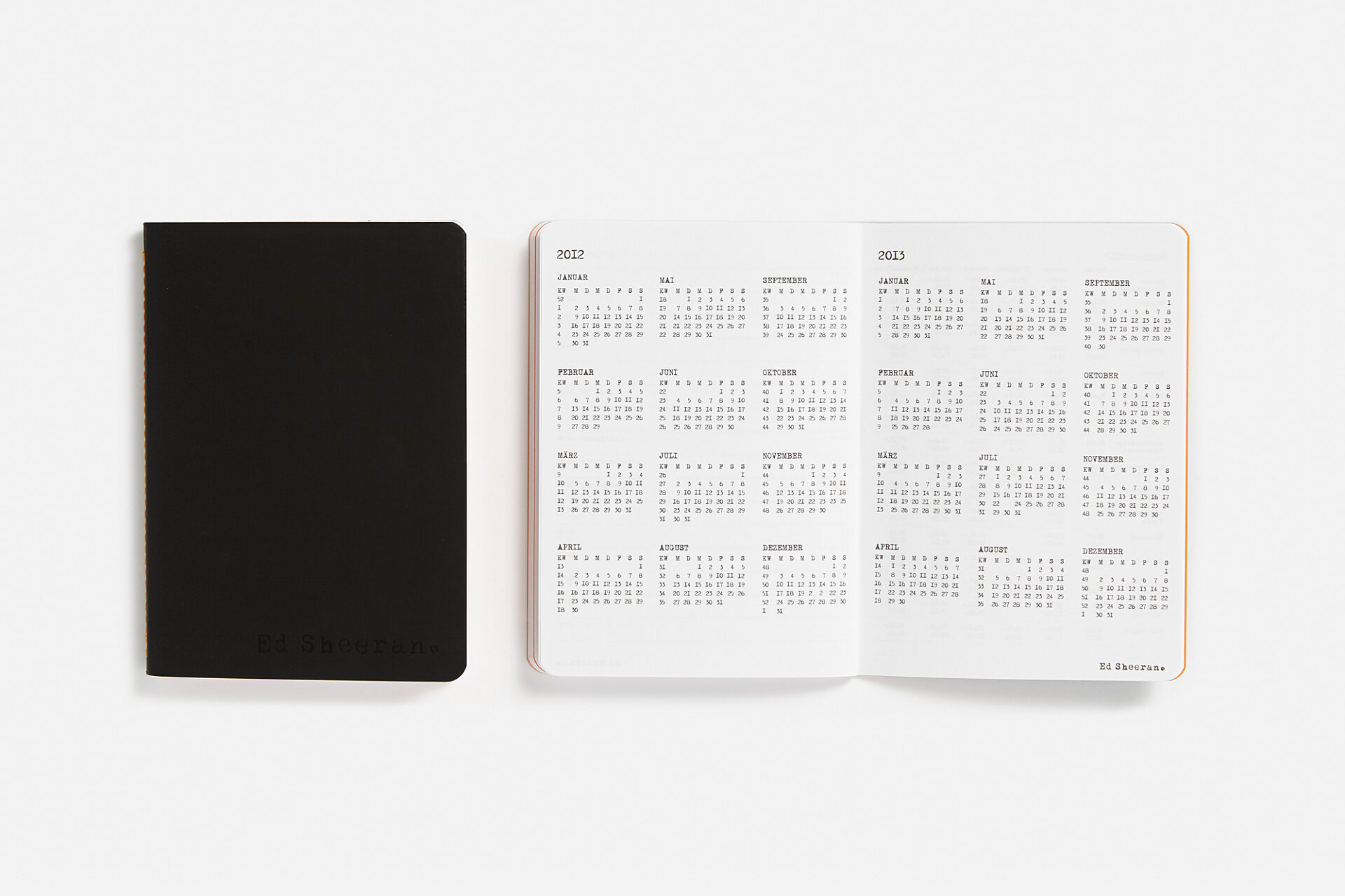 Bullet Journal and Planer
To-do lists, sketches, or brief diary entries – everything fits into a bullet journal. Entries can be organized into self-selected categories to gain an overview or to record personal developments. Journaling helps with conscious and individual self-organization.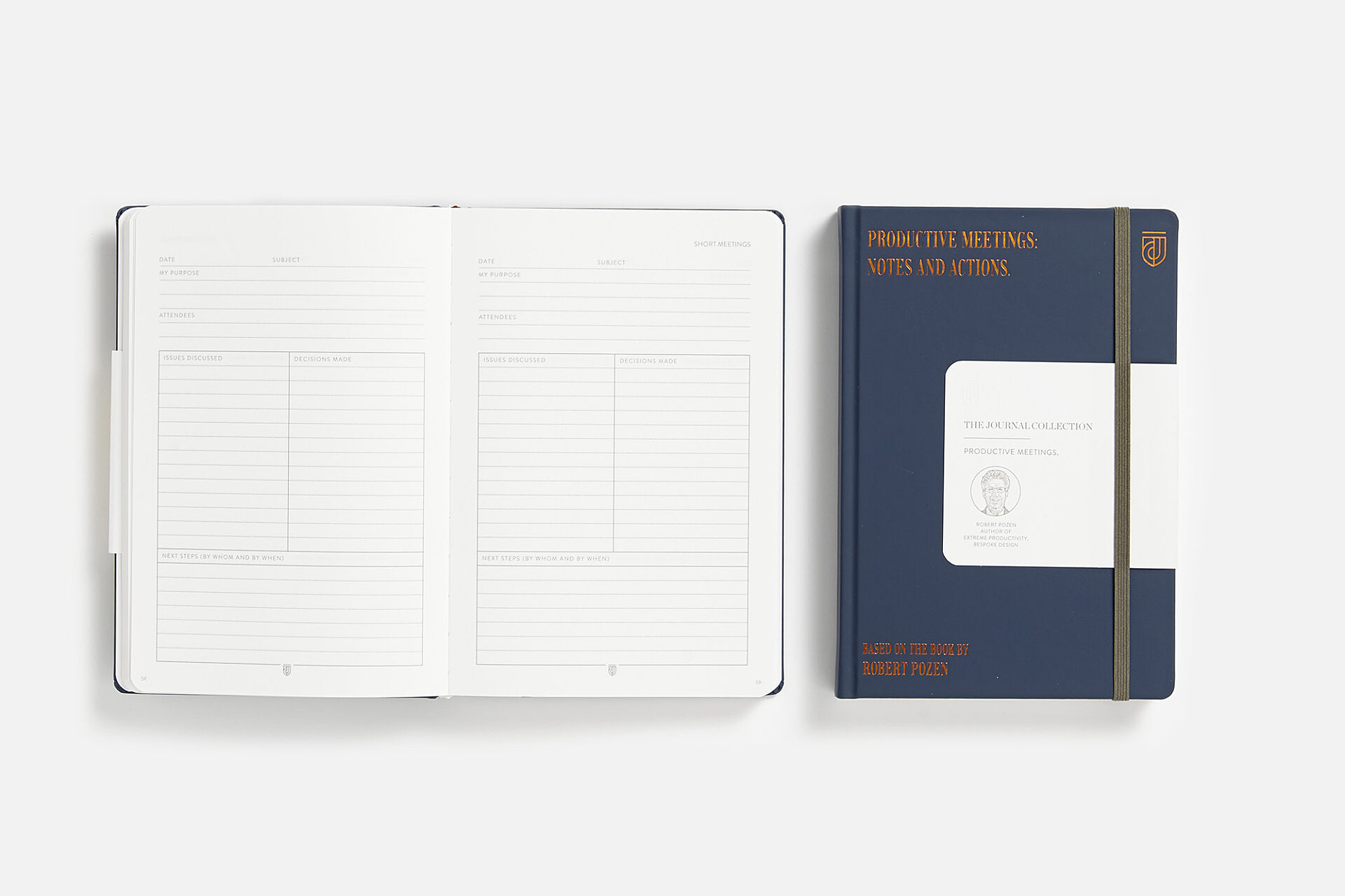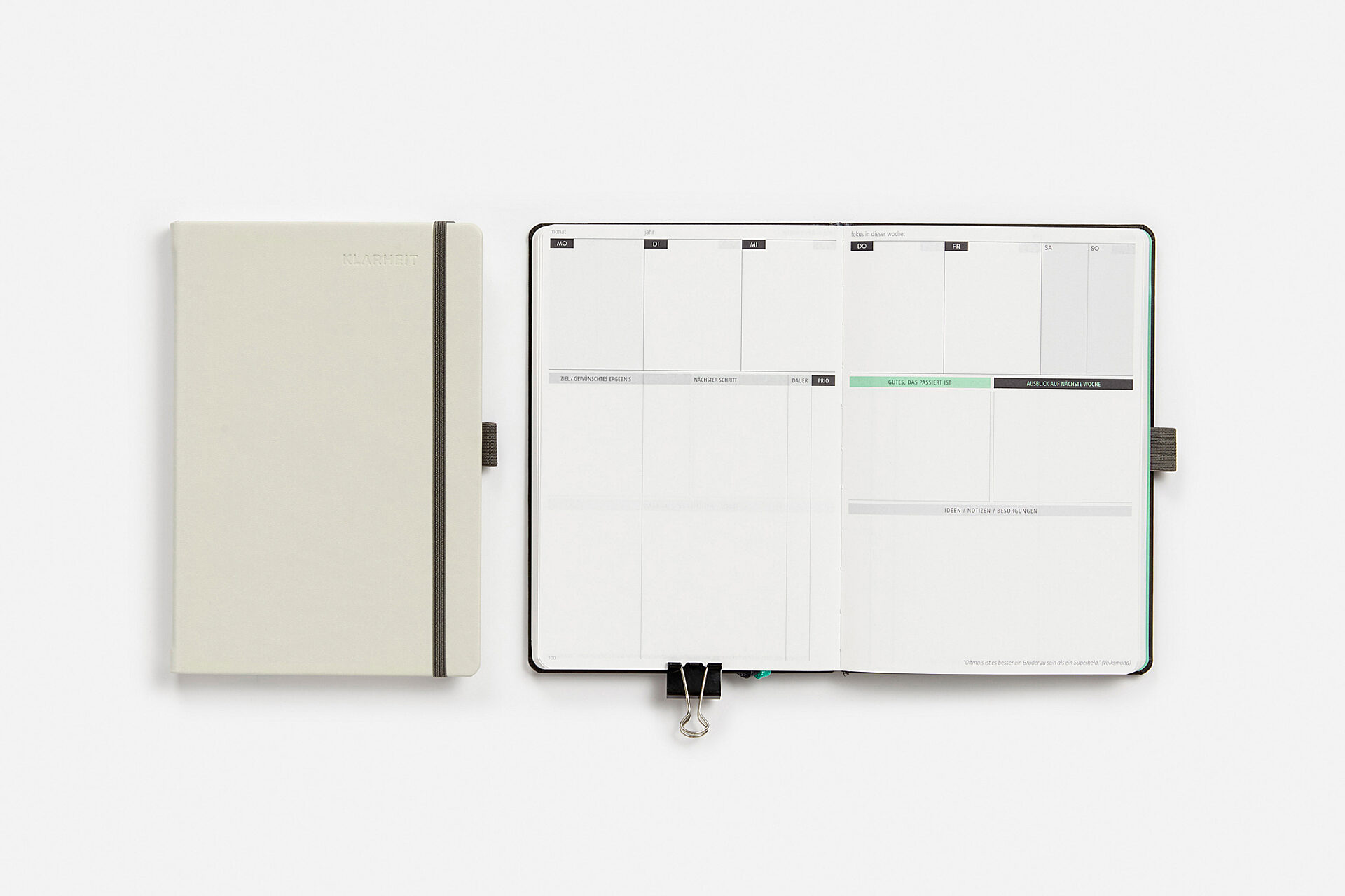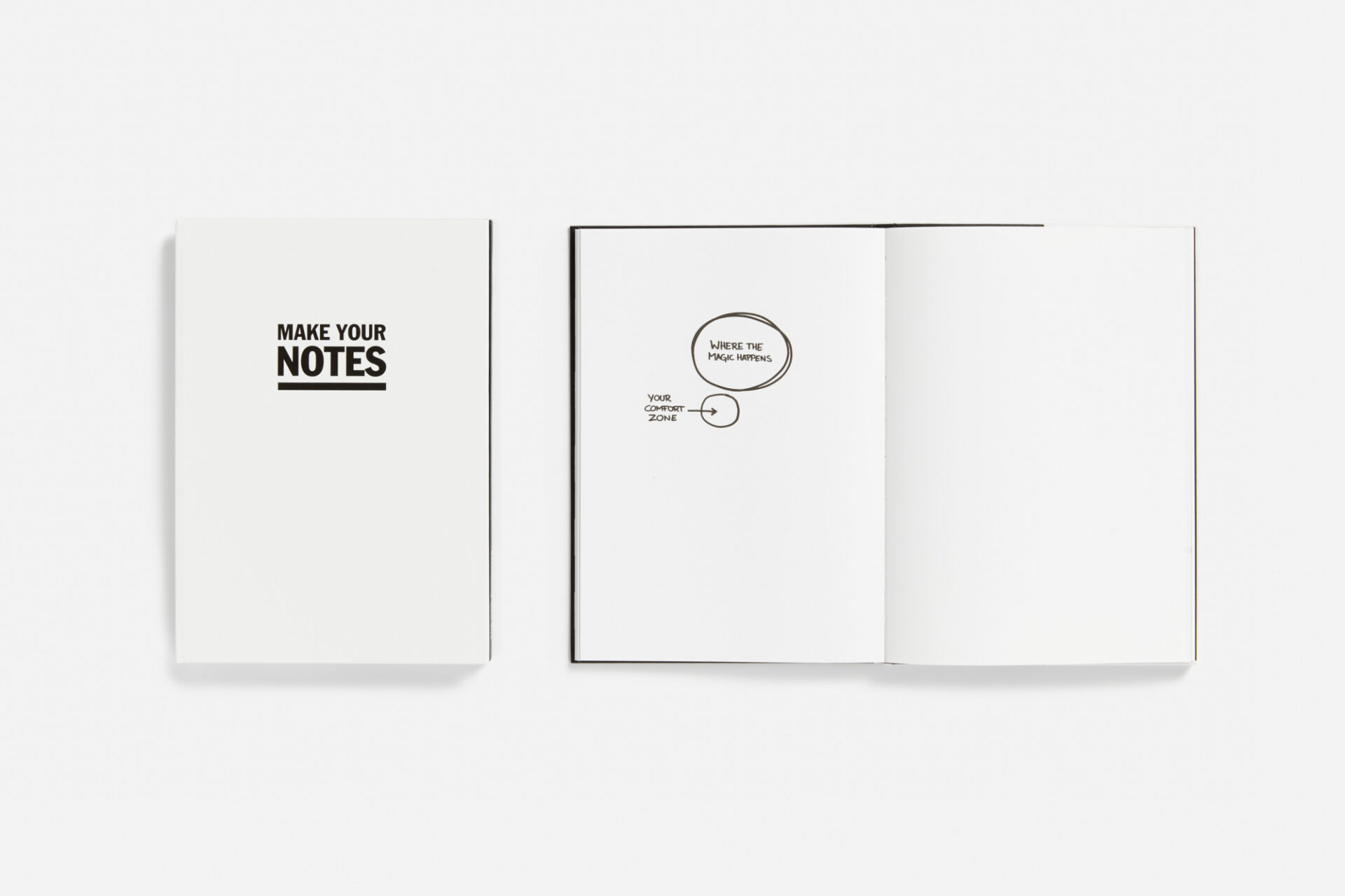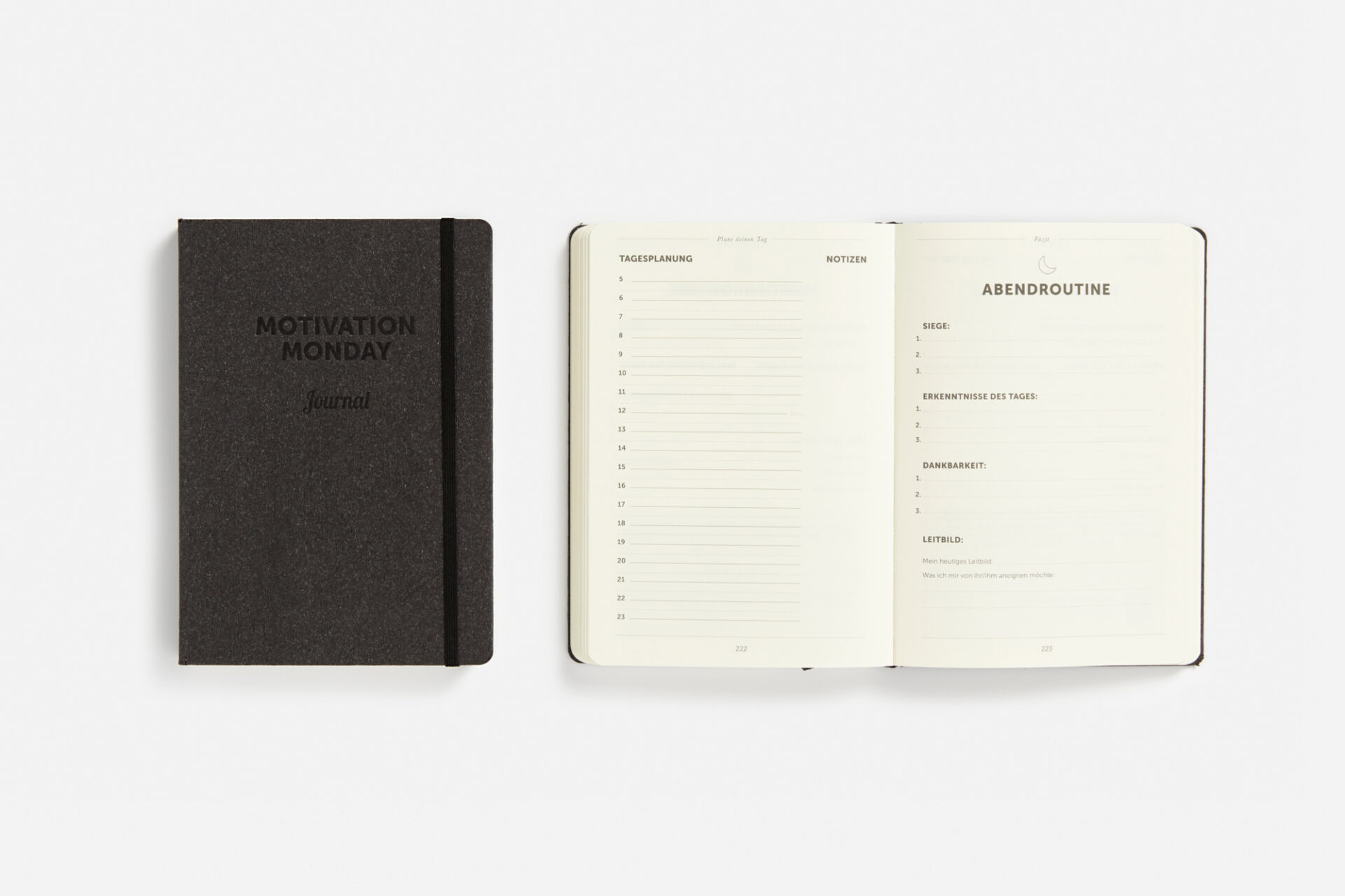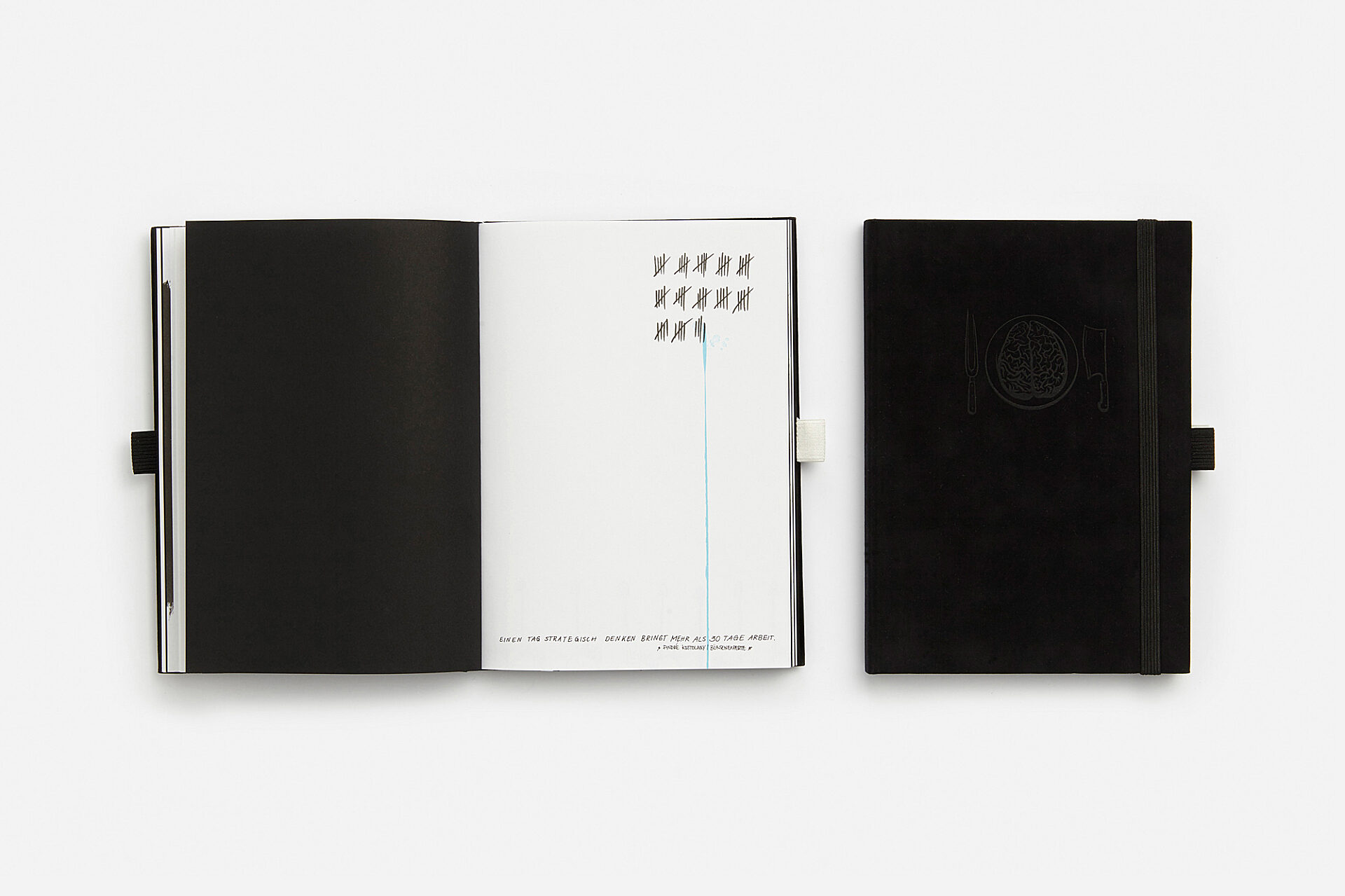 New possibilities in book design
Book edges
Not only the cover, but also the edges of the book block can be used for the book design. Those who incorporate not only the front, back, and spine but also the book block edges into the layout can create a true 360-degree book experience.
The classic edge colouring provides the richest colour results and can be achieved in virtually any Pantone colour. When this rich colour extends into the front and back endleaves, it produces an optimal result.
The metallic edge colouring also offers a wide range of colours. Classic metallic tones such as gold, silver, bronze, and copper are available in various matte, glossy, and colour shades – a total of 42 metallic foil colours are available, perfectly complementing your book design. Or how about a holographic book edge?
You can achieve exceptionally unique design effects with the motif edge. Cover motifs can seamlessly continue across the edges. The motif edge is also suitable for intricate multicoloured motifs and even photos.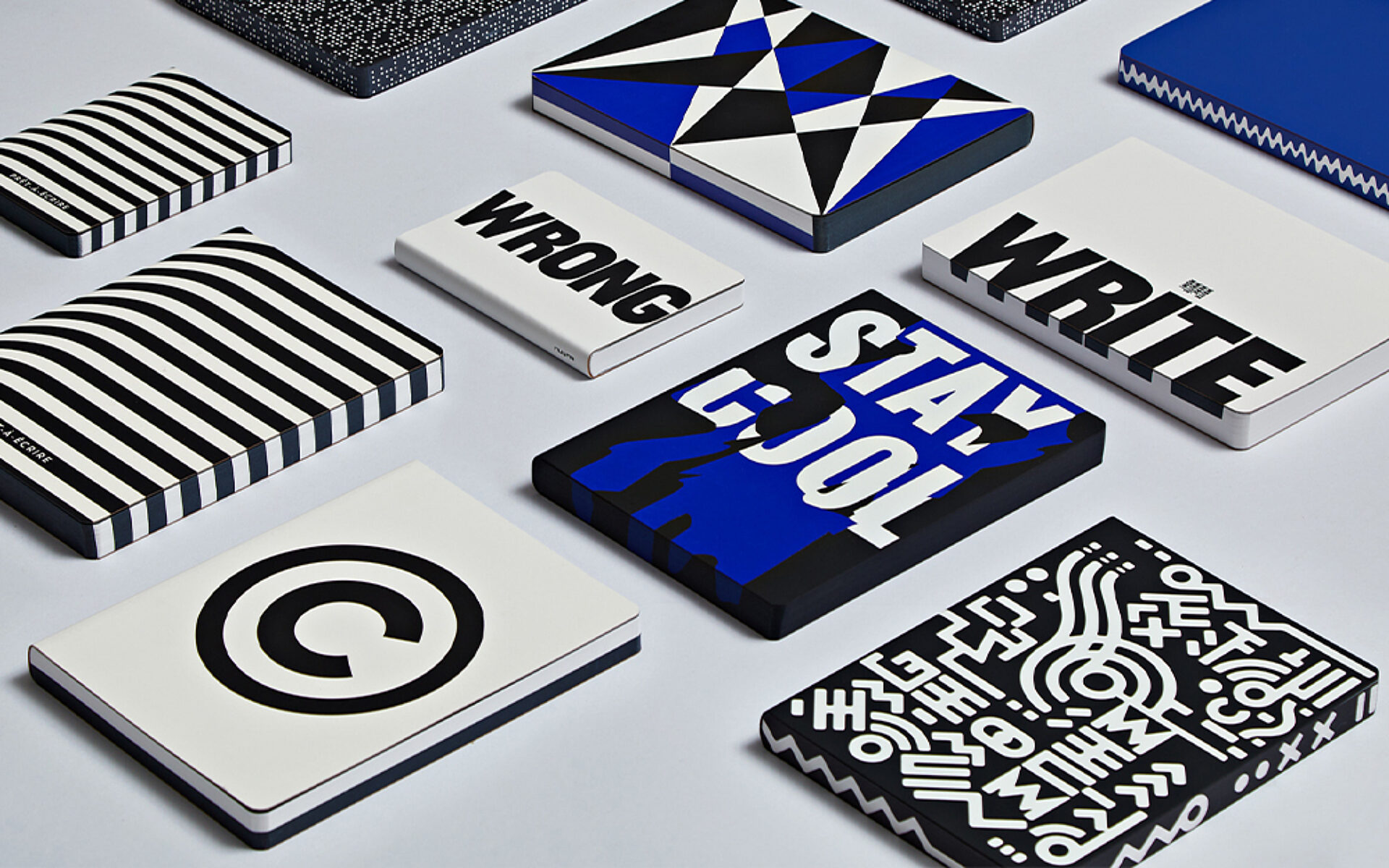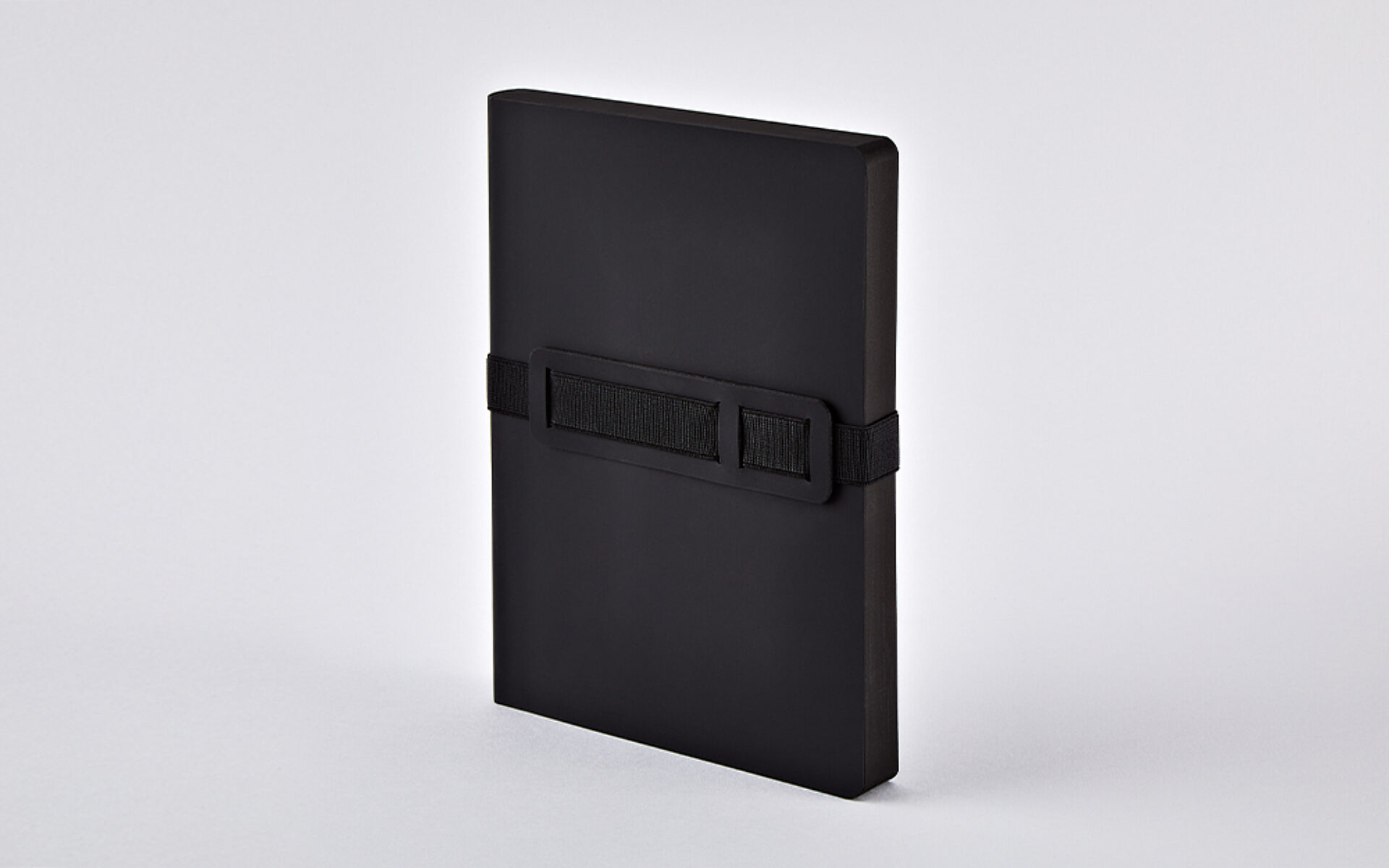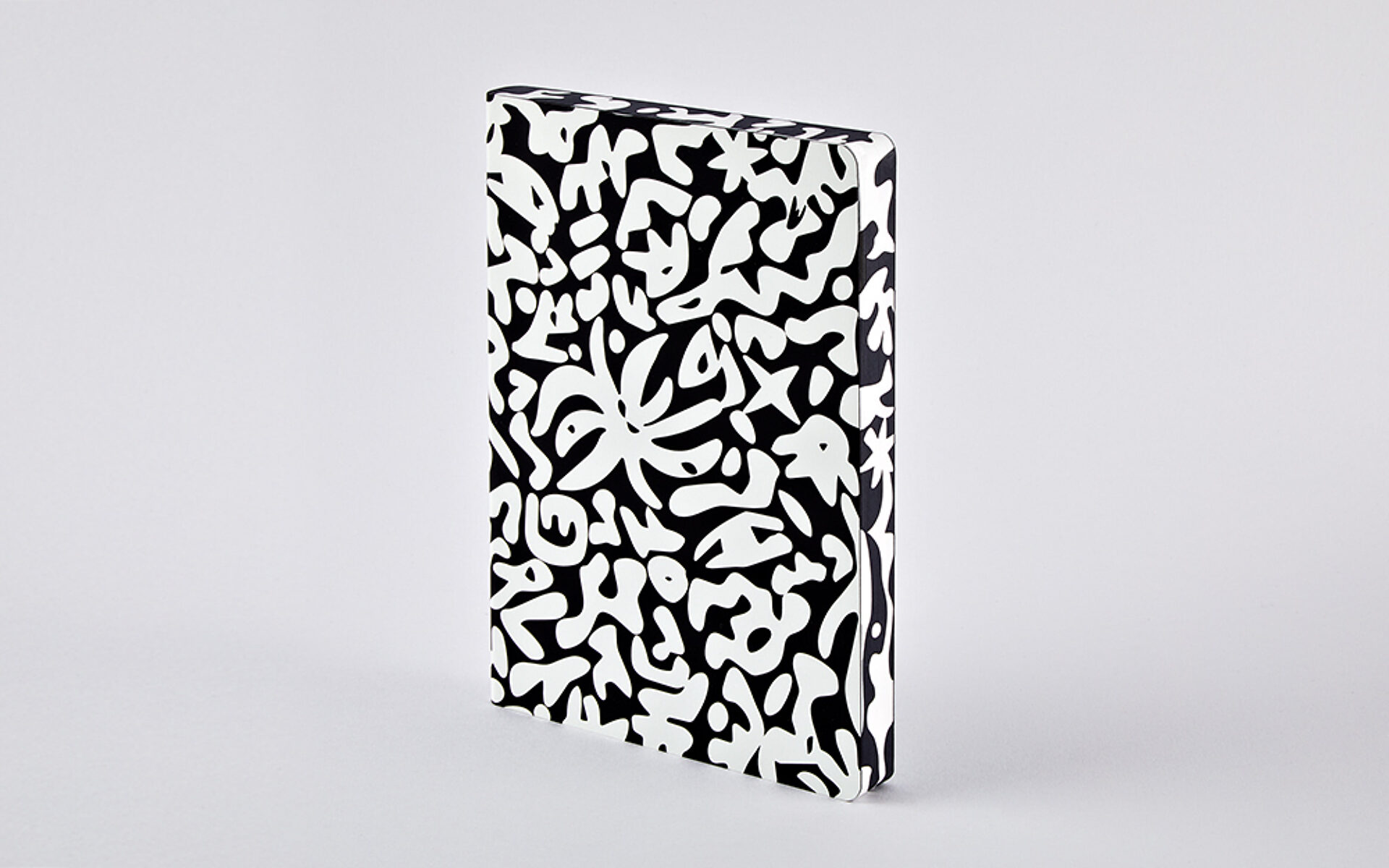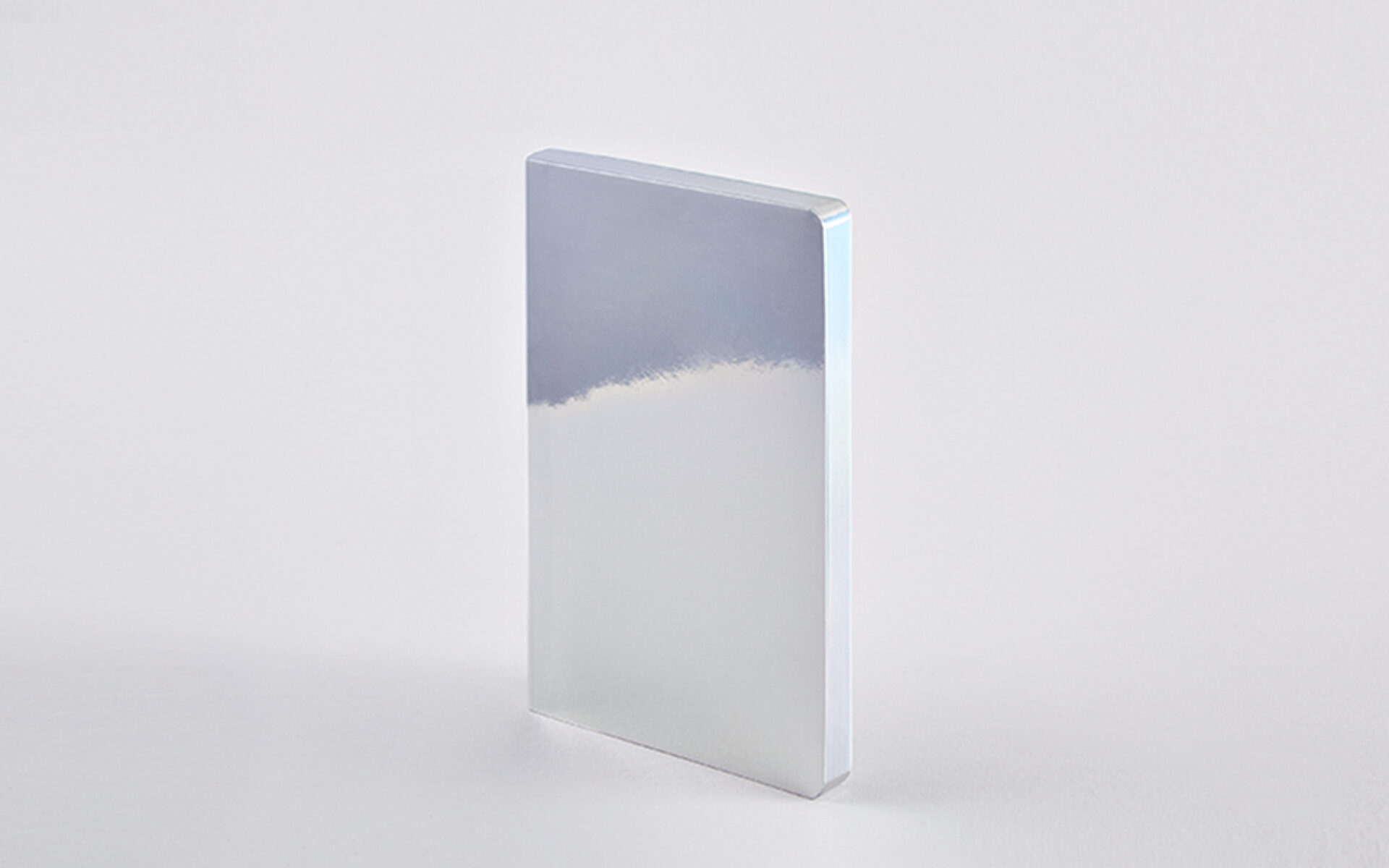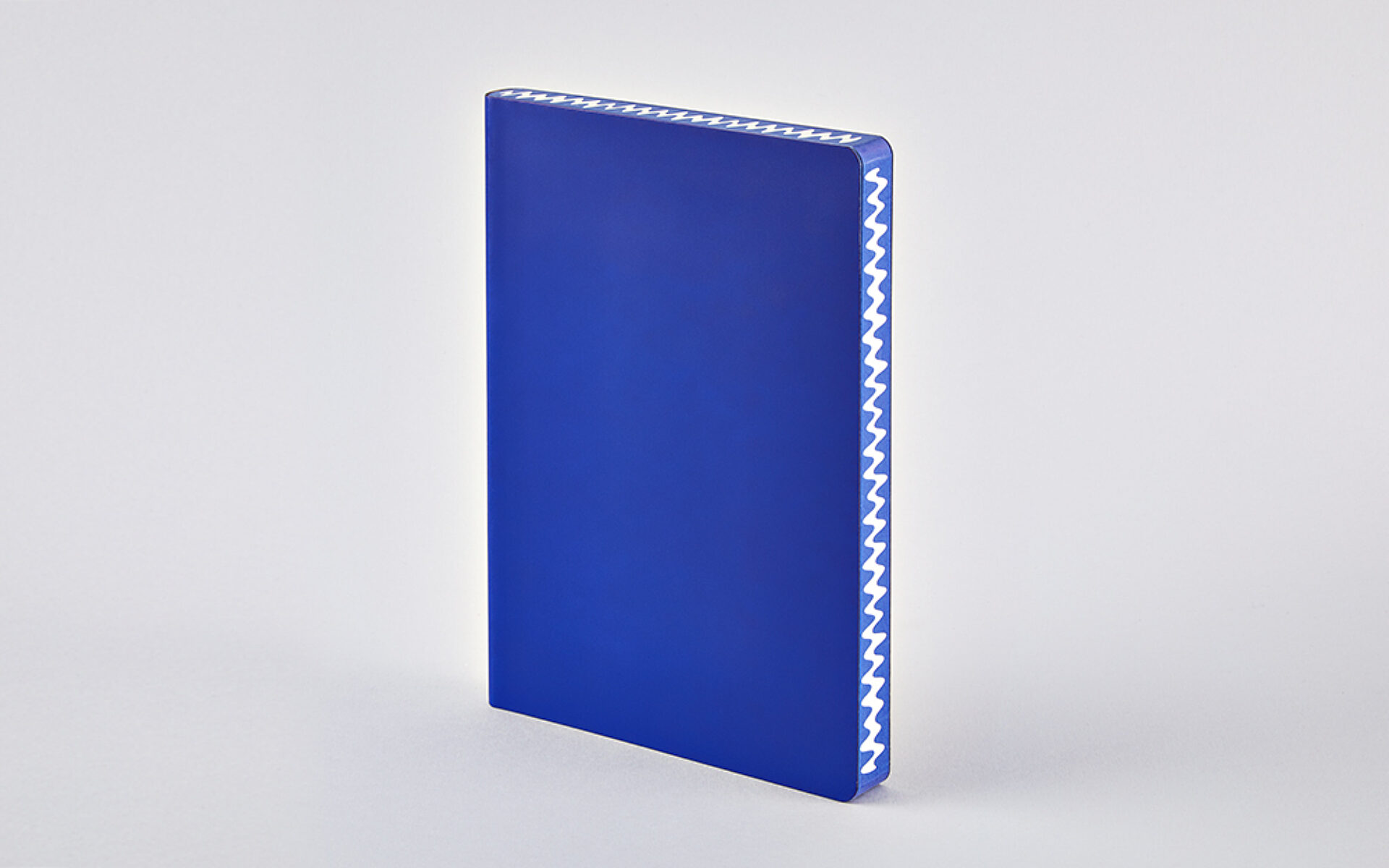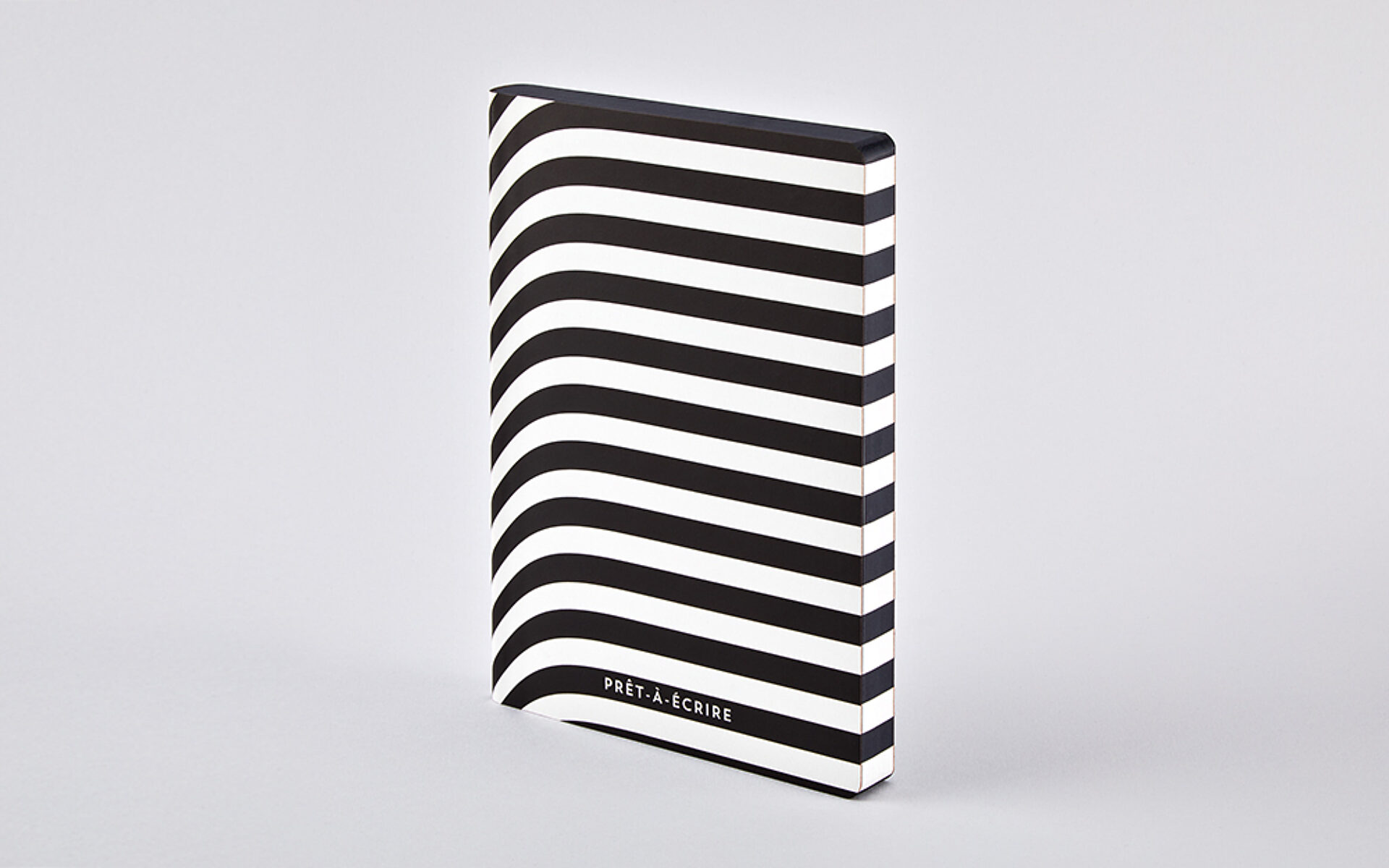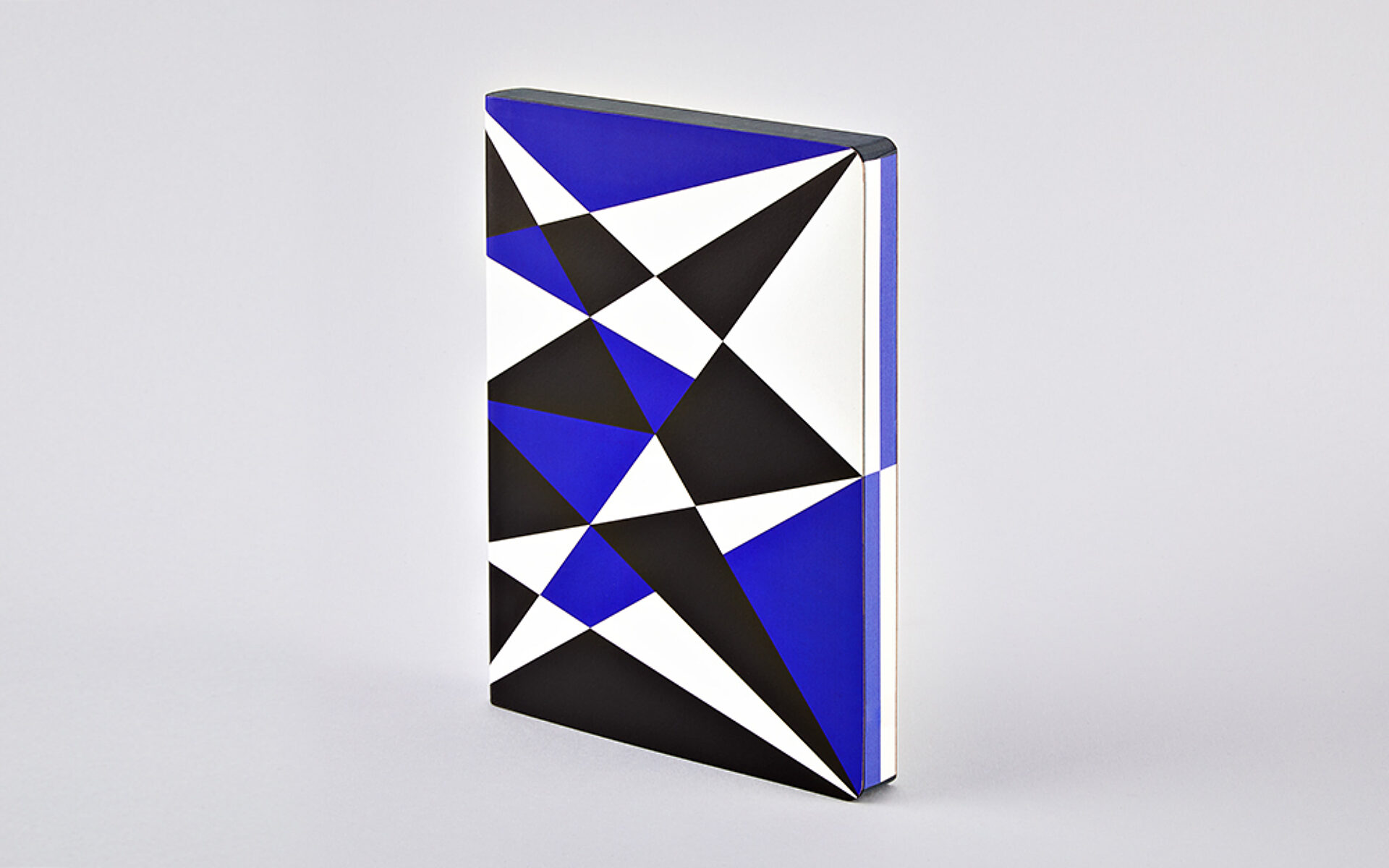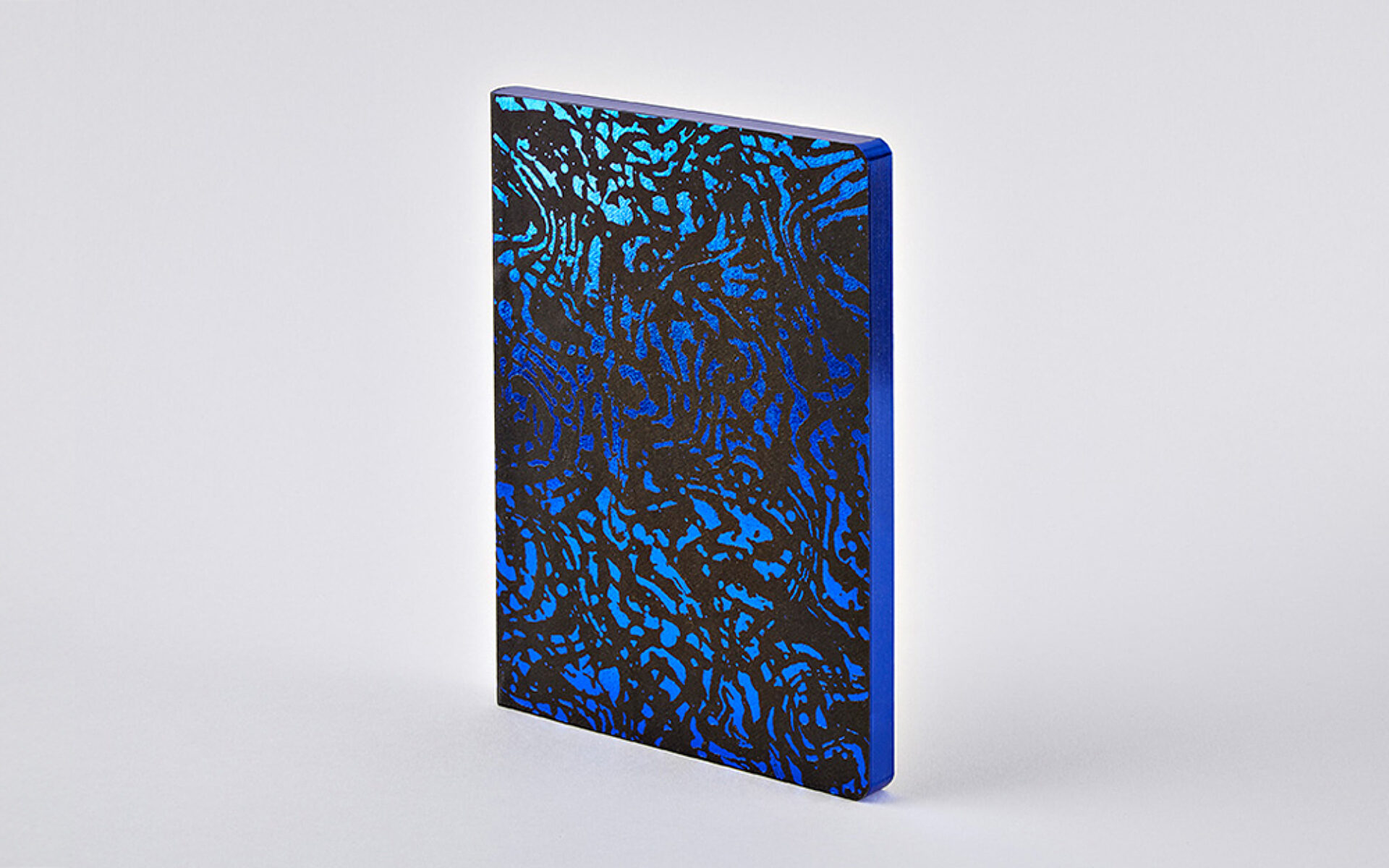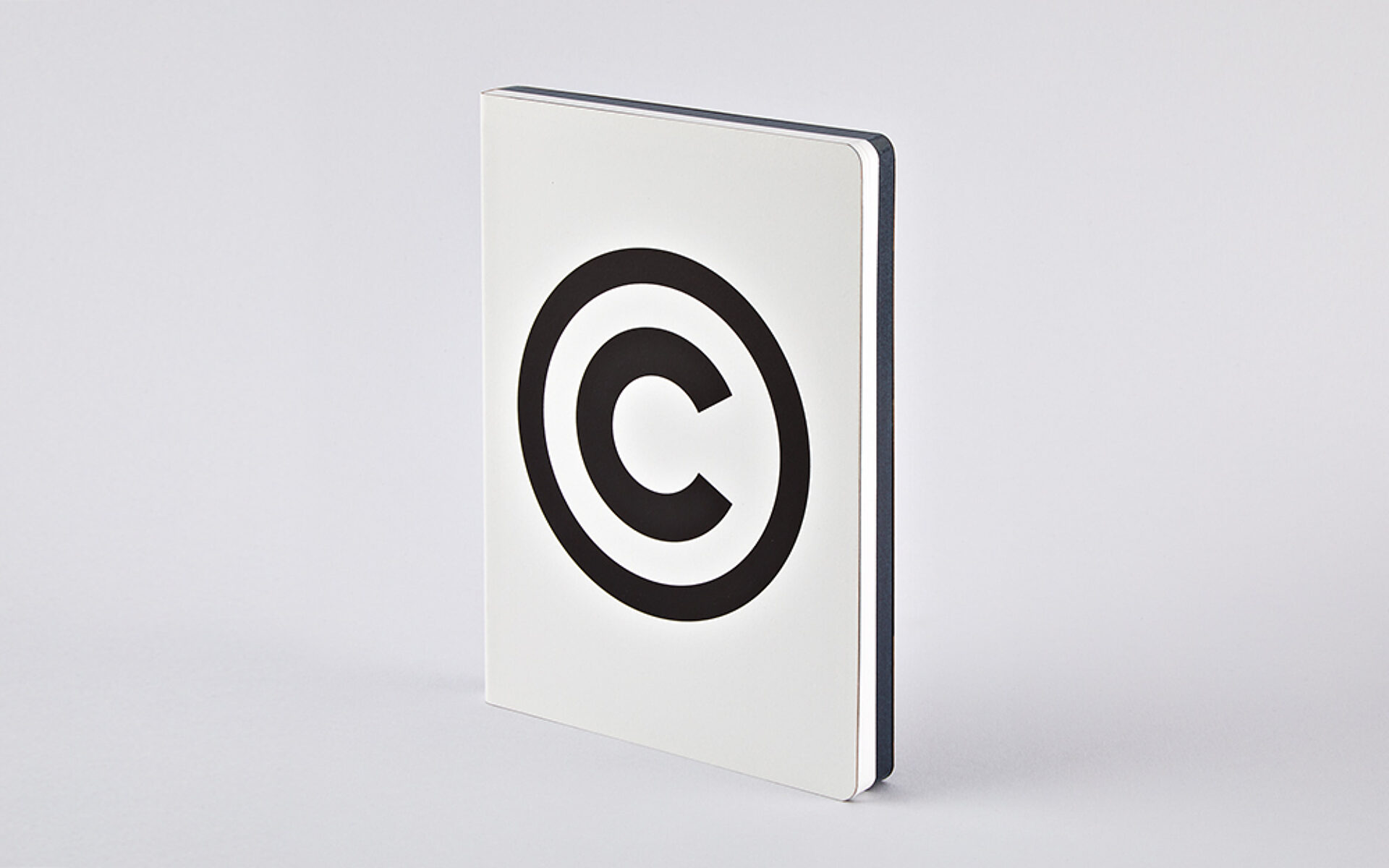 Additional features of the book block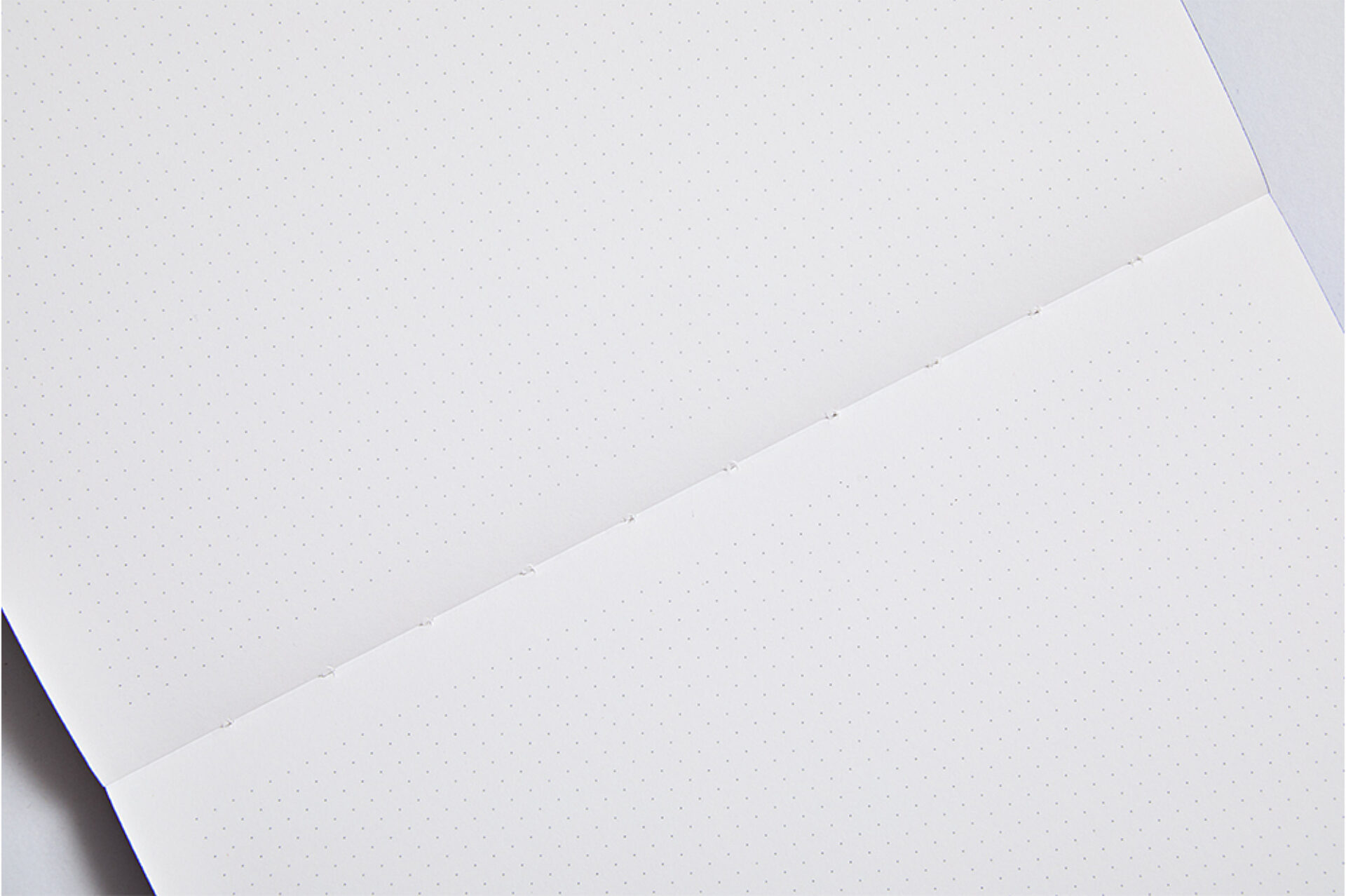 Thread Binding
The highest quality and most sustainable method of binding is thread stitching. At brandbook, this quality feature is standard. The individual sections of the book block are sewn together with a thread, making page loss impossible. In contrast, many notebooks from other manufacturers are only glued, which can result in pages easily detaching during use.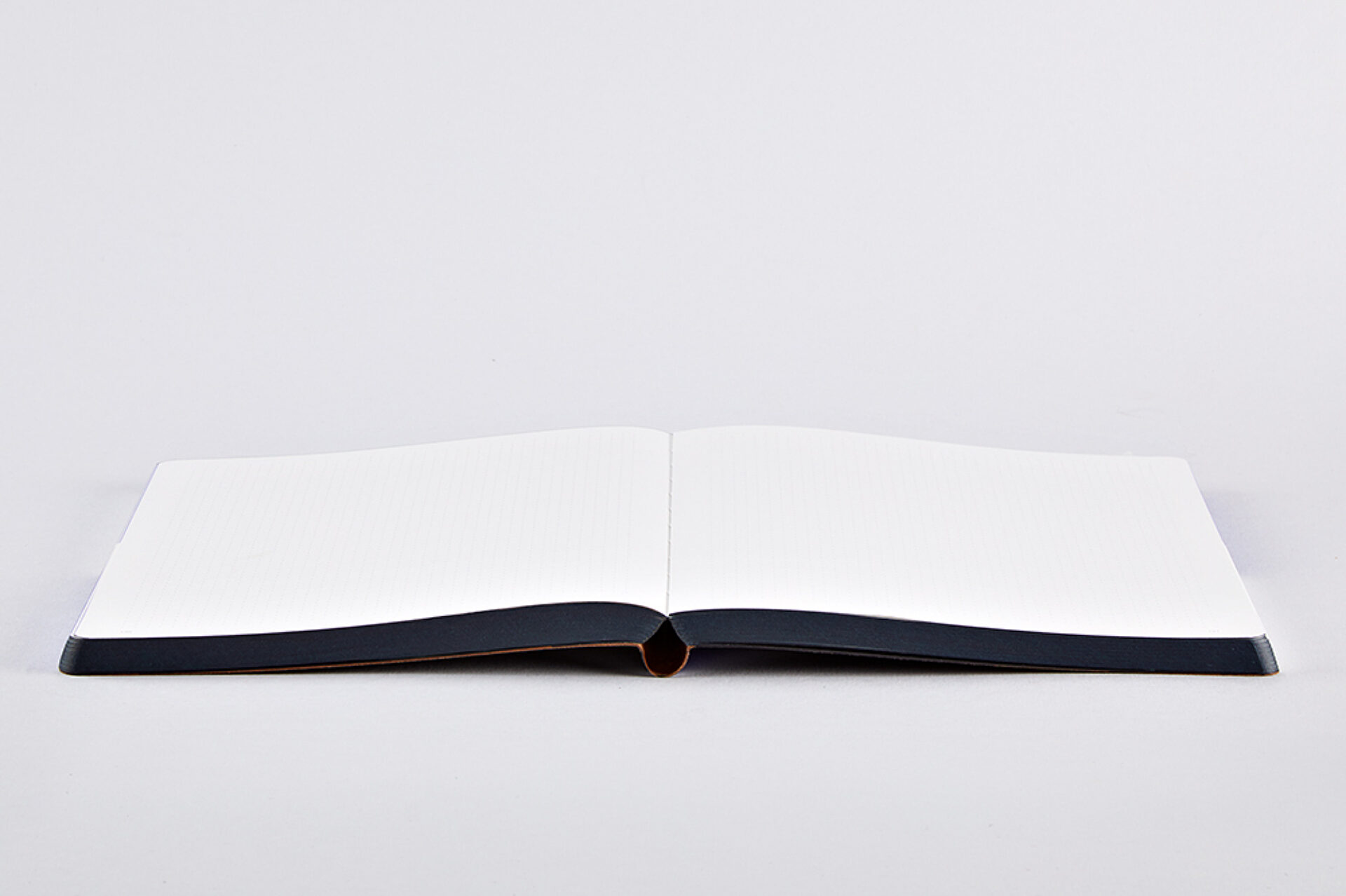 Lay-Flat Characteristics of Books
Thread stitch enables a perfect flatness performance – this means that the opened book lies absolutely flat on the table. This is ideal for occasionally drawing across the book middle. Especially for notebooks, this is an absolute must and yet another quality feature of brandbook.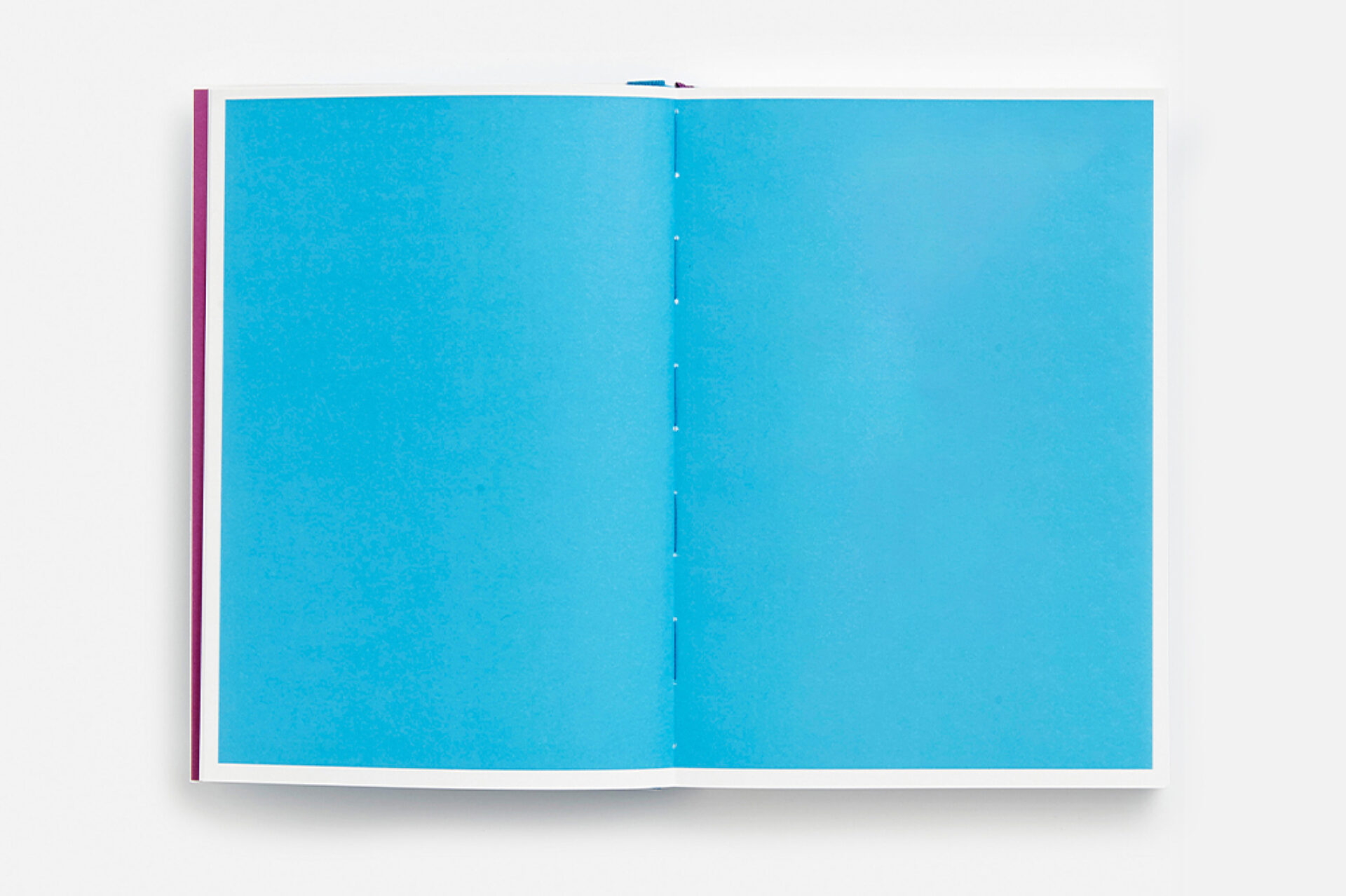 Coloured Thread Stitch
It is the details that our clients love so much about brandbook notebooks. For example, you can even individually choose the thread colour of the binding. In a thread-stitched book block, a seam flares up every 16 pages on the inside of the book. Normally, the thread colour is white, matching the inside pages. Alternatively those who like it flashy can choose a bright colour matching their corporate design.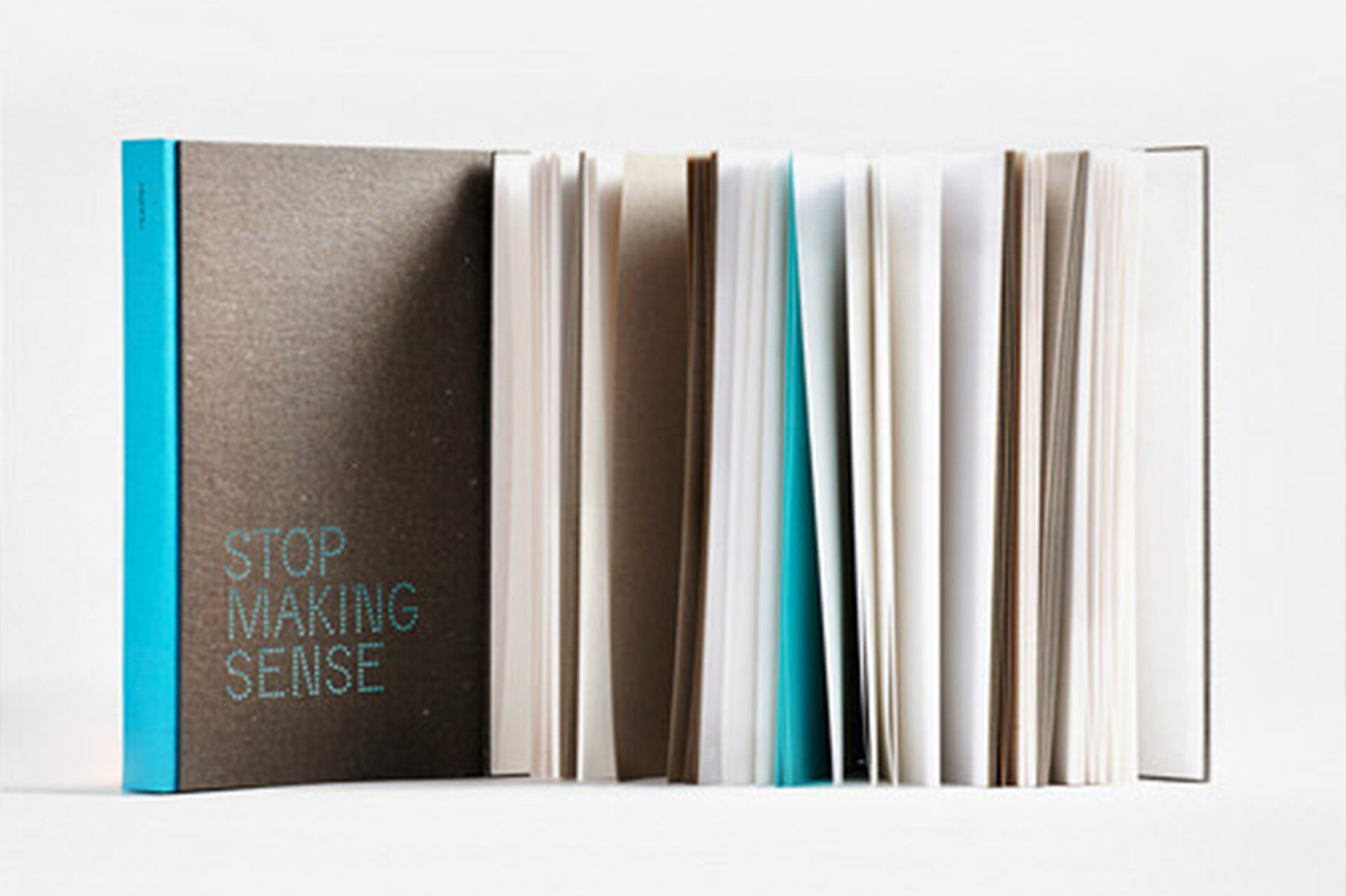 Combining Paper Qualities
Why stick to one paper quality for your notebook if you can also combine different papers? For example in order to highlight different chapters of your book or the simple reason that it looks fabulous. By combining different coloured papers within the book block an exciting edge colouring effect arises, even when the book is closed.
Perforation and Punch
With a few extras the usefulness of your notebook can be increased and optimised: with a folding perforation, pages can be removed at the desired positions. Combined with a double or fourfold punch, the pages can be filed after being removed.
Grip and register punches
Registers provide structure and clarity for books with content. According to your book concept a punching tool is made so your content can be structured individually. Register punching guarantees structure and clarity for books with content.
Foldout Pages
In order to optimally structure content in the book, entire parts of the book block or even individual pages can be trimmed. In this way, chapters can be visually separated from each other or sections of the book can be highlighted. A change of paper at these points can also be interesting from a design point of view.
Shortened Pages
In order to optimally structure content in the book, entire parts of the book block or even individual pages can be trimmed. In this way, chapters can be visually separated from each other or sections of the book can be highlighted. A change of paper at these points can also be interesting from a design point of view.
We will be happy to advise you personally!
Call us at +49 (0) 69 40 80 90 245
or write an e-mail to info@brandbook.de