Every book is a world of its own. Implement your ideas with us in your own book project.
The book medium is one of the most diverse
Producing books is our passion – working with paper, cover materials, the trade of printing, binding and finishing. It's the many small details that make a good book. Some can be seen at first glance and others are often noticed much later: when the book can be optimally opened, when it has a pleasant smell, feels good and when it becomes even more charming with age. All of that requires solid workmanship, many years of experience and confidence in dealing with thousands of different materials.

Our top priority is personal consultance. Let us develop your ideas to book concepts and lead you through the process – from the first idea to the finished book. The result will be high-quality books that cause awareness – 100% made in Germany.

As an essential tool to support corporate communication or to motivate employees, image books offer insights into the corporate identity and the core of a brand. And because there are stories behind these brands, anniversaries are perfect occasions to share these. Well designed and carefully produced anniversary and company image books provide the perfect stage for information on the founding of the company, its development and important milestones.
"Books are the best medium for the artists of our times," says Sol LeWitt, a US-American minimalist artist. Actually, a well-made art or picture book is like a gallery in an easy-to-handle book format. From this perspective, it also has to fulfil the same quality demands as a museum or a gallery. Concept, design and selection of materials are important.
High-quality, haptically appealing lookbooks and product catalogues capture the trends and moods of a season with elaborately staged photo spreads and are indispensable for a brand's image.
Corporate design manuals document the visual cornerstones of a company's identity. Design guidelines, if they are applied, can ensure a uniform as possible appearance. An easy-to-handle book format is the perfect complement for the digital design guide and as the essence of your brand a help for internal communication.
Whether it is the self-presentation of a design agency, an architecture firm or the documentation of a construction project: the material actually just needs to be put in shape. We show you books and brochures of the presentation of your projects.
Whether it is a thrilling source of information or a practical guide – behind the book covers of non-fiction books and guidebooks you may find interesting facts about very different topics or valuable tips about pressing questions in life. Books for those eager to learn and self-optimizers.
Are you an independent author or self-publisher and are looking for someone to professionally print your own book? brandbook offers a wide variety of book printing options, materials and finishing techniques. We would be happy to consult you personally.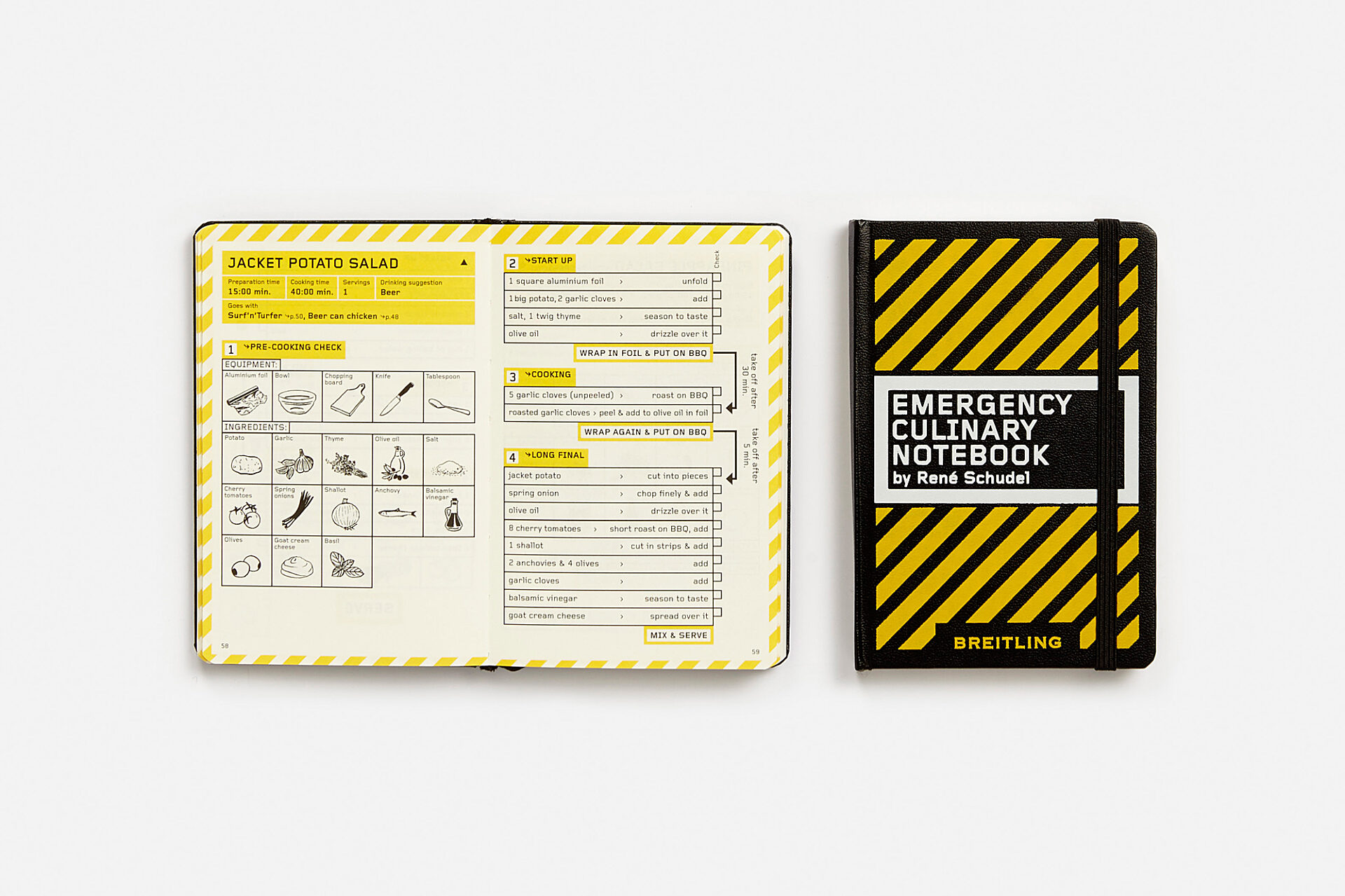 Survival Cookbook for Breitling Wearers
Besides a quick start guide to fish evisceration, on how to attend to wounds, or Morse code practise there are also culinary highlights within the tasty resipes of the Swiss TV cook René Schudel behind the covers of this survival book. Practical hardcover in pocket format with combined blind and colour debossing.
Customer: Breitling SA, Grenchen Switzerland
Creation: Funky Soul Food GmbH, Unterseen Switzerland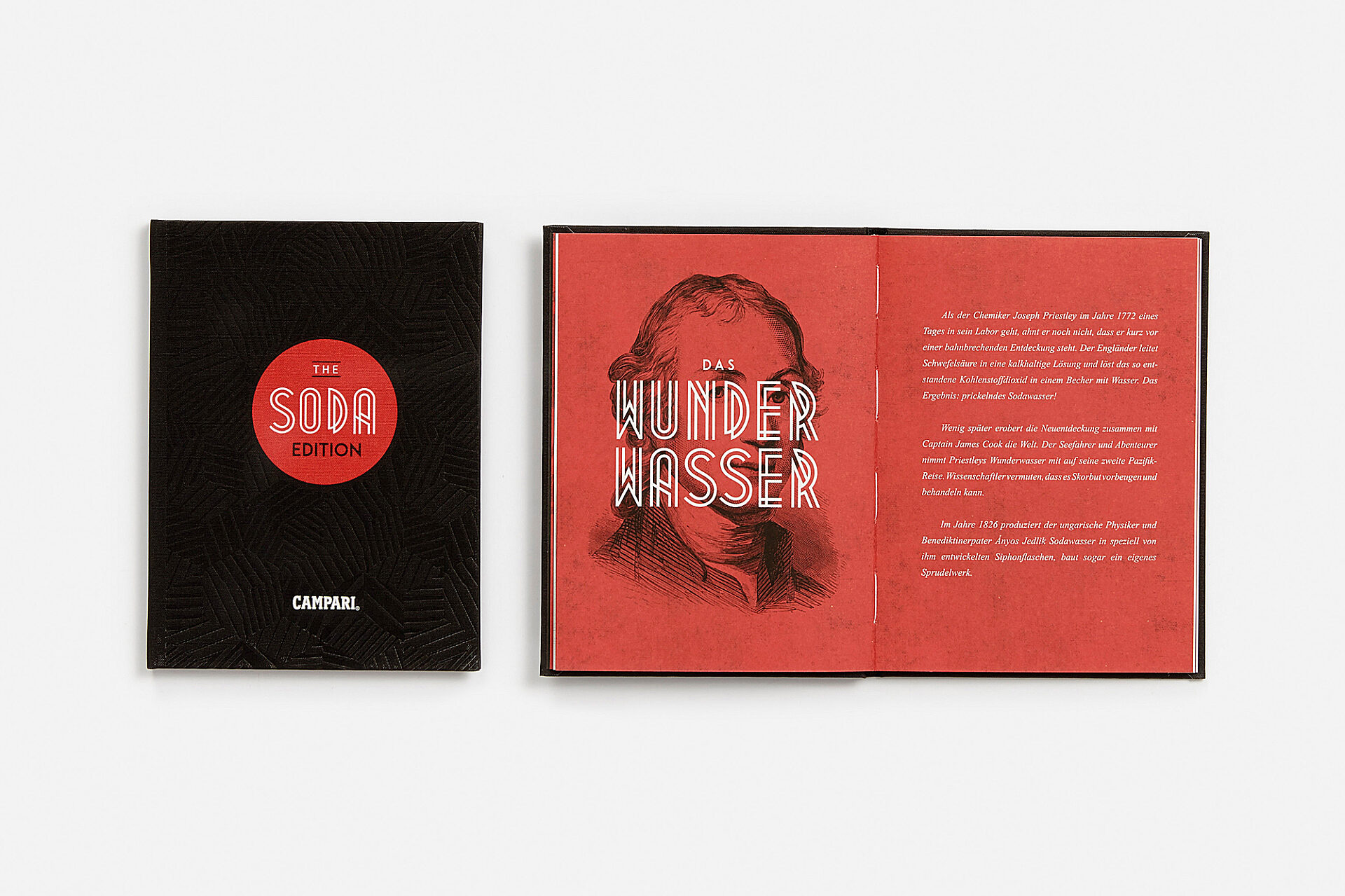 Camparis Liquid Tales

This book is a homage to the probably most prickling couple ever: Campari & Soda. The fine Linen canvas cover reveals liquid tales inside. They not only tell the story of the origins of the fizzy soda water and the hour marking the birth of Campari, but also feature legendary drinks.
Customer: Campari Deutschland GmbH, Oberhaching
Creation: Realisator Kreative Werbelösungen GmbH, Berlin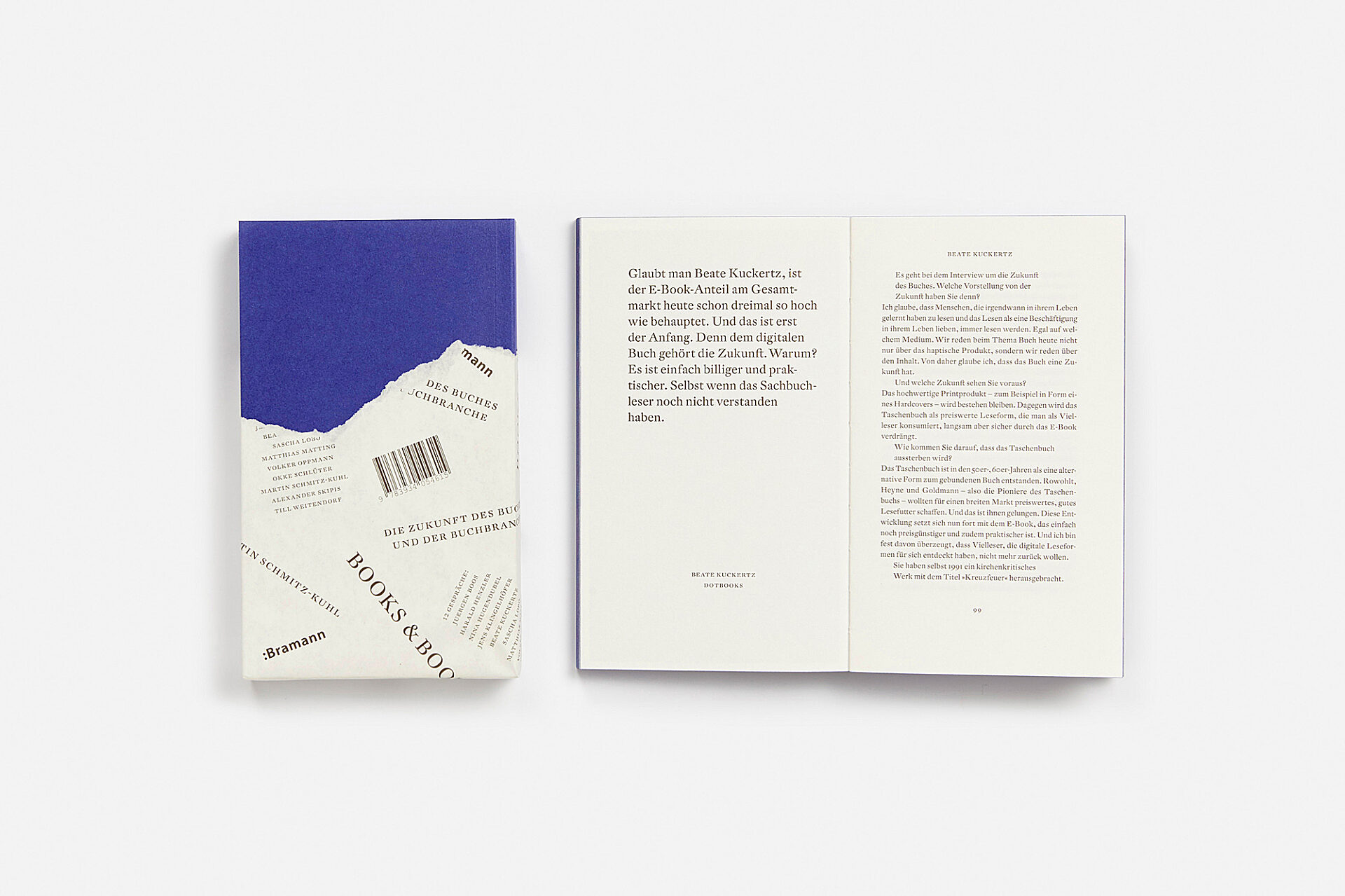 The Future of the Book is blue
"Books & Bookster" consists of twelve conversations with Frankfurt experts. The design is super innovative: The binding and colour edges are blue-in-blue, book cover and book block perfectly flush. The essential info is not on the cover but rather printed on white wrapping paper. Awarded by the Stiftung Buchkunst.
Customer: Bookster, Frankfurt am Main
Creation: Bureau Sandra Doeller, Frankfurt am Main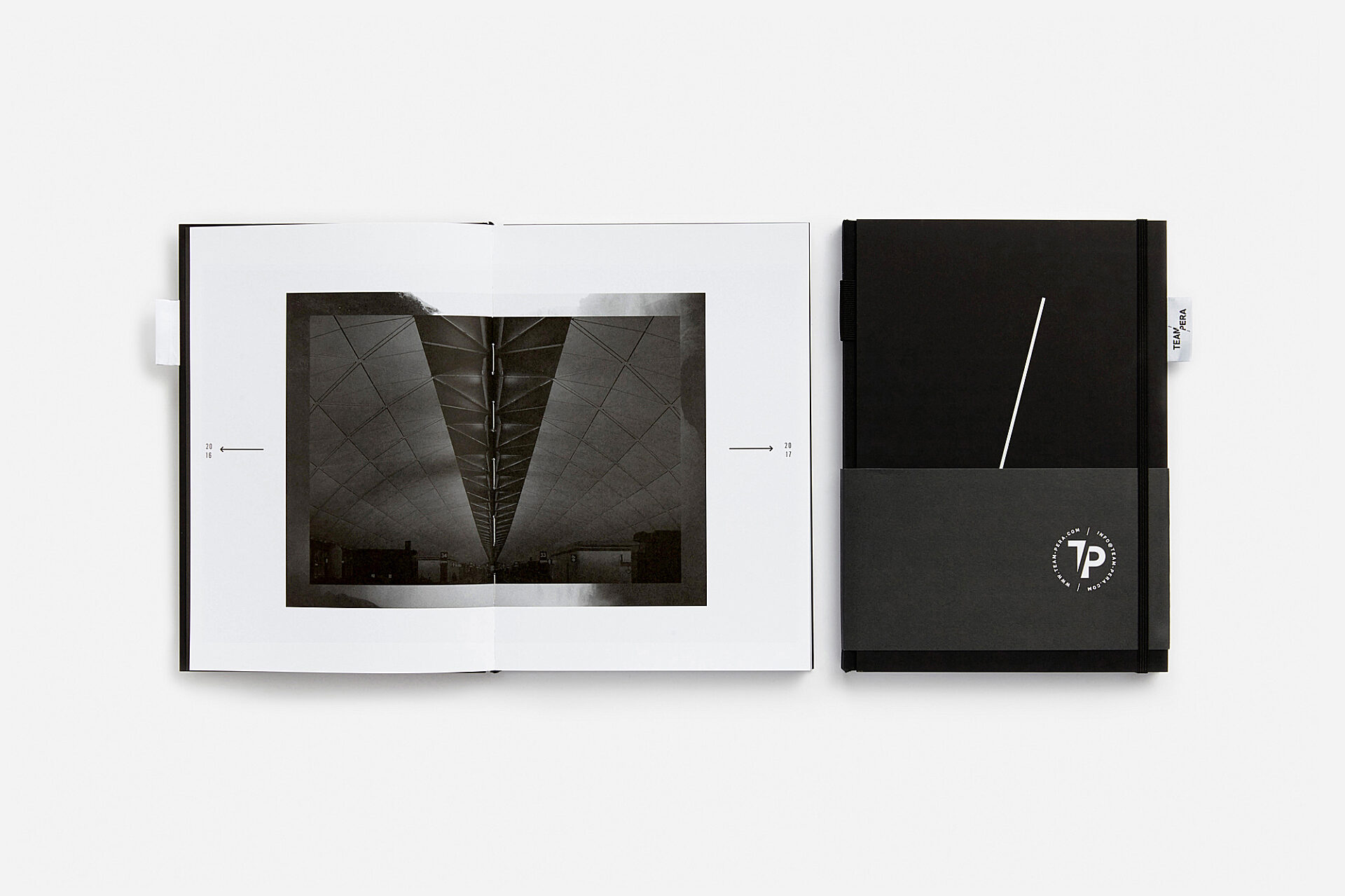 For the Creative Workspace
This staff book of a young network agency is both a creative tool and agency portfolio. Instead of text, it convinces with its full-page image photographies in black and white which show office scenes of the agency – perfectly matching the workbook aesthetic of the sketchbook.

Customer: Team Pera GmbH, Stuttgart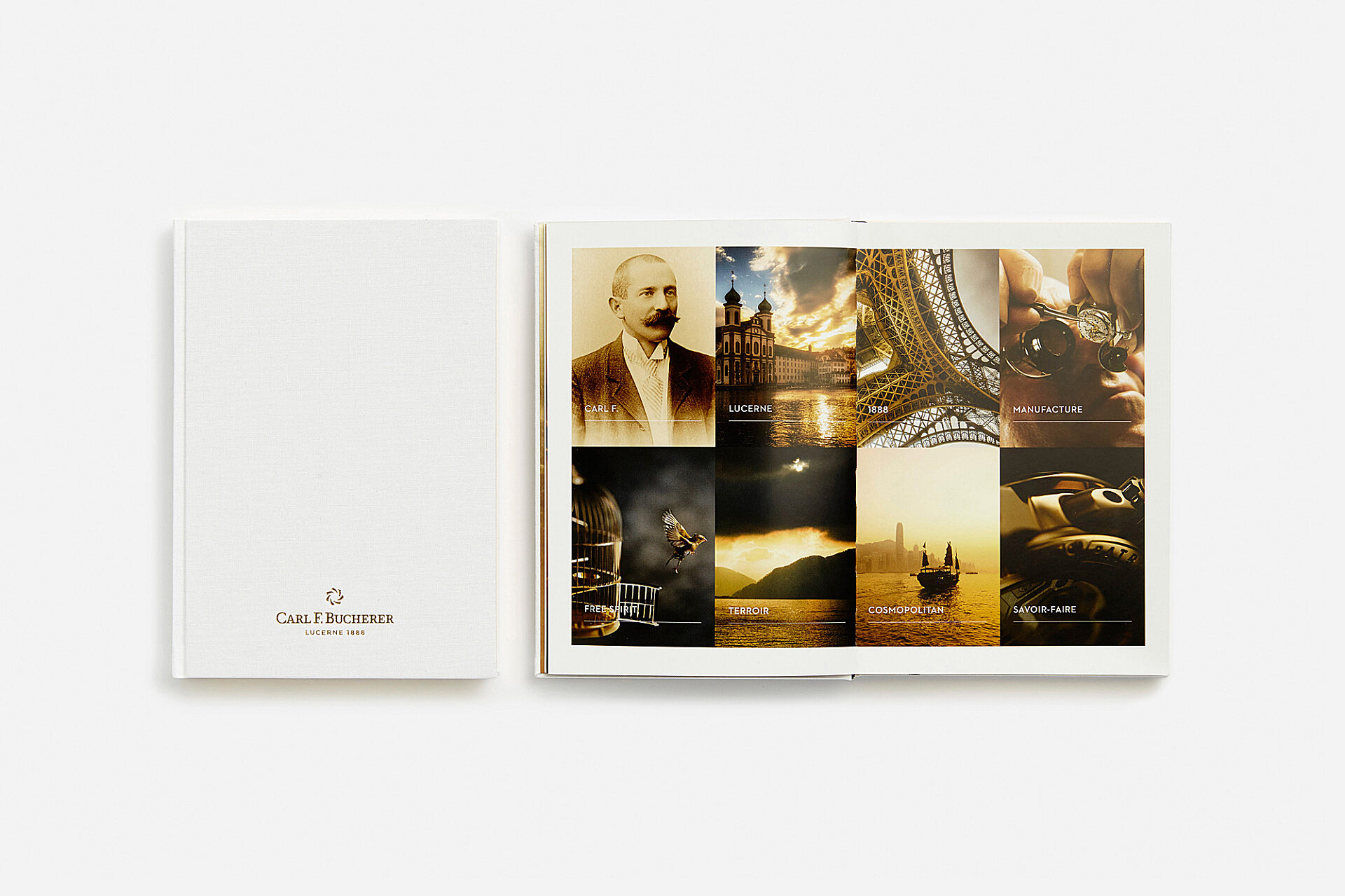 A Corporate Book par excellence
This notebook orchestrates the story and concept of watch and jewelry retailers with an image campaign which can hardly be outdone with more splendor: carefully composed texts with vision and pathos combined with stylised photos, including high contrasts and dramatic shadows casting over the semi-matte image print paper. The dominating colour: gold. Pure luxury!
Customer: Carl F. Bucherer, Luzern Swizerland
Creation: MetaDesign AG, Zurich Swizerland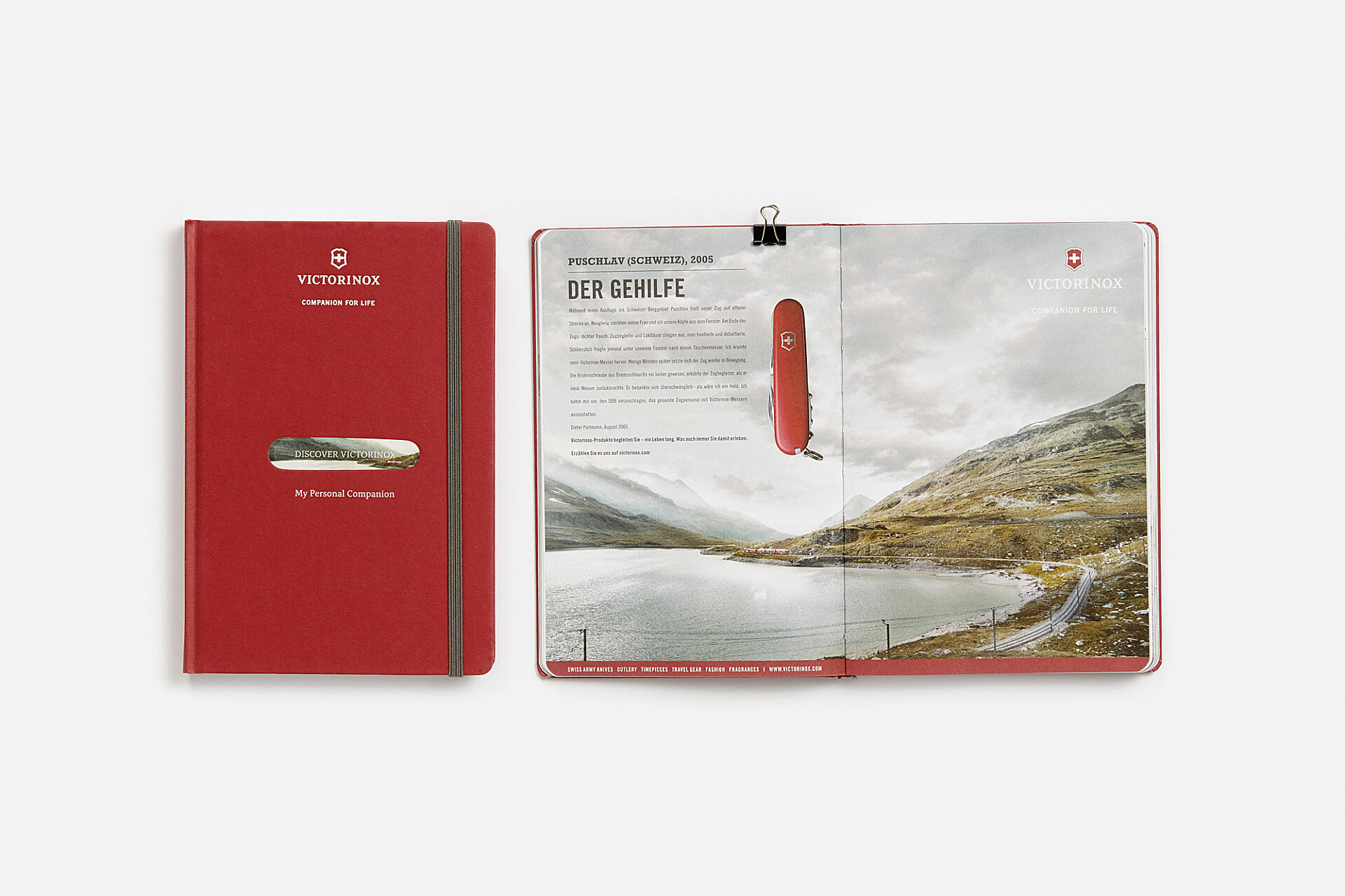 Note and History Book for Victorinox
Besides the welcoming speech of the CEO and the endleave with a world map including the company's location, image pages with historical photographs and texts about the development of the company, as well as product pages with advertising illustrations are included in the book block. Notebook and history book in one.
Customer: Victorinox AG, Ibach Swizerland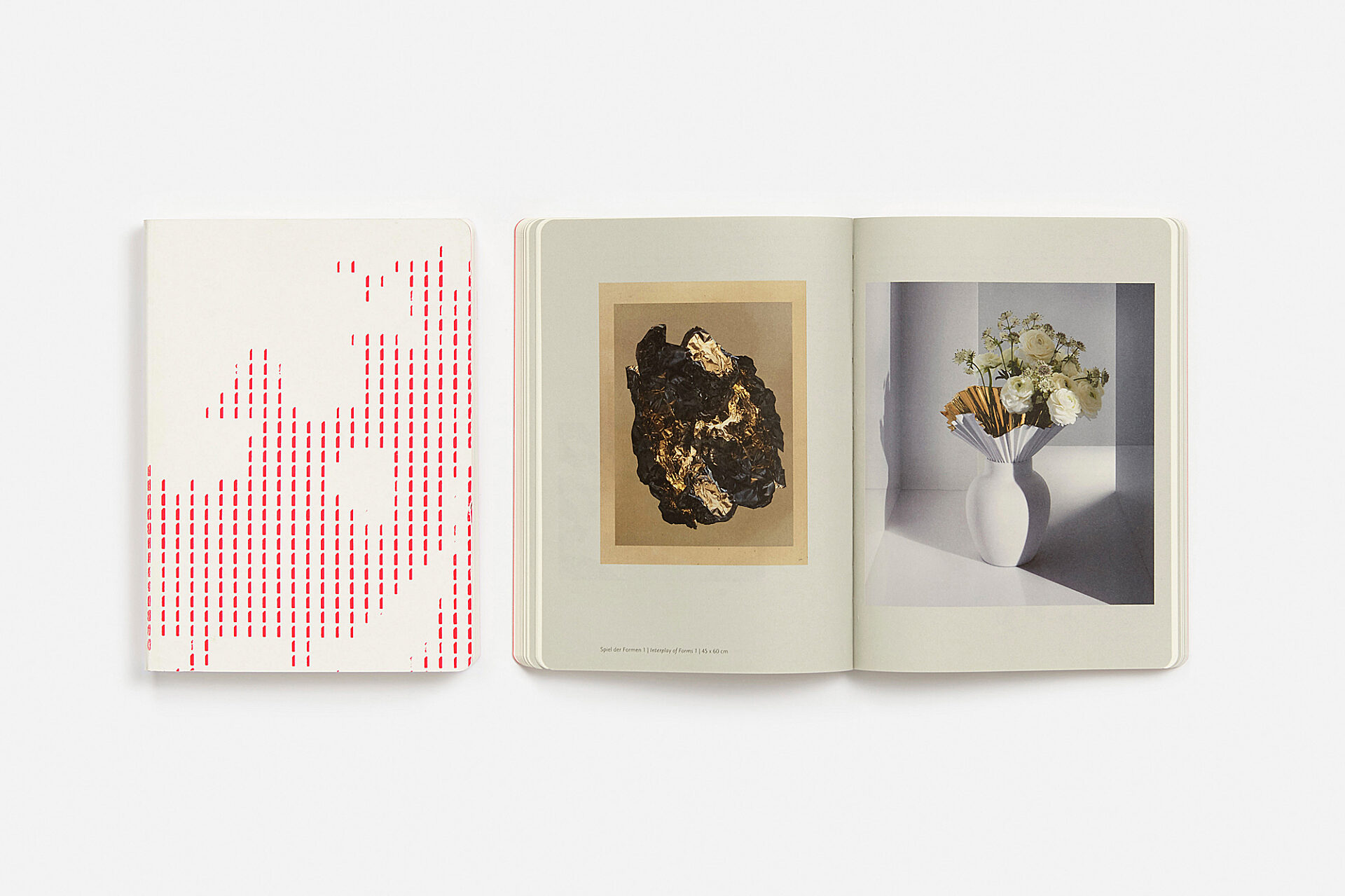 Long tradition. Young creation.
The world-famous manufacturer of high-quality porcelain promotes young designers and artists - a project in cooperation with the students of the technical college in Bielefeld. The company thus proves that tradition and innovation do not necessarily cancel each other out. The materials for the book were perfectly chosen: the surface of the Flexcover made of Smooth Bonded Leather is a bit reminiscent of natural ceramic.

Customer: Rosenthal GmbH, Selb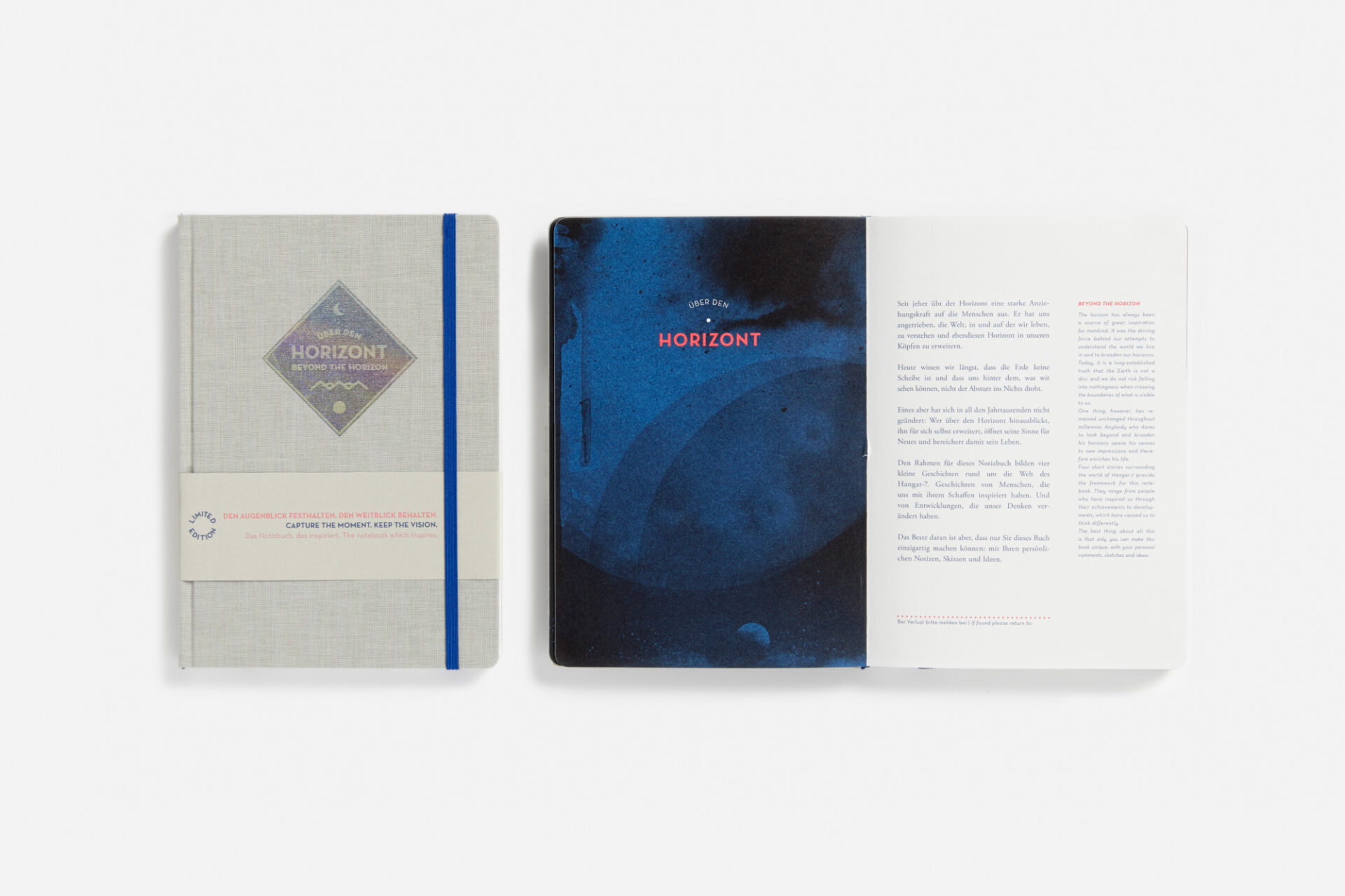 Dream of Flying
Until today, the unattainability of the horizon, the mysterious glittering of the stars and the vastness of the cosmos has not lost its magic. With this in mind, the Salzburg event location, Hangar-Sieben from Red Bull, made the "fascination with flying" to their concept. Hardcover with a light grey Linen Cover, refined with an iridescent hologramm debossing. With a deachable calendar-poster.
Customer: Horizont Hangar7, Salzburg Austria
Creation: Red Bull Creative GmbH, Salzburg Austria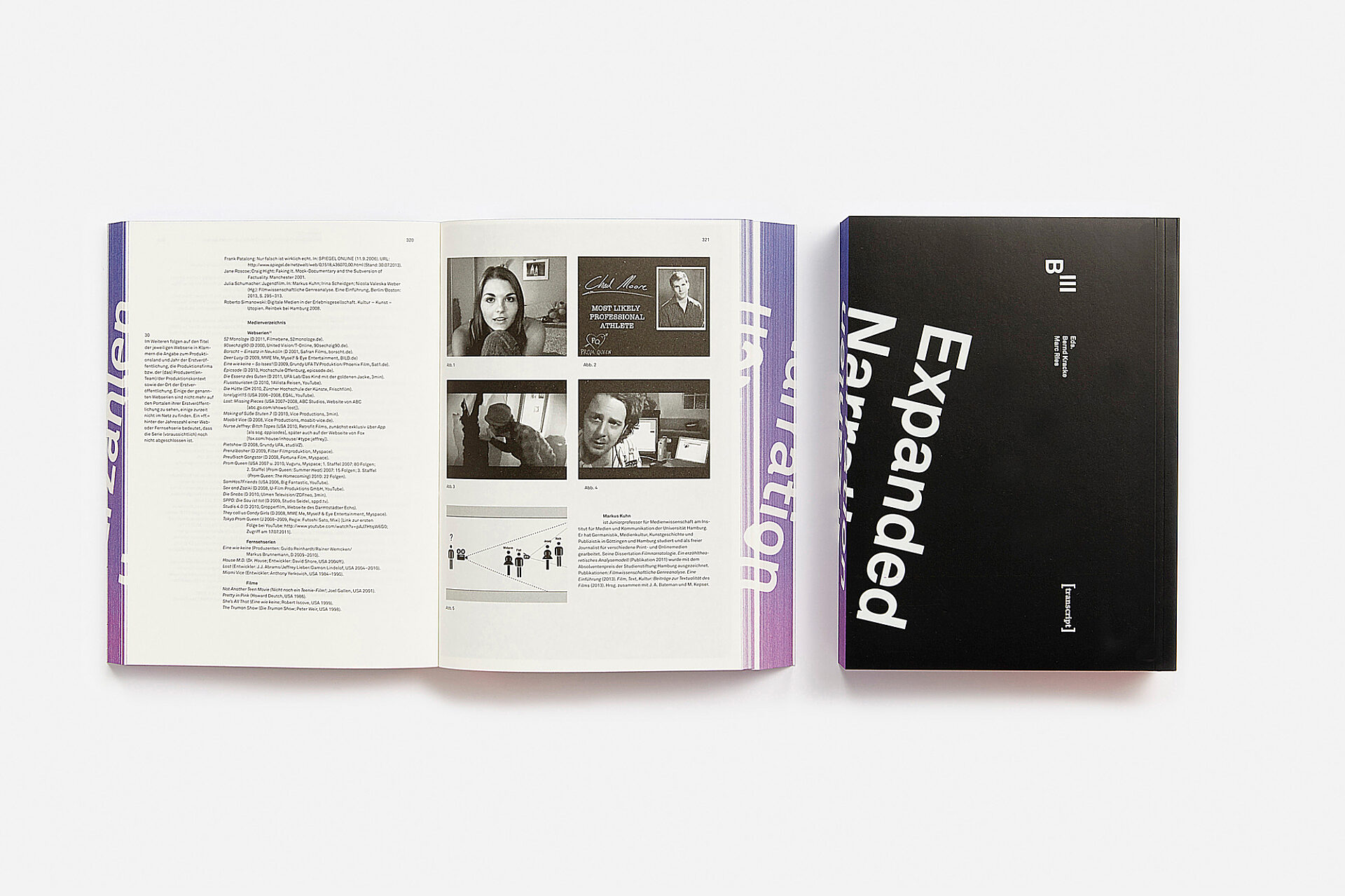 Art Catalogue for the B3 Biennale of the Moving Picture
Accompanying the B3 Biennale of the Moving Picture, this reversible reader introduces the topic "New Narration" with a comprehensive text collection written partly in German, partly in English. It offers interesting media and theoretical culture analysis about new forms of works and narrations. With its 800 pages this tome is a must-have for all theory-loving art fans.
Customer: B3 Biennale des bewegten Bildes, Frankfurt am Main
Creation: Hochschule für Gestaltung, Offenbach am Main
The Robert Johnson Book
The Come On In My Kitchen: The Robert Johnson Book, Traveller Edition is a homage to one of the greatest clubs in the world, and it conveys a whole lifestyle on 376 pages. Key players of the legendary electro club in Offenbach, including the founder Ata Macias, regular guests, photographers and DJs draw a fascinating portrait of this unique house and techno culture. A must for lovers of the scene and fans of the Robert Johnson universe.
Author: Ata Macias, Christoph Keller / Publisher: JRP Ringier Art Publishing
Creation: Doeller und Satter, Frankfurt am Main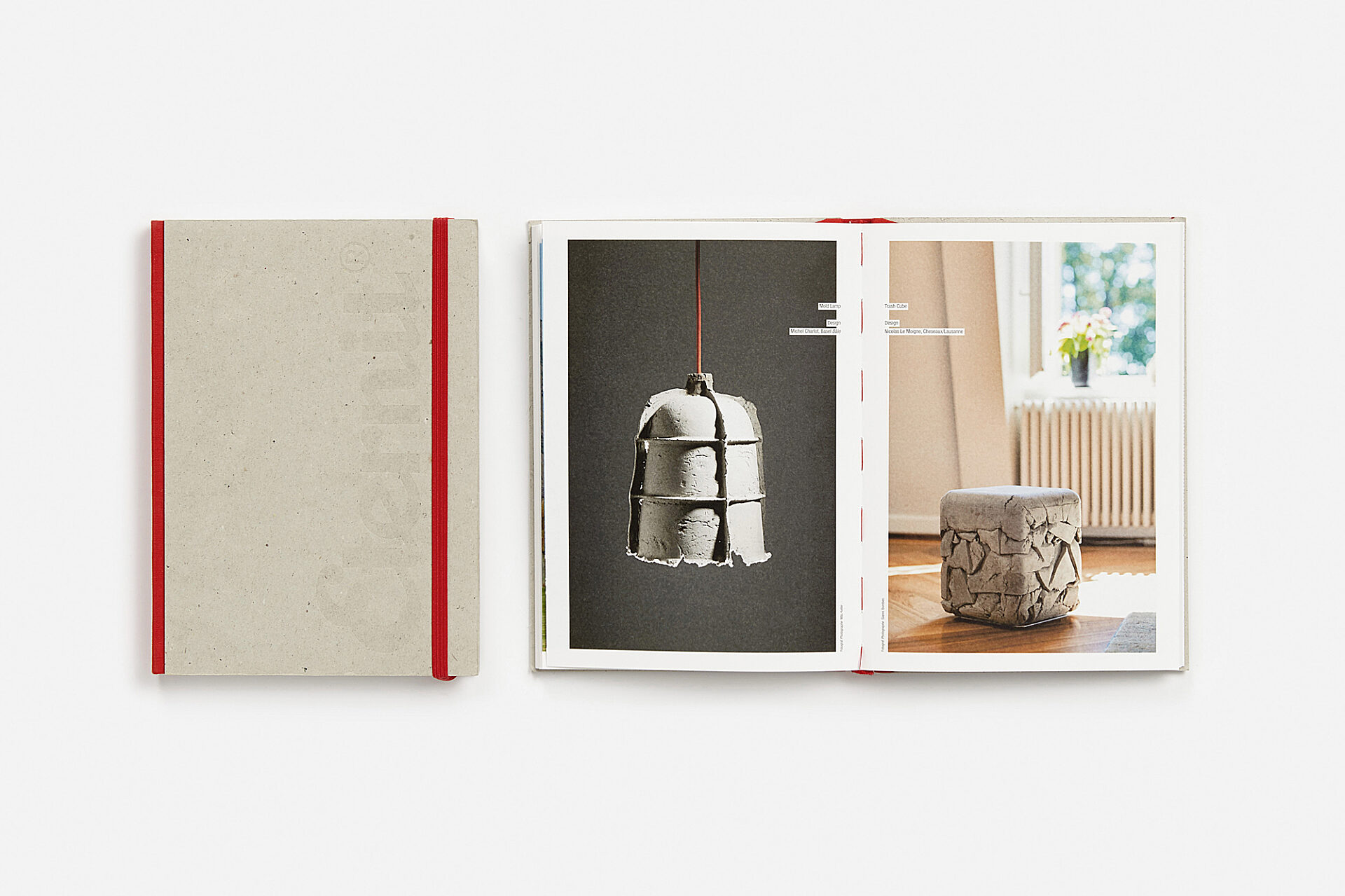 100% Eternit
Not only the outside of the sketchbook perfectly matches the company with its cement board aesthetics of the cover material. The inside is also tailor-made: the front leave paper was printed with company owned wall tiles, the book block contains image photographs and information about the history of the company. 100% Eternit.
Customer: Eternit AG, Heidelberg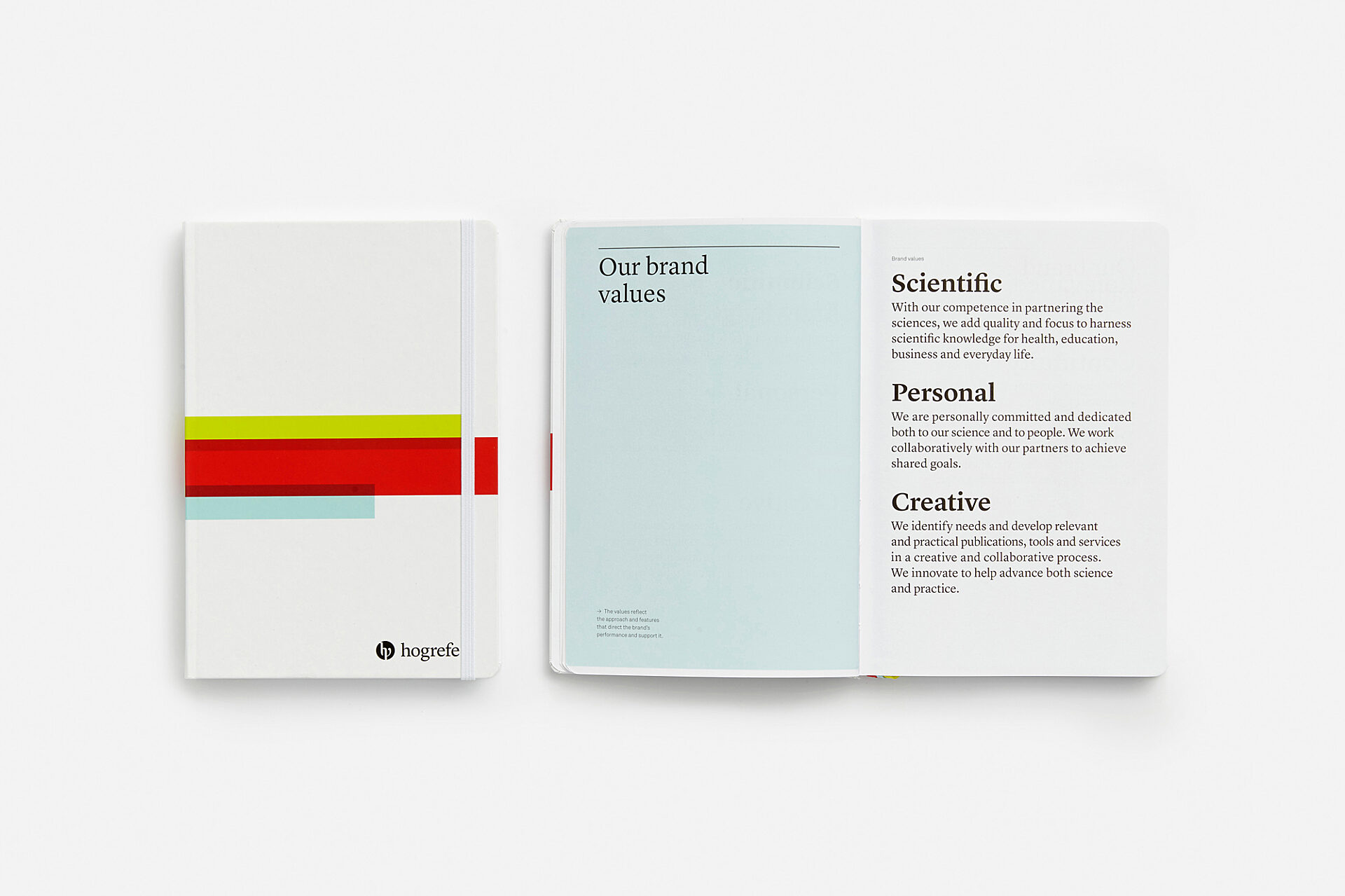 Brand Manual in the Publishing Industry
Showing what you stand for compressed on a few pages: at the beginning of this notebook the publishing company hogrefe presents its new brand identity with texts and photographs. The company's philosophy as well as its visual image is displayed in a fresh scientific look – depicted of course in hogrefe azur, lime and ruby.
Customer: hogrefe Verlag für Psychologie, Göttingen
Creation: MetaDesign AG, Zurich Swizerland
Your way to your own book
01
Request
We are looking forward to getting to know your planned book project and to realising it for you. To do this, we need some information from you in advance, such as the print run, the extent, the format etc.
You can use the enquiry form, send us an e-mail or call us directly.
02
Quote & Consultation
After sending your inquiry, you will receive an individual quote via e-mail.

From this point on, a personal contact person from our consulting team will accompany you until the completion of your book. Do not hesitate and contact us!

03
Sample package & visualisation
Providing sample packages, visiting in our show room and creating visualisations of your book project is all part of our service.
This will make your decision easier and you can convince yourself of the quality of our books!

04
Print data & Production
Once you have make your decision and would like to order, we will provide templates to use for your artwork.

Your artwork will be checked thoroughly and sent to you for approval – Everything is ok? Then the production can start!
We look forward to your orders and to beautiful, as well as exciting book projects – made in Germany.
Request your Book production now
As you would expect from to the core individual products, they come with a perfect custom-tailored consulting service. From your first approach to brandbook, one member of our team will accompany you individually through your book project.